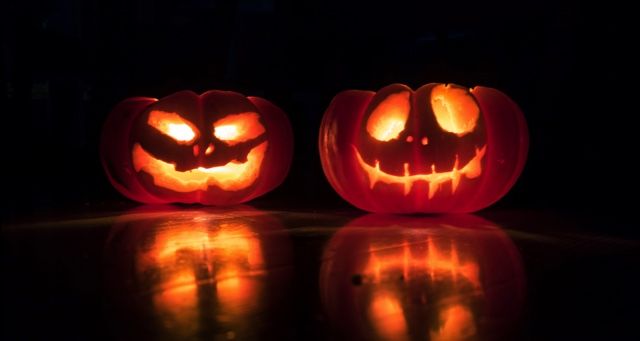 Children's
17 Boo-Tastic Halloween Books for Toddlers to Enjoy
This content contains affiliate links. When you buy through these links, we may earn an affiliate commission.
Tis the season for spookiness! Fall is my favorite season of the year, and as an October child, Halloween holds a special place in my heart. Being the mother of a 17-month-old also means I'm constantly on the prowl for Halloween books to pique my toddler's interest. I hope to spark a similar thrill of Halloween in my daughter, and what better way to do that than with some delightfully, spooky books. Here is a list of 17 boo-tastic Halloween books for toddlers to enjoy.
Halloween Books for Toddlers: Board Books
I am simply mesmerized by the illustrations of this book. This Day of the Dead–themed tale will help show awareness for the Mexican holiday while also presenting a comedic twist for kids to enjoy. Skeletitos is also a book that inspires movement for toddlers; encourage your little one to dance to the rhythm! There's also a free sing-along app included with the book as well as downloadable activities you can find online.
While not strictly a Halloween book, this book checks all the boxes for the season. This is my daughter's current favorite. She constantly drops this colorful board book in my lap to read for her. She loves touching the different textures on each page. This book shows creepy crawlies in adorable costumes, with a fun rhyme and rhythm that also teaches children to use caution when approaching bugs.
I have a few of Sandra's books in our board book collection, including Horns to Toes and In Between, and each of them are a delight. For Little Pookie fans, this is a great addition. Pookie can't decide what costume to wear for Halloween (I mean, we can all relate). It's an adorable book and perfect to read along with little ones excited about showing off their costume to friends and family alike.
Room on the Broom by Julia Donaldson (Author), Axel Scheffler (Illustrator)
Witches and dragons and monsters, oh my! This goofy tale is all about finding friendship, and uses rhyme that is perfect for reading out loud. Toddlers will enjoy this tale of teamwork and an array of spooky characters!
For fans of Goodnight Moon looking for a creepy, humorous adaptation, look no further than Goodnight Goon. As a little werewolf settles down for bedtime, a mischievous goon has other plans for the night. Also, let's be real, how cool does this sound: Goodnight tomb. Goodnight goon. Goodnight Martians taking over the moon.
Have a little one hesitant about the trick-or-treating experience? It can be overwhelming, and this book may help! Follow Peep as she helps her friend Egg become less scared of trick-or-treating, using jokes to lighten the mood. How egg-citing (sorry, I mean, I had to)!
Halloween Books for Toddlers: Picture Books
I've been especially interested in Halloween books for toddlers that appeal to the senses. My daughter loves sensory books, especially the lift-the-flap books. She loves lifting a flap in a book and will excitedly squeal "What's this?!" In the Haunted House is perfect for toddlers with an abundance of curiosity. Follow a pair of sneakers on a tour of a haunted house, but don't worry, everything inside is more adorable than scary.
Sweets And Treats by Toni Trent Parker (Author), Earl Anderson (Illustrator)
What pops in your head when you think of Halloween? Costumes, spooky music, or candy corn (which I've noticed is a hotly-debated candy)? This picture book has an array of beautiful images as well as a fun rhyme to read along to.
You can't have a list of Halloween books for toddlers without a book about pumpkins. With spooky, atmospheric illustrations (but not too scary), and a fun but simple rhyme, this is a great book to read together by the light of a jack-o-lantern. Dive into a world of a witches, black cats, and imagination!
I absolutely adore the illustrations of this book, and this is a great choice for older toddlers who might be a tidbit on jumpy side during Halloween. Georgia realizes that weird things are starting to happen: Objects are moving or missing around the house. Could it be something spooky? Fear not: Georgia is not one to fall for shenanigans, and she goes about debunking any Halloween mischief.
Halloween Books for Preschoolers and Up
Another gorgeous book, illustrated in orange, black and white, Ghosts in the House! is a fun tale about finding ghosts and giving them new life. Follow a clever and resourceful heroine as she cleanses her house of spooks. By the end, the toddler will be delighted and you'll be thinking, this house is clean.
For all you superhero fans, The Halloween Kid is a fun adventure about saving the world from (toilet-paper) mummies and horrifying (pumpkin-sucking) vampires. This will inspire your toddler to go off and save the world (or just Halloween night).
Only a Witch Can Fly by Alison McGhee (Author), Taeeun Yoo (Illustrator)
A perfect, enchanting tale about the perseverance and knowing that, when you put your mind to it, anything is possible. Despite the notion that only witches can fly, a little girl desperately wants to fly, and she'll keep trying until it happens.
Leo: A Ghost Story by Mac Barnett (Author), Christian Robinson (Illustrator)
I love everything about this book. Leo is a ghost, and if people could just see him, they'd realize what a great friend he'd be. Yet when a new family moves into his home, Leo's actions are misunderstood (he is a ghost after all), so he decides to go out and see the world. There he meets Jane, a young girl with a vivid imagination. While not strictly Halloween-themed, this is a darling ghost story of friendship and finding where you belong.
Ghosts for Breakfast by Stanley Todd Terasaki (Author), Shelly Shinjo (Illustrator)
Again, while this is not strictly Halloween-themed, this is a tale about ghosts. It follows Papa and his son as they investigate ghosts in Farmer Tanaka's field. This book is set in California during the 1920s and is great for parents looking for picture books with a historical angle.
The Bake Shop Ghost by Jacqueline Ogburn (Author), Marjorie A. Priceman (Illustrator)
I saw the words "ghost" and "bake" and was sold. The Bake Shop follows Cora Lee Merriweather, who was the best baker for miles around, but now she haunts the bake shop she used to own, scaring away and would-be new owners. Then Annie Washington arrives, and she's not so easily spooked. Come for the delicious baked goods and stay for the illustrations and story!
This award-winning book checks a lot of boxes for me. It's gorgeously-illustrated and written as a bilingual poem. Follow las brujas riding on their broomsticks and see the rattling bones of los esqueletos! This book will introduce young readers to an array of new Spanish words perfect for the Halloween season.
---
There are many more Halloween books for toddlers out there, but hopefully this is a great jumping off point for parents and caregivers. For more recommendations, check out our list of Halloween books for kids. If you're looking for just board books (especially if your toddler likes to chew on books like mine does), we also have a list of board books for toddlers. Have a very happy safe Halloween, readers!