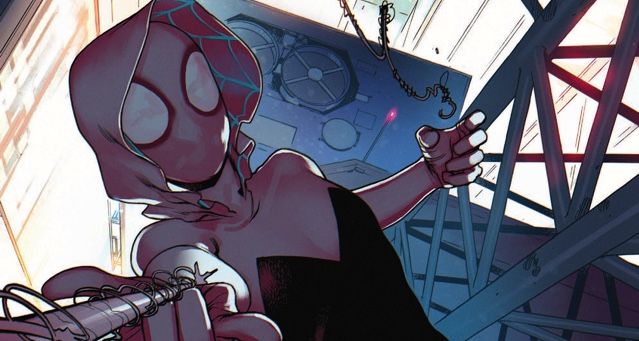 This content contains affiliate links. When you buy through these links, we may earn an affiliate commission.
I thought it was impossible to love Gwen Stacy more than I already did—and then I read Spider-Gwen: Ghost-Spider, Vol. 2: The Impossible Year. (See what I did there? All these Spidey puns from the graphic novels are rubbing off on me.)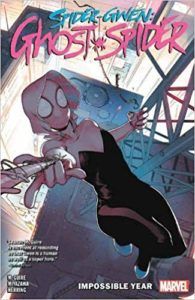 After I stopped stressing about the colons, comas, and dashes in the Spider-Gwen graphic novel titles, I enjoyed the latest adventures of Gwen Stacey by Seanan McGuire. I liked Spider-Gwen: Ghost-Spider, Vol. 1: Spider-Geddon, but I LOVED Spider-Gwen: Ghost-Spider, Vol. 2: The Impossible Year!
Captain Marvel got me into Marvel movies, but Spider-Gwen got me into their graphic novels. These glimpses into Spider-Gwen's life were welcome after her cinematic debut in the Oscar winner Spider-Man: Into the Spider-Verse (sequel will be out in 2022!). Hailey Steinfeld's perfect performance as loyal, elusive, and flexible Gwen Stacy/Spider-Gwen captivated me and I had to know more about her.
Gwen's nurturing yet introverted, PTSD-riddled personality resonates with me. She is playful, smart and cool, yet esoteric and isolated. She's definitely experienced trauma and loss like other superheroes, but she doesn't react with anger or bitterness towards others, but rather she masks her own pain inside with a gloomy and gentle persona. Maybe that's why her costume has a cloaked mask? Which I love. She is a giver, and her hesitance to be 'selfish' and take some time to herself prompts Harry to quote-worthily reassure her, "Why do we act like selfish is always wrong? The world is always going to need saving…that doesn't mean we don't get to pick our battles. Sometimes we have to rest."
The best part of Vol. 2 is that Gwen Stacy finally unleashes the code name she has been teasing us with: Ghost-Spider. I will happily call her this, since she hates Spider-Gwen (which I like), and Spider-Woman sounds archaic. Which name is your favourite?
While Spider-Gwen: Ghost-Spider is about self-discovery, the latest series, Ghost-Spider, is about self-care. Have you also ever feverishly sang Lenny Kravitz's hit "Fly Away"? (I want to get away, I wanna fly away!). Gwen recognizes that her environment is just not working for her atm. And she knows she is not a tree; she can move. She has to take more drastic moving measures than most of us who move to a different city or study abroad, because she has to prick herself and jump into a whole other dimension! But to Gwen, becoming an "exchange student" is worth it to finally achieve her academic goals and find herself again.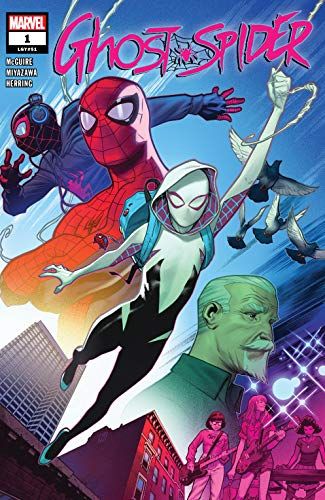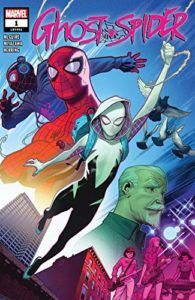 In the Ghost-Spider series, Gwen can finally take a load off of her past and concentrate on her future. Issues #1–3 show a more comfortable Gwen, hanging with Peter Parker, aka Spider-Man, in the actual Marvel Universe of Earth 616. Unlike her home of Earth- 65, superheroes are welcome there. Gwen making new friends and attending lecture at ESU—Empire State University—reminded me of the year I spent in New York for grad school. Plenty of friends visited me and I had the best time in the exciting city of Manhattan. It was a huge change from Southern California, but I enjoyed it and will always remember it fondly. It is definitely an independence-building experience to live on your own in New York, and I'm glad Gwen is benefiting as I did.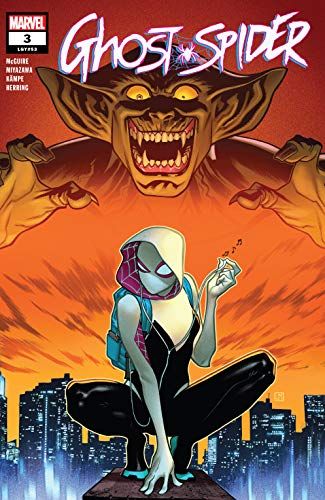 Have you ever gone on a solo vacation? Gwen stays true to her promise to Harry and actually takes some R&R. She ignores the nagging of naysayers (ahem Mommy Mary Jane) and does what she knows is best for her. I recently won a writing retreat in a log cabin in the San Bernardino National Forest, and it was one of the best experiences of my life. Not only did I get much-needed alone time from family and home responsibilities, my own room, and gorgeous scenery, I made genuine and lasting relationships. I had closed myself off for a long time, much like Gwen, because of trauma and bullying, and it felt great to trust others enough to open up. I'm glad to see Gwen can put her guard down and put herself first in Ghost-Spider. Of course, there is still some action and punching, especially in Ghost-Spider #3 (which dropped on October 23rd, aka GWENSDAY), but for the most part Ghost-Spider has been about Gwen just being Gwen. There are a couple of terrifying baddies, Man-Wolf and The Jackal, and…an unexplained huge rat. The build-up to their planned attack is exciting. The Ghost-Spider full series will be published in February 2020.