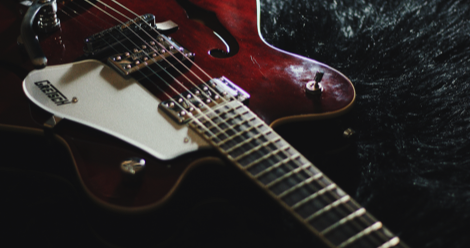 Lists
6 Guitar Books for Beginners for Your Next Pandemic Distraction
This content contains affiliate links. When you buy through these links, we may earn an affiliate commission.
I cannot count the number of times I have picked up the guitar with the intentions to teach myself only to commit for about a month and set it aside for the next time I convince myself I should try to learn how to play again. It's not only guitar I've done this with. It's also happened with bass, violin, ukulele, and more. I blame my ADHD. Nonetheless, we're still stuck in what is quickly becoming a forever plague, and new hobbies are becoming a must to distract us from the climbing numbers and the lack of support from the government. Guitar is a good hobby for that, and it'll be a nice party trick later on as well. Whenever I pick the instrument back up, I always go for the self-taught route with guitar books for beginners, mainly due to the background I already have in music and the fact that I get much less motivated to do something when I have to constantly go back over information I already know (I know how to read music, thank you. I don't need to relearn the note names.) So here I've collected the more popular and actually useful guitar books for beginners for both adults and kids.
Disclaimer: despite guitars, as an instrument, having roots in Hispanic cultures and most of the music today having its roots in cultures of color (especially Black cultures), most guitar books for beginners are put out by a company like Hal Leonard. Or, when they're actually written by an individual, the authors tend to be overwhelmingly white until you get to more specialized books focusing on different styles like jazz or blues. Unfortunately, this list represents that disparity.
---
If this is just beginning to scratch the itch of a new fascination (or in some cases hyperfixation) for music, you can check out our list of 50 must-read music books, or if you got a little one (or middle school one) just starting out music classes and want to foster their appreciation for the art, we have a list of music books for younger readers.