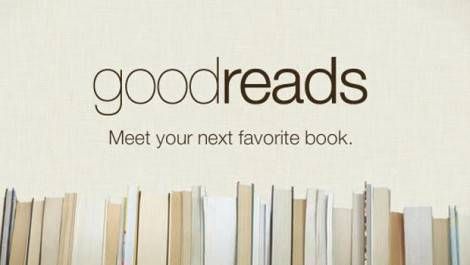 How To
A Reader's Guide to Goodreads Groups
Goodreads is an excellent source for many bookish needs, from organizing all your books to keeping track of your massive TBR list to discovering new books. But one of my favorite features are the Groups. One of things I miss about being in literature class is having a place to discuss books with a group of people. But a busy adult life make it difficult for me to join an in-person book club. Instead, I'm a member of several Goodreads Groups, which allows me the freedom to participate if and when I can, and still gives me that thorough discussion I miss from lit classes.
If you're also in need of a place to discuss and discover new books, then here's a guide to finding the perfect Goodreads Group for you.
Getting Started

First, you need a Goodreads account. Once you have that set up, you're all ready for groups. You can find groups under the "Community" menu option at the top of the Goodreads homepage. It shows you the groups you're a member of, groups reading books on your TBR list, and even groups from your hometown. This is where you'll find new groups to join. Groups typically follow some kind of theme—like Book Riot's Read Harder Challenge group, or the group I participate in the most—Into the Forest, a fairytale themed group.
Choosing a Group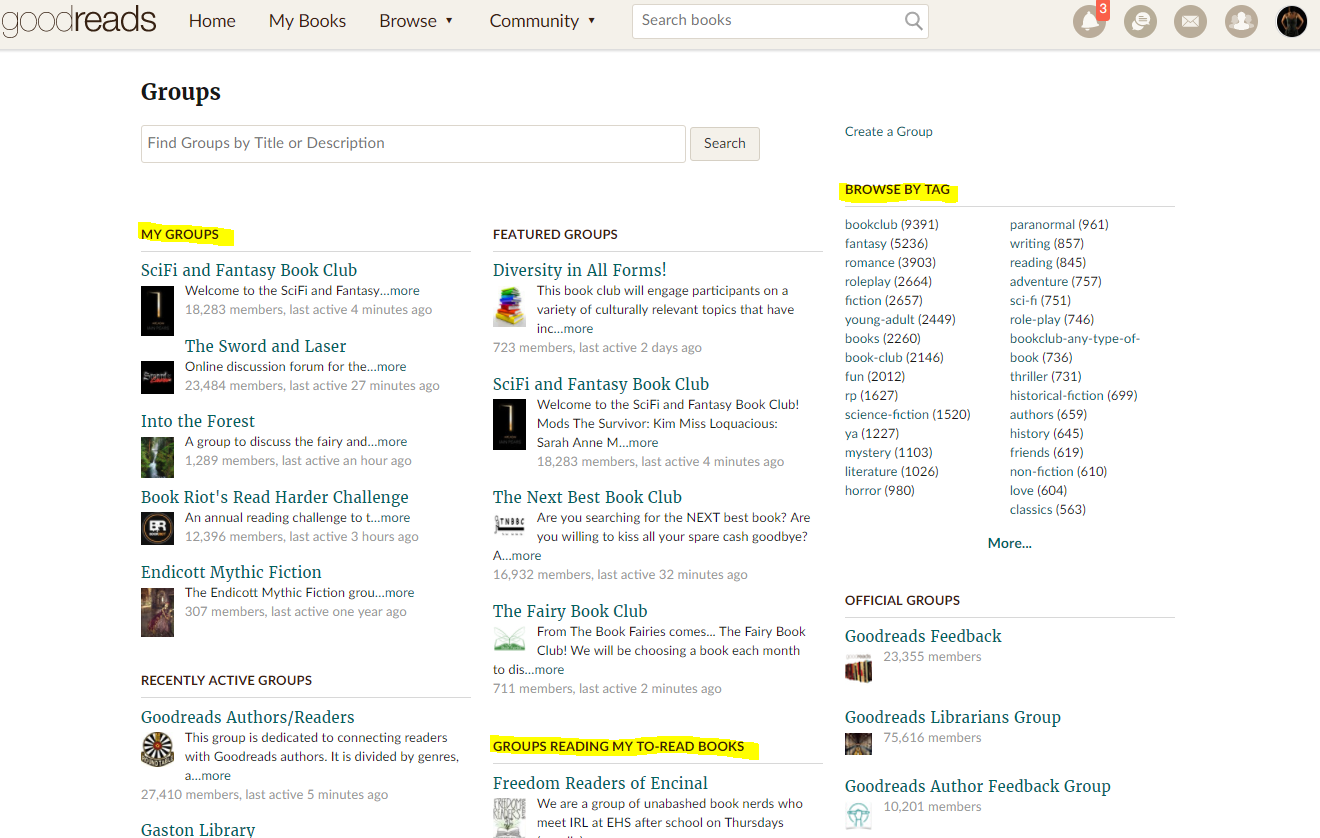 Before you start adding every single group that strikes your fancy, you need to evaluate what you want from a group. For me, I want groups that have regular contributing members, but not so many members that new posts and discussions are added every minute. That stresses me out! For example, I dropped out of Emma Watson's feminist group Our Shared Shelf because I felt overwhelmed by the number of members constantly posting in it. But if you like a great diversity of opinion in your book discussions, or you like the idea of having constantly new content to participate in, than large groups may be the way to go for you.
On the other hand, groups with very few members tend to stagnate. People stop discussing books, or you have the same exact discussions about everything. This can also happen when a group's theme is too specific. It doesn't allow for enough diversity in conversation.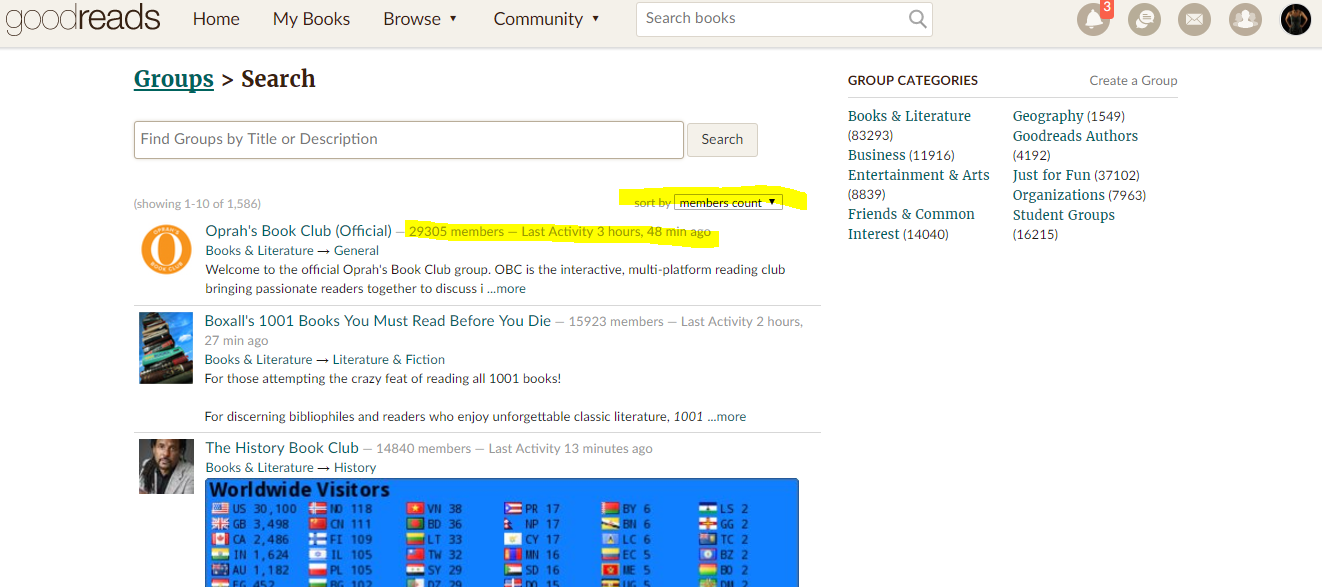 When you search for groups, you can see the number of members beneath the group name, as well as when the group was last active (if it's been a while, the group is defunct). I recommend sorting by "members count" versus "last activity." This will give you the most popular groups, though still keep an eye out for the 'last active' number. Even large groups can disband.
You also need to think about what themes interest you. I love SFF, so I'm in several SFF groups. But maybe you want to read more classics? There are groups for that. Or do you want to read more diversely? There are groups for that too. Do you listen to bookish podcasts? Some podcasts also have Goodreads groups. For example, The Sword and Laser group has a corresponding podcast that airs 3-4 times a month, with a discussion of the current group read in addition to SFF news and jokes. While I don't participate in the Goodreads group that much (there are so many new posts and discussions everyday!), I do listen to the podcast and often read along with the group reads.
Once you have an idea of what you're looking for in a Goodreads group, you're ready to start searching! Enter the theme you're interested in and get to browsing. You can also browse by tags.
When you've found a group that looks interesting, click on the group and see what they're reading, browse their bookshelves, and if it looks like a good fit, join! When you join, Goodreads will give you a few options about how you want to receive notifications about new group discussions. I go with "Digest," but do whatever works for you.
Participating in the Group
Now that you're in some groups, it's time to join the discussion! Start with the Introductions thread. Most groups organize content by Folders and then topics within the folders. The Introductions thread is often found in the General folder. Under introductions, let everyone know who you are and why this group interests you. Maybe even list some of your favorite authors that fit the theme.
Most groups have several ways you can participate. Of course, there are the group reads. Usually, there will be threads to nominate group reads, and some kind of voting process. This process varies from group to group, and you'll figure it out. Don't be afraid to ask questions! If the moderators are snarky about questions, this isn't a good group and you should drop it. I love nominating books and trying to get some of my TBR books as group reads!
Even if you're not interested in reading the group read, a lot of groups will have a buddy reads option, where members can read and discuss a book together that didn't win. If you want to read a book that didn't win, ask if other members would like to read it, and get a thread started! Typically, anyone can start threads. If you have some relevant content you want to discuss or share, or want to set up a buddy read, all you have to do is go to a folder and click "add new." You might want to do a search in the group to make sure there isn't already a thread for that topic.
Sometimes, you'll need to use some fancy HTML. Want to talk about something spoilery? Then you can mark it as a spoiler: <spoiler>enter spoiler here</spoiler>. When you write a post in a thread, Goodreads has a "(some html is ok)" button that you can click and it gives you more handy HTML codes. You'll definitely be needing them.

Keep up with new discussions by going to Community on your Homepage and looking under Discussions. You can also see notifications where the bell image is on the top menu, but it will only show you notifications for discussions you've already joined. You can see new threads by looking at the conversation box icon beside the bell (both in the upper right corner on the Homepage).
I do have some etiquette tips. Are you a writer? Fantastic! Me too. 🙂 But you don't want to talk about your writing in every thread, even if it relates to the topic. Often, groups will have an author's folder where you can promote your own work. Otherwise, discuss the book and topic at hand. Some groups are more author-centric, and if that's the case, go for it. Otherwise, keep in mind these groups are for readers. You're a member as a reader first.
Also, it's okay to disagree! Don't feel like you need to be amenable all the time. My favorite discussions are those where people have very different perspectives on a book. However, you also don't need to tell people that they're opinions are wrong. This is a book discussion, not a trial.
And drop groups if they're not working for you, and find another! If members are too snarky, or you're not enjoying the group reads, or no one participates, then move on. There's a group out there for you.
I've discovered many of my favorite authors (an ever-increasing list) from participating in Goodreads groups. As a warning, it's also made my TBR list explode.
What groups are you a member of? What are your favorite types of groups to join, and how do you most commonly participate?