Today's Free Comic Book Day coverage is sponsored by All Summer Long by Hope Larson, published by First Second.
Thirteen-year-old Bina has a long summer ahead of her. She and her best friend, Austin, usually do everything together, but he's off to soccer camp for a month, and he's been acting kind of weird lately anyway. So it's up to Bina to see how much fun she can have on her own. At first it's a lot of guitar playing, boredom, and bad TV, but things look up when she finds an unlikely companion in Austin's older sister, who enjoys music just as much as Bina. But then Austin comes home from camp, and he's acting even weirder than when he left. How Bina and Austin rise above their growing pains and reestablish their friendship and respect for their differences makes for a touching and funny coming-of-age story.
---
Chances are your local comics shop is participating in Free Comic Book Day. If you've never been, it may be intimidating—I have anxiety when I don't know what to expect, and I don't always do well in crowds, so I was nervous the first time I attended. I've compiled this guide, in pseudo-FAQ format, to help newbies who want to participate.
What is fcbd?
The first Saturday of every May, local comics shops (LCS) participate in Free Comic Book Day (FCBD), offering a selection of special free issues of a mix of popular and new comics for free to their customers. These are usually one-offs to introduce readers to the comic, and many books will include mini one-shots from more than one comic. Some shops also have signings, specials, and other exclusive and exciting offerings on hand.
This year's Free Comic Book Day is on Saturday, May 5, 2018.
Find out if your LCS is participating in FCBD
It's 2018 so this information is easy to get! Check out the official store locator here. You will probably find everything you need there. If you have more than one LCS, you can go to as many as you want to!
More information about your shop and any events they're holding on FCBD should be as simple as checking their Twitter, Facebook, or Instagram. If you can't find the details you want online, the worst case scenario is calling them…on the phone!
Another option is googling your city/state and "comic book store." Here's what I got when I did just that: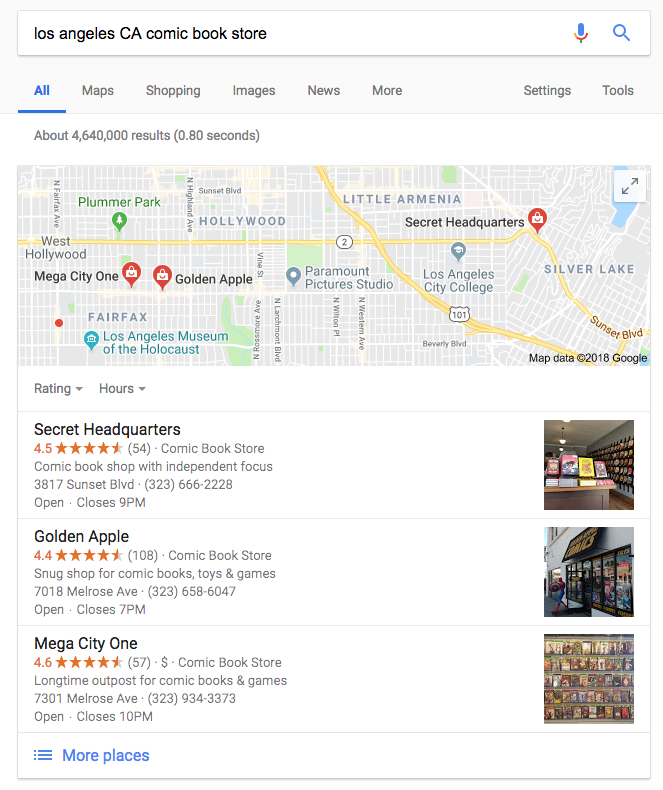 You can also check out Book Rioters' Best Comic Book Stores, where several of us talk about our LCS and what makes it great.
what free comics will be available?
Special comics are made just for FCBD and they vary every year. If you want to plan ahead, here is a complete list of free comics available this year. You can make a list ahead of time—but it can be just as much fun to go into your LCS with no idea what's available and just browse. (Please note: every store will not have every available comic. Most will have a selection.)
Will there be Cosplay?
WILL THERE EVER! Yes, there will be some, and it will run the gamut from professional costumer-quality to kids in t-shirts. If your local cosplayers are anything like mine, they will treat every single costumed person equally. I can't tell you what a delight it is to have a Poison Ivy whose makeup probably took two and a half hours call out to my six-year-old whose costume I made from two $6 t-shirts, "Harley! We've been waiting for you," call over Catwoman to join them, and pose for photos with genuine smiles.
What's the best time of day to attend FCBD?
You may want to go early to guarantee book availability (many stores will run out of at least some titles). Or you might prefer to go later to avoid the biggest crowds. I can't tell you which of these options is best for you.
You may have to wait in line
Whether it's because you planned ahead and arrived before the store opened, or because they are capping the number of guests inside at a time (for fire code safety and/or to make sure everyone has room to shop), you may have to wait outdoors for a while. Wear sunscreen! Bring a hat or a parasol (or both!) if you need one!
Know the rules
Most stores have a limit on how many of the FCBD free comics each customer may take. Some may ask that you buy something as well. Each store will have its own way of operating. Look for signs noting things like no food or drinks—some shops allow them and some don't.
In my favorite shop, there is a single line for anyone making purchases, with three or more employees ringing up purchases so it moves quickly. They allow anyone only taking free comics—max. three per person—to skip the line, but I am sure other stores ask everyone to stand in line.
Buy something if you can
Please remember that the comics are free to you but not to the stores! Stores pay the publishers for the comics and are relying on making sales elsewhere.
don't panic
If you are anxious…or confused…or can't figure something out…You are not the only one. I promise. Just ask an employee, or another customer nearby—everyone is there to have fun. And if you encounter someone who is not there to have fun, take pity on him, for he is missing out on what could be a great experience.
Bring the whole family
Comics are for everyone. Free Comic Book Day is a family event for me, my husband, and our kids (currently eight and nearly-12) and has been for several years.