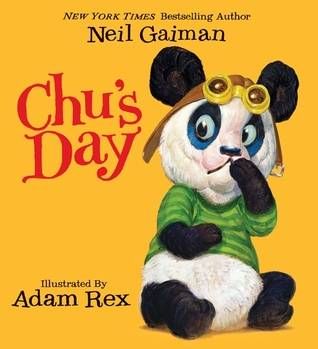 While we at the Riot take some time off to rest and catch up on our reading, we're re-running some of our favorite posts from the last several months. Enjoy our highlight reel, and we'll be back with new stuff on Monday, January 6th.
This post originally ran June 18, 2013 as part of our Neil Gaiman Day.
_________________________
I didn't discover Neil Gaiman until I was 18, a little past the young reader's age. We read Neverwhere in a British Fantasy course in undergrad and I was o-b-s-e-s-s-e-d. I read everything from American Gods to the Sandman series. It wasn't until I started working at Scholastic that I knew Neil even had books that were actually for kids. I mean, I knew of Coraline and Stardust, but picture books? I had no idea. And that there are many and they are so good.
Chu's Day
(Illustrated by Adam Rex)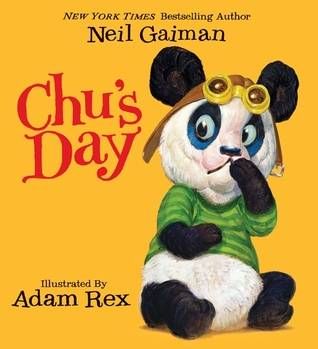 Chu's Day is for very, very wee ones. But like most Gaiman, it has an ominous air about it: "When Chu sneezed, bad things happened." You're setting us up for anxiety! Chu is a tiny panda who has a BIG sneeze. So, when his mother takes him to a dusty library and his dad takes him to a very pepper-heavy diner, you can imagine the craziness that ah-ah-AH-CHOO-ensues.
Kids get a kick out of the big AH-AH-CHOO Chu sneezes, and going through the detailed illustrations from Adam Rex (Frankenstein Makes a Sandwich, Cold Cereal). I mean, this Panda has a sneeze so big, an elephant flies across the room.
Also Read: The Day I Swapped My Dad for Two Goldfish
Instructions
(Illustrated by Charles Vess)
This is one of my favorites of Gaiman's younger work. What started out as a poem about what to do if you find yourself in a fairy tale turned into a gorgeous picture book. This book in particular is great for those in-between readers, ones who still enjoy being read to, but are savvy enough to catch the various references to famous fairy tales throughout the text. There's a genuine love of literature that comes through the text, "Trust Dreams. Trust your heart, and trust your story."
As a read aloud, this is wonderful. The second person p.o.v. and action oriented text really pull the child into the story and has them thinking about what they would do and what they should do in the various situations.
You can listen to Neil read it here.
Also read: M is for Magic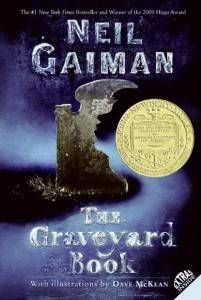 This Newbery-award-winning novel opens with a great illustration by frequent Gaiman-collaborator Dave McKean and the words "Nobody Came to the Graveyard." The boy hero of The Graveyard Book is Nobody "Bod" Owens. He lives in a graveyard. He's raised by ghosts. And it is a fantastically creepy and adventure-filled story. The premise is dark (Bod's family is murdered within the first few pages of the book), but it's really the perfect amount of scariness for middle-grade readers.
The book covers themes of family and love, truth and bravery, and it does so in a really fun and interesting way that will keep boys and girls reading.
Listen to Gaiman do a reading of the first chapter here (the only way anything Neil Gaiman writes can get better is by listening to him actually speak the words out loud).
Also read: Coraline
_________________________
Sign up for our newsletter to have the best of Book Riot delivered straight to your inbox every two weeks. No spam. We promise.
To keep up with Book Riot on a daily basis, follow us on Twitter, like us on Facebook, , and subscribe to the Book Riot podcast in iTunes or via RSS. So much bookish goodness–all day, every day.