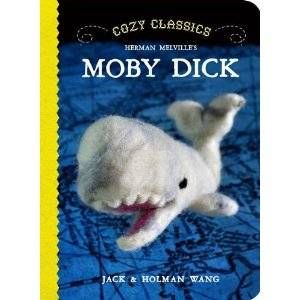 In Growing Up With …, Jenn features picture books, middle reader, and teen books linked together by concept or theme.
____________________________
It is a truth that should be universally acknowledged, that every reader is different. There are eight-year-olds that love Harry Potter, there are 11-year-olds that love Mo Willems, there are nine-year-olds that are enraptured with Captain Underpants, and there are five-year-olds that want to be read to from the D'Aulaires Book of Greek Myths. It's easy to get lost in the world of "What should kids be reading?" when the better question to ask is "What do kids want to be reading?" The answer may not be the classics that many of us know, love, and cannot wait to share with the next generation … Not yet, that is. That's what interpretations are for! Some folks scoff at these, but let me just say that as a reader who discovered Mark Twain through an ancient abridged edition, there is nothing wrong — and a whole lot right — with a tailored introduction to great literature.
I've pulled out my favorites here, but each of the books below is just one in a larger series. Cozy Classics has also done Pride and Prejudice and is at work on War and Peace and Les Misérables; King Arthur is just one of the many excellent Puffin Classics; and the Graphic Canon Vol. 1 is the first of three. Also deserving an honorable mention here is the BabyLit series, mentioned in last week's Numbers column.
Cozy Classics: Moby Dick, by Holman Wang and Jack Wang
Ostensible Age Range: 1 – 3
Who would have thought it possible not only to distill a beast of a book like Moby-Dick into twelve words, but to make it beautiful and funny as well? The Wang brothers, apparently. I have lost count of how many customers I've read this book aloud to, and all agree that no one quite personifies the word "mad" like a deranged, felted Ahab. Every kid has to learn the word "boat" sometime — why not from The Pequod?
King Arthur and His Knights of the Round Table, Roger Lancelyn Green
Ostensible Age Range: 10 – 13
It is probably safe to say that few middle schoolers are ready for Le Morte D'Arthur or T.H. White's Once and Future King — so where do they go after watching The Sword in the Stone? Puffin Classics has them covered. Written by a British scholar who rubbed elbows with C.S. Lewis and J.R.R. Tolkien, this adaptation covers Lancelot to the Holy Grail in stories designed for those of tender years. (No, I am not sorry you now have Higitus Figitus stuck in your head.)
The Graphic Canon, Vol. 1, edited by Russ Kick
Ostensible Age Range: unspecified
Ask any teacher or librarian; I'll bet good money that they're using graphic novels as teaching tools. While a lot of adults are still feeling their way into the genre, kids and teens seem to accept it as just another way to tell a story. Maybe it's because picture books aren't so far in their past? In any case, if ever you wanted to get a tween or teen interested Gilgamesh, the Popol Vuh, or Candide, this is the book to do it. A survey of literature up through the 1700s, 100+ illustrators have taken the classics and brought them to visual life. When I say that this is a must-have for every bookcase, I really do mean "must-have."