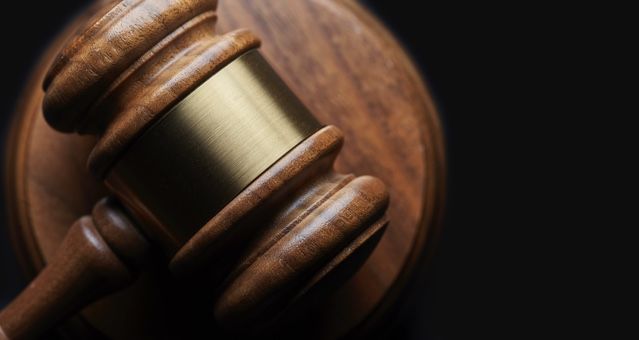 This list of true crime books is sponsored by Sourcebooks.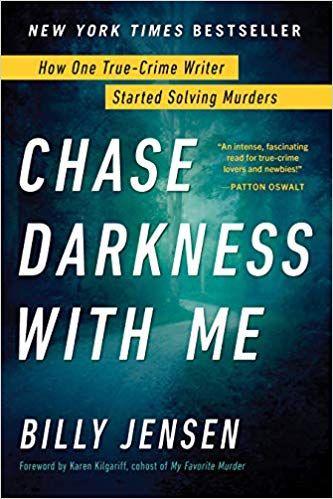 Journalist Billy Jensen spent fifteen years investigating unsolved murders, fighting for the families of victims. Every story he wrote had one thing in common—they didn't have an ending. The killer was still out there. But after the sudden death of a friend, crime writer and author of I'll Be Gone in the Dark, Michelle McNamara, Billy got fed up. Following a dark night, he came up with a plan. A plan to investigate past the point when the cops had given up. A plan to solve the murders himself. Gripping, complex, unforgettable, Chase Darkness with Me is an examination of the evil forces that walk among us, illustrating a novel way to catch those killers, and a true-crime narrative unlike any you've read before.
---
My love of true crime stems from reading the sensationalist tabloids my aunt kept in her old bedroom. When I visited my grandma, I'd stay in my aunt's room and pour over her stack of National Enquirer magazines. It was the era of JonBenét Ramsey, whose murder blanketed covers with loud headlines, making me think: She's my age, so this could have happened to me. And I think that's what makes true crime so creepily effective and totally addictive: the fact that it plays on our fear that any one of us could be a victim when we step out of our house…or even if we're safe in bed. The best true crime books examine how we live among murder, mischief, and mayhem; how darkness could choose any one of us; how we're often safe thanks to dumb luck: you were supposed to take a walk, but couldn't find a clean pair of socks, so you narrowly missed being abducted…Although true crime has a long tradition, in this list of ten stellar true crime books, I'm focusing on books published in the 2010s, highlighting books that capture the zeitgeist of true crime today.
Adnan's Story: The Search for Truth and Justice after Serial by Rabia Chaudry
For many, NPR's Serial podcast was the gateway story that got them into true crime. In Serial's first season released the fall of 2014, host Sarah Koenig investigated the 1999 murder of Hae Min Lee, a high school student in Baltimore, Maryland. Lee's boyfriend at the time, Adnan Syed, was blamed and thrown in jail. Building on the renewed interest in the case, Rabia Chaudry's Adnan's Story disqualifies the flimsy evidence used against Adnan, introduces new proof that he couldn't have done it, and argues for his release. Adnan's Story is the crucial bridge between the wildly popular podcast and its potential to bring justice to light, as well as new channels for publishing true crime.
American Fire: Love, Arson, and Life in a Vanishing Land by Monica Hesse
Reporter Monica Hesse took an interest in a peculiar case of serial arsons in Accomack County, Virginia. During the outbreak of 2012 and 2013, fires plagued the area, which had fallen from once being the richest rural county in America to become an impoverished victim of economic inequality and shifting markets. Hesse tells the strange story of the boyfriend and girlfriend who worked in pairs to set the fires, as well as the community that banded together to fight them. American Fire reflects the way rural America has changed and celebrates its spirit.
Bad Blood: Secrets and Lies in a Silicon Valley Startup by John Carreyrou
Although investigative reporter John Carreyrou's Bad Blood isn't a murder story, there is plenty of blood. In this shocking work of nonviolent true crime, Carreyrou details the spectacular rise and fall of Theranos, a medical technology company that attracted a ton of investment interest for its finger-prick blood testing device…which didn't work. Working off a tip from a whistleblowing former employee, Carreyrou brought the fraud to light in the Wall Street Journal, making himself a target of Theranos. Bad Blood crystallizes the Silicon Valley culture that allowed Theranos to thrive and almost get away with it all.
The Brothers: The Road to an American Tragedy by Masha Gessen
A Russian immigrant living in Boston, journalist Masha Gessen felt uniquely qualified to investigate the brothers responsible for the Boston Marathon bombing in 2013. Gessen digs deep into the past of Tamerlan and Dzhokhar Tsarnaev, asking how they could go from being emblematic of the American dream to plotting domestic terrorism. Gessen's riveting book offers no easy answers.
Dreamland: The True Tale of America's Opiate Epidemic by Sam Quinones
One of America's greatest threats is the opiate epidemic. While the crisis has left no corner of the country untouched, Sam Quinones turns his gaze to Portsmouth, Ohio, as ground zero in Dreamland. Quinones studies how a perfect storm created the proliferation of opiate prescriptions and the encroachment of the black tar heroin drug trade from Mexico. Once opiates were discovered to be addictive—in contrast to the fraudulent claims by drug companies—many people who used the medicine turned to heroin to satisfy their addiction. Quinones has an expert grasp on storytelling, which makes Dreamland an excellent and highly readable way to learn more about this contemporary epidemic.
The Fact of a Body: A Murder and a Memoir by Alexandria Marzano-Lesnevich
*Trigger warning for violence against children and child sex abuse*
Chilling. Unforgettable. Urgent. Those are the first three words that come to mind when I think of Alexandria Marzano-Lesnevich's The Fact of a Body. For a summer job, law student Alexandria Marzano-Lesnevich worked for a firm that represented death row clients, a cause she firmly believed in…until her reaction to one man's case shook her world. In The Fact of a Body, Marzano-Lesnevich combines memoir and true crime reportage to look at how her interest in accused murderer and pedophile Ricky Langley unseated childhood trauma she shared with him, challenging her convictions and own personal narrative. I loved this memoir so much, I named it a Book Riot Best Books of 2017.
I'll Be Gone in the Dark by Michelle McNamara
I'll Be Gone in the Dark is the late screenwriter Michelle McNamara's masterpiece. McNamara was interested in true crime since she was a girl, an interest that turned into an obsession with the dawn of the Internet. McNamara started a true crime blog and hung out on message boards working with other amateur sleuths to try to solve cold cases. And one case haunted her more than others: the Golden State Killer. McNamara's quest to find the unsolved identity of this serial murderer and home invader drove her to the point of exhaustion. I'll Be Gone in the Dark collects McNamara's reflection on her lifelong passion for true crime and chapters narrating the Golden State Killer's crimes, victims, and the detectives who spent their careers chasing him. I'll Be Gone in the Dark is an ode to true crime in our digital age and the ambiguity of the unknowable.
Just Mercy: A Story of Justice and Redemption by Bryan Stevenson
A good companion read to The Fact of a Body, Bryan Stevenson's Just Mercy also shines a light on the criminal justice system. As an attorney, Stevenson founded the Equal Justice Initiative, an initiative to defend people accused of crimes who lack legal resources. In Just Mercy, Stevenson tells how he tackled one of his earliest cases, the accused murderer Walter McMillian. Just Mercy is a powerful and ultimately hopeful look at the true meaning of the word "justice."
Lost Girls: An Unsolved American Mystery by Robert Kolker
Robert Kolker's Lost Girls is a terrifying slow burn. Set on Long Island, Lost Girls chronicles the (still) unsolved serial murder of five female escorts. Kolker pulls back the curtain on the victims, who advertised their services on Craigslist, bringing a humanity to the crime that sensationalism left out. Kolker's book illustrates the tenuous safety of connections that begin online as well as the trust broken between the families of the victims and the local police who failed to crack the case.
My Friend Anna: The True Story of a Fake Heiress by Rachel DeLoache Williams
Unbelievable, unforgettable, and unputdownable: that's My Friend Anna. Rachel DeLoache Williams's dishy book of nonviolent true crime tells the wild story of the author's friendship with "Anna Delvey," who introduced herself as a German heiress. Their whirlwind time together lifted Vanity Fair photographer Williams up to the elite circles of the New York's young and wealthy. But when Anna charged tens of thousands of dollars to Williams's credit card, Williams started to sift through the truth, leading her to the district attorney who helped her bring down her con artist former friend.