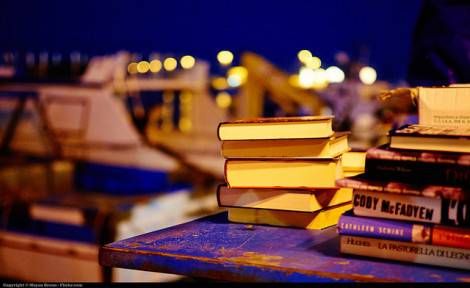 Lists
11 Great Publisher Names and Where they Came From
This is a guest post from Kevin Smokler. Kevin is the author of Practical Classics: 50 Reasons to Reread 50 Books You Haven't Touched Since High School, (Prometheus, 2013) and the forthcoming Brat Pack America: A Love Letter to 80s Teen Movies, coming in October from Rare Bird Books. He was Book Riot's first writer in residence in 2013. Follow him on Twitter @weegee.
---
A great publisher doesn't always have a great story behind its name. Random House is a wonderfully cheeky moniker for the world's biggest book outfit (imagine Apple calling themselves "Random Device Manufacturer") but publishers are all too often named many decades ago for their founders (see HarperCollins, Farrar, Straus & Giroux, Simon & Schuster), which makes them sound less like incubators of literature and more like probate law firms or designers of men's dress shoes.
Ideally, a great publisher name feels like the sign on your favorite bar, beckoning you to come hang out in the world they created. That doesn't mean great publisher names equal great books. But at their best, along with compelling titles and arresting cover art, publisher names are the maitre d's of literature, a reader's first point of contact and hopefully the enticement and intrigue to continue on inside. Ask and they usually have a story you wouldn't expect.
Below are 11 favorites.
1. Akashic Books (Brooklyn, NY)
Committed to "reverse gentrification of the literary world" since its founding by three punk musicians in the mid 1990s, Akashic's lineup of urban literary fiction and political nonfiction is published under the name of an ancient Sanskrit myth: The Akashic Records, an imagined library thought to contain the sum of all knowledge.
True to the musical roots (and because the wordplay was too delicious to resist) in their early years, Akashic Books put out vinyl records too.
2. Dzanc Books (Detroit, MI)
Pronounced "Da-Zaynk", the not-quite 10-year old Michigan literary powerhouse (books, a monthly magazine, classes, writers residencies) took its name from the initials of the five children of co-founders Steven Gillis and Dan Wickett had between them: Anna, Zach, Chase, Nasstassja, and Dalton with letters moved around to form something that almost looked like a word.
3. Graywolf Press (Minneapolis, MN)
A jewel in the crown of the Twin Cities literary scene (and home to a National Book Award, two Pulitzers and a Nobel Prize in this decade alone), Graywolf initially came to life in Port Townsend, Washington in 1974. Founder Scott Walker hand-sewed his press's first poetry books and named the operation after the nearby Gray Wolf River.
4. Hanging Loose Press (Brooklyn, NY)
The venerable poetry house that published the first collections of Sherman Alexie and Eula Bliss began in 1966 as a magazine. The name came from the magazine's format — mimeographed loose pages in a cover envelope– and their take on the art form:
"Poetry is for now, not for the Ages. If you liked a poem, you could pin it to the wall. If you didn't like a poem, you could use it as a napkin."
5. McSweeney's (San Francisco, CA)
When he was a child, founder Dave Eggers and his mother Heidi McSweeney Eggers, received letters addressed to them both from a man named "Timothy McSweeney," a Massachusetts artist suffering from mental illness claiming to be a relative. Eggers named the literary enterprise he founded in 1998 after him.
"Timothy McSweeney's Quarterly Concern," Eggers later wrote, was chosen "to honor my Irish side of the family and also allude to this mysterious man and the sense of possibility and even wonder he'd brought to our suburban home." McSweeney's continues to use the name with the permission of Timothy McSweeney's family.
6. Penguin Books (London, UK)
Originally suggested by the secretary of founder Allen Lane and sketched by one of his employees after a visit to the London Zoo, Lane wanted a "dignified but flippant" logo for his new paperback press when it opened in 1935. The story goes that Lane focused Penguin on high quality literature, simple cover design and a modest price after failing to find any of those options while waiting for a train and looking for something to read. The Penguin Classics we all read in school are the clearest examples of this legacy.
7. Phaidon (London and New York City)
The publisher of 99% of the art books in the museum gift shop nearest you launched in Vienna in 1923 and originally published only history and philosophy books. Co-founders Bela Horovitz and Ludwig Goldscheider chose the name "Phaidon" as the German pronunciation of Phaedo, a pupil of Socrates and a speaker in Plato's dialogues.
8. Random House (New York, New York)
The world's largest book publisher (now called Penguin Random House following a 2013 merger) got its random name as a joke: In 1927, co-founders Bennett Cerf and Donald S. Klopfer decided to publish a few books outside the 109-volume Modern Library catalog they'd acquired 2 years before. Seeing no pattern to their interests, they renamed their publishing house in that spirit: "Random House."
9. Rare Bird Books (Los Angeles, CA)
In November of 2008, founder Tyson Cornell, then working at West Hollywood's Book Soup bookstore, produced an offsite event with John Updike. Backstage the two bonded over favorite passages of Updike's Rabbit is Rich while Cornell had the debut album by English prog rock band Rare Bird on in the background. Updike asked about the music and remarked that "Rare Bird" would make a great name for a book store.
Updike died three months later, on Cornell's father's birthday. "Rare Bird" became the name of his company, opened later that year, to honor the experience he and the legendary author had shared.
10. Tin House (Portland, OR)
The power forward of the Rose City's writing community began as a bi-coastal magazine operation in 1988 with two of its founders based in New York and its managing editor living in a literal tin house on the city's northwest side.
That same building ("to be honest, it's corrugated zinc oxide," a Tin Housian told me) now houses the operations of the magazine, book publishing unit and acclaimed summer writing workshops and the unbreakably sealed story of Tin House's other potential names.
"Those are buried under the Tin Garage. Along with the bodies."
11. Two Dollar Radio (Columbus, OH)
Before co-founding the acclaimed literary press in 2005 with his wife Eliza Jane Wood, Eric Obenauf tended bar in San Diego. One day on the job a particularly annoying customer blurted out "Don't mind me, I make more noise than a two-dollar radio." Which seemed like a great name for books designed to make a big racket without needing big money behind them.