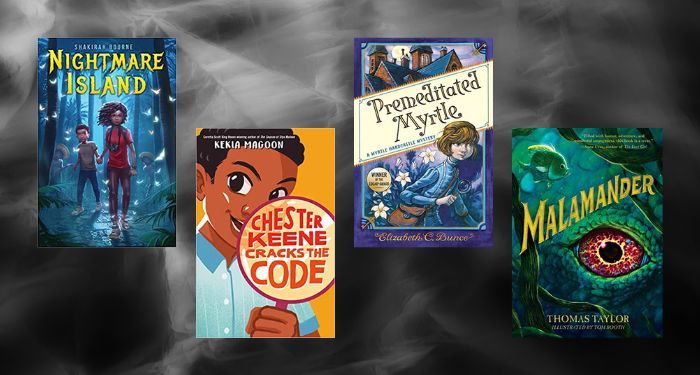 Children's
Sherlock Holmework: 9 Great Recent Middle Grade Mysteries!
This content contains affiliate links. When you buy through these links, we may earn an affiliate commission.
I love mysteries! It was my first favorite genre when I was little, and I read all the popular series. (Except the Bobbsey Twins, for reasons I don't remember now.) There was something about seeing so many of a series on the shelf at the library that made me want to read them. As an adult, I read all kinds of genres. But mystery holds a place in my heart, and I read so many good ones, for all ages. Which is why I wanted to write this post about nine great recent middle grade mysteries.
If I were to whip my shirt off like Brandi Chastain, you would see "TURTLE WEXLER FOREVER" tattooed across my stomach (no, you wouldn't). Because even though it's a middle grade mystery, The Westing Game by Ellen Raskin remains my favorite mystery. I think middle grade mysteries are still the cat's particulars. And here are a bunch more I have loved.
Please note: I am going to be including a few books that have recent wonderful additions to their series, so I will list the first book in the series so you know where to start. These are all really fun, sometimes speculative, sometimes a little scary (and one of them was a lot scary!). Let's get started!
For even more mystery goodness for young readers, check out 10 of the Best Books About Kid Detectives and 15 Detective Books for Young Sleuths.