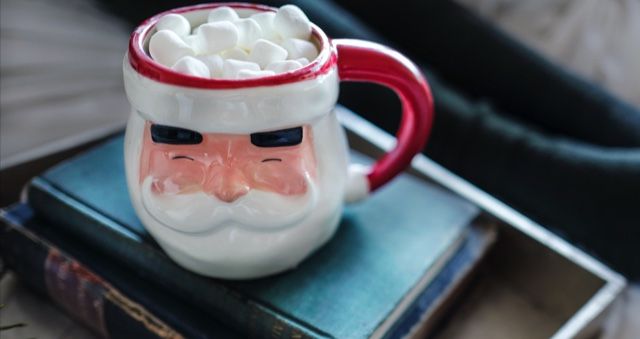 Lists
6 Great Holiday Reads to Cure a Scrooge Spell
This content contains affiliate links. When you buy through these links, we may earn an affiliate commission.
Thanksgiving is officially over, which means it is time to dive into all things winter holiday related! I know that a lot of others started celebrating earlier, but I firmly believe in respecting the turkey. I will not read, watch, or listen to anything holiday related until after that fourth Thursday in November. But once that comes, then all bets are off.
One of the reasons I do this is to try to get in the holiday spirit. Truthfully, I tend to be more of a Scrooge, but I have a young, empathetic son. So I actively work to get into the spirit for him, rather than drag him down to my adult-ish holiday funk.
One way I do this is by reading holiday related books. My Goodreads profile is flooded with these types of books from Thanksgiving until the first week of January. Here are a few of my recommended books to help others who may be in the mundane holiday boat with me get into the spirit.
Inspiring Holiday Books
Inspirational stories abound, especially during the holiday season. Below are a couple that I have read and managed to not only warm my heart but give me food for thought to have during the holiday season.
Chaka Stringer is going through a rough patch. This isn't made better when she is fired twice in one day. To top that off, she gets into a fight with her husband over an unexpected charge in their account.
While driving home, she is wondering what her life would be like had she made different choices. Due to her personal pity party and distracted driving, she ends up getting into a car accident. When she wakes up, it's the start of a cycle of her experiencing all the roads she didn't take in her life.
This novella shows that the grass isn't always greener on the other side. It reminds us to be thankful for what we have, rather than think about what we don't. And it does this without being too preachy.
Judith and Stan Winters are looking at the prospect of spending their first holiday season without their family. While Stan seems to be okay with this, Judith is having a hard time adjusting to the empty nest. When it becomes apparent that none of their kids are going to come home, Judith doesn't even bother to start decorating the house for Christmas.
Stan realizes then that something needs to be done to ensure that their children and grandchildren come home to celebrate the holiday as a family. This book is more apparent in its inspirational roots but it is still a sweet story with a heart-warming message and resolution, even if it is predictable.
Cozy Holiday Books
Another genre of holiday stories that are prevalent are cozy mysteries. There are numerous options out there, but below are a few that I have personally enjoyed.
Serving as an "in between" story in the Sophie Katz series, this novel opens up with Sophie's sister Leah being enlisted to set up a Swan Lake flash mob. In front of a giant menorah. For a marriage proposal. Which is as odd as it sounds, especially when one recalls the ending of said ballet. This endeavor is cut short when the prima ballerina is found dead and an exceedingly expensive ring goes missing. Sophie and her sister have to rush to prove that they are not killers or thieves lest they become victims themselves.
Chock full of humor, references to the holidays, and a decent mystery to boot, it's a quick read, taking place in the span of twenty-four hours. You don't have to read any of the others in the series to enjoy it. After reading this, though, you might find yourself wanting to pick up the backlist and marathon the series.
Christmas in Hawaii sounds like a great time right? Well, unless you're Charlotte who hates Christmas due to previous planned nuptials going awry. She also isn't fond of being on an island with employees whose work ethic is a complete 180 from hers. There is also her unwanted but undeniable attraction to Alex, the Leisure Groups coordinator of Aloha Lagoon. Add in the sudden unexpected and unwanted arrival of her wedding-ruining twin sister and a dead body? Result: you have all the ingredients for a great cozy holiday mystery.
Charlotte's Scrooge-like nature, albeit understanding, can get a bit tedious. The development of her relationship with Alex was well-paced. There was even a reconciliation with her sister, which seemed impossible knowing their background. This a cute quick read with just the right balance of mystery, humor, and romance to help brighten up your holiday season.
Spicy Holiday Books
Sometimes you need something a little spicy to warm you on on these cold winter nights. If you found yourself in that boat, you might want to consider picking up these books to cozy up to. Fair warning in that the steam level on these is fairly high, so might want to have a fan on standby to cool yourself down.
Cash Evans is a bad boy tattoo artist with a heart of gold. Bailey Cooper is the barista in his local coffee shop. He comes to her rescue when she quits her job as a barista by offering her one at his tattoo shop. Although the attraction and chemistry is apparent between the two of them, they both hold out for various reasons. Until Chase offers her what is his usual agreement; a 90 day fling with no strings attached or expectations afterwards.
While initially hesitant, Bailey agrees to it, figuring a little bit of time is better than none at all. This sets the trajectory of their relationship on the fast track. It is still a sweet romance about two battle-scarred people finding someone to love in each other. I really enjoyed this one because it was ultimately a very sweet story with more than a little spice thrown in.
Ronan is a former Black Ops mercenary who hates Christmas. He is spending it alone in his cabin with his dog. Enter Georgie, who shows up in a sexy elf costume after becoming stranded. When a blizzard begins to rage outside, Ronan has no choice but to give her shelter. As you might imagine, some sexy shenanigans ensue.
This one is what I consider erotica. But there is more to it than just the sexy times. There is mention of depression, familial loss, and chronic illness. Also present is a discussion on how one and one's family might adjust to that. Don't get me wrong, the scenes in here are still hot enough to melt your Kindle. And it has a happily, and sensual, ever after.
---
And there you have it! Just a few recommendations from me to you on what to read to get into the holiday spirit. I hope that whatever you read this holiday season, it brings you joy and happiness.