This list of great fantasy series is sponsored by Hachette Audio.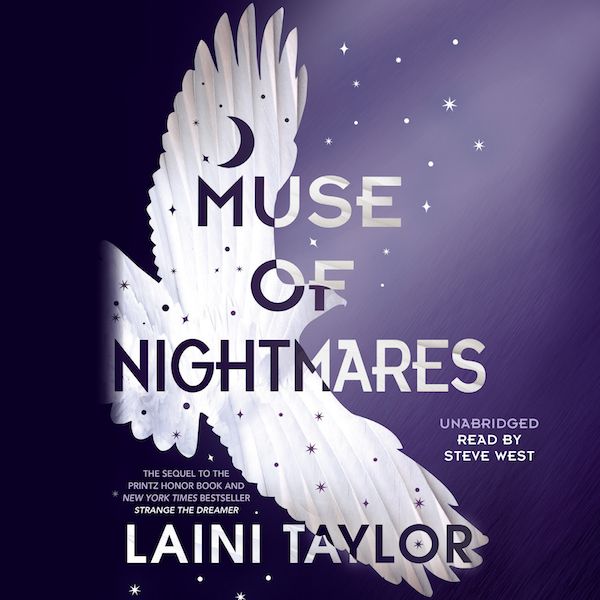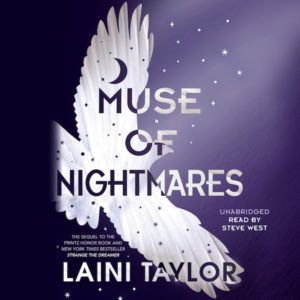 National Book Award finalist Laini Taylor and narrator Steve West return to the city of Weep in this gorgeous, highly anticipated sequel to the New York Times bestseller Strange the Dreamer. In the wake of tragedy, neither Lazlo nor Sarai are who they were before. Lazlo faces an unthinkable choice–save the woman he loves, or everyone else?–while Sarai feels more helpless than ever. But is she? Sometimes, only the direst need can teach us our own depths, and the Muse of Nightmares has not yet discovered what she's capable of.
---
Reader, I don't know about you, but I've been escaping into the fantasy genre quite frequently the past, oh, say two years. I have always loved the wide umbrella of fantasy that gives readers an endless number of worlds to visit. I will gladly suspend my disbelief and give myself over to an author's fantasy world, characters, and stories in exchange for a bit of respite from the real world. I especially enjoy fantasy series that allow me to go on the journey for longer than a standalone novel. Here are some great fantasy series that will not disappoint.
The Inheritance Trilogy by N.K. Jemisin
I'm currently on the final book of The Inheritance Trilogy by N.K. Jemisin and I have been utterly captivated. Gods, humans, and everyone in between are behaving badly, but you just can't help but like some of them. There is an unexpected amount of humor in these books and I laughed aloud multiple times. The series begins with The Hundred Thousand Kingdoms, which won the Locus Award for Best First Novel.
The Broken Earth Trilogy by N.K. Jemisin
While we're on the subject of N.K. Jemisin, check out The Broken Earth Trilogy. This three-time Hugo award–winning trilogy is a fan favorite and begins with The Fifth Season. "This is the way the world ends…for the last time."
Binti Series by Nnedi Okorafor
The Binti Series by Nnedi Okorafor is another Hugo award winner and begins with Binti: "Her name is Binti, and she is the first of the Himba people ever to be offered a place at Oomza University, the finest institution of higher learning in the galaxy. But to accept the offer will mean giving up her place in her family to travel between the stars among strangers who do not share her ways or respect her customs."
Monstress by Marjorie M. Liu and Sana Takeda
The currently ongoing comic Monstress by Marjorie M. Liu and illustrated by Sana Takeda features absolutely breathtaking artwork and an epic tale about a young woman's struggle with the literal monster that lives within her. It's a fascinating exploration of mental health.
The Wayward Children Series by Seanan McGuire
Have you ever wondered what happens to the children who walked through the wardrobe or fell down the rabbit hole but then had to return to the world from which they came? The Wayward Children Series by Seanan McGuire introduces us to a cast of young people who spent their formative years in a magical place and have returned home either on their own, by force, or by accident. Some of them adjust nicely and some absolutely do not. The first book of the series is Every Heart a Doorway.
The Earthsea Cycle by Ursula K. Le Guin
The Earthsea Cycle by Ursula K. Le Guin is an absolute classic of the genre. "Originally published in 1968, Ursula K. Le Guin's A Wizard of Earthsea marks the first of the six now beloved Earthsea titles. Ged was the greatest sorcerer in Earthsea, but in his youth he was the reckless Sparrowhawk. In his hunger for power and knowledge, he tampered with long-held secrets and loosed a terrible shadow upon the world. This is the tumultuous tale of his testing, how he mastered the mighty words of power, tamed an ancient dragon, and crossed death's threshold to restore the balance."
The Shades of Magic Series by V.E. Schwab
The Shades of Magic Series by V.E. Schwab is a fairly recent trilogy that begins with A Darker Shade of Magic. "Kell is one of the last Antari—magicians with a rare, coveted ability to travel between parallel Londons; Red, Grey, White, and, once upon a time, Black…Unofficially, Kell is a smuggler, servicing people willing to pay for even the smallest glimpses of a world they'll never see. It's a defiant hobby with dangerous consequences, which Kell is now seeing firsthand. After an exchange goes awry, Kell escapes to Grey London and runs into Delilah Bard, a cut-purse with lofty aspirations. She first robs him, then saves him from a deadly enemy, and finally forces Kell to spirit her to another world for a proper adventure. Now perilous magic is afoot, and treachery lurks at every turn. To save all of the worlds, they'll first need to stay alive."
The Grishaverse by Leigh Bardugo
Leigh Bardugo has created the Grishaverse which includes The Grisha Trilogy, The Six of Crows Duology, and The Language of Thorns so far. It begins with Shadow and Bone: "Soldier. Summoner. Saint. Orphaned and expendable, Alina Starkov is a soldier who knows she may not survive her first trek across the Shadow Fold—a swath of unnatural darkness crawling with monsters. But when her regiment is attacked, Alina unleashes dormant magic not even she knew she possessed. Now Alina will enter a lavish world of royalty and intrigue as she trains with the Grisha, her country's magical military elite—and falls under the spell of their notorious leader, the Darkling. He believes Alina can summon a force capable of destroying the Shadow Fold and reuniting their war-ravaged country, but only if she can master her untamed gift. As the threat to the kingdom mounts and Alina unlocks the secrets of her past, she will make a dangerous discovery that could threaten all she loves and the very future of a nation. Welcome to Ravka…a world of science and superstition where nothing is what it seems."