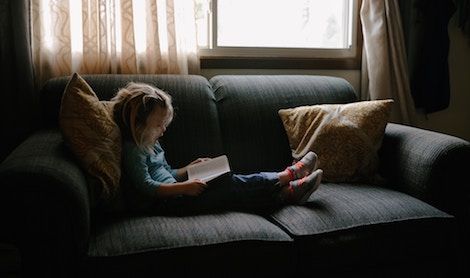 This content contains affiliate links. When you buy through these links, we may earn an affiliate commission.
2018 was an amazing year for children's books—what a time to be alive! I've highlighted a few of my favorites here across multiple ages and including graphic novels and non-fiction. I am considering YA to be children's because, well, teenagers are minors. This list is by no means exhaustive. Tell me your favorites in the comments!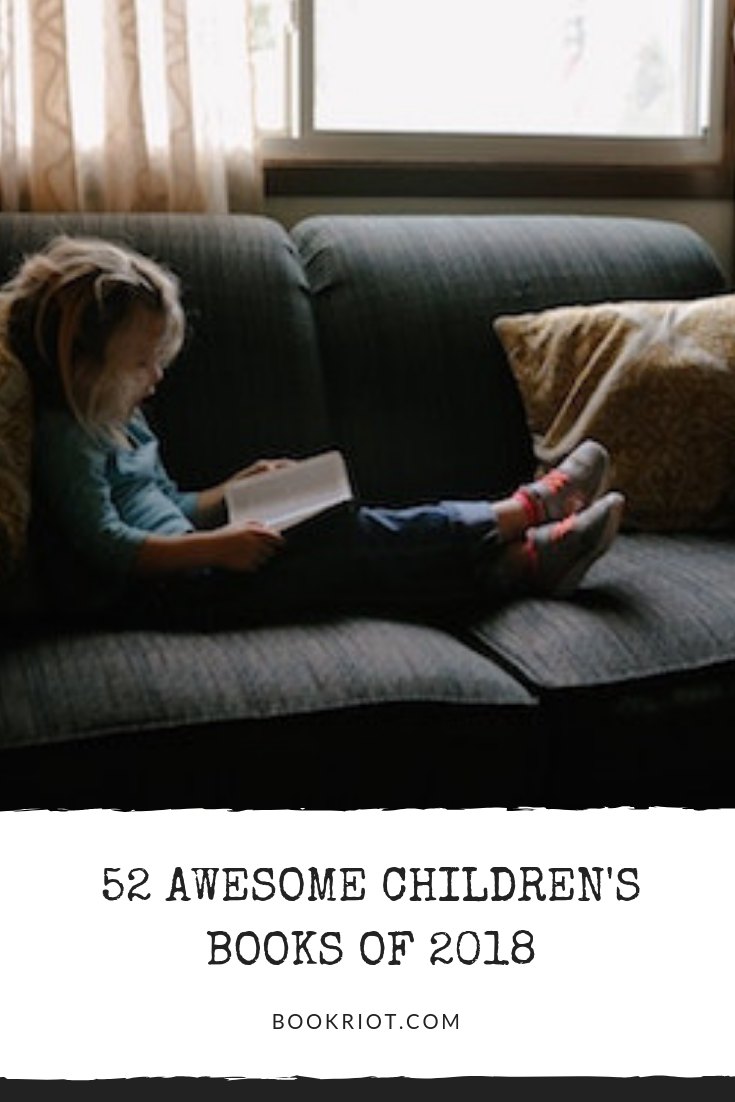 Picture Books and Early Chapter Books
The art! Oh man the art in this book. Julian and his grandma see some mermaids on the train and he makes himself up like one while his grandma is in the bathroom. Also, *finally* another book to the tiny selection of books with queer POC children.
Drawn Together by Minh Le, illustrated by Dan Santat
Minh Le is my new favorite person-I've-never-met. He has created a book that uses silence and Dan Santat's intricate art to explore family relationships where language can become a barrier. And it is captivating!
I am Enough by Grace Byers, illustrated by Keturah A. Bobo
A lyrical book about loving yourself and respecting others, about treating everyone with kindness and compassion. Bobo's art is the kind that you just can't stop looking at and the powerful stances of all of the girls in the pictures make it all more timely.
If you've read Mother Bruce, you'll know what to expect when you read a Higgins's book to your kids: lots of giggles and requests for rereads. Poor Penelope T. Rex has been so excited to start school but she finds that not eating the tasty humans in her class is just so hard. Until she learns that someone else might want to eat her, and that she should treat others the way she wants to be treated.
Inspired by real events, this book shows kids how they can combat bullying when they see it, giving kids power when they feel powerless in the face of cruelty. Acceptance and kindness are the themes and the quiet drawings suit is perfectly.
Little Kunoichi and her brother go to visit their eccentric inventor grandmother for the summer and find that they and their grandma can create their own fun! Ishida's watercolor art is packed with detail and with Japanese words sprinkled throughout the text.
A story about immigration based loosely on the author's own experience as a child immigrating to the United States and discovering the community of books that the public library offers. Don't forget to reread it to pause on each page because the art is BEAUTIFUL!
All Are Welcome by Alexandra Penfold, illustrated Suzanne Kaufman
The story of a day at school for several children, shown to be a diverse group of kids, with hijabs and yarmulkes and baseball hats and patkas. They play together with little impact from their differences. In class they learn about and then celebrate Lunar New Year together at school. A beautiful and heartwarming story about how there is a place for everyone in a community.
Alma has a really long name, Alma Sofia Esperanza José Pura Candela. It isn't until her family tells her about the people she is named for that she begins to appreciate every part of her name. Martinez-Neal's art is spare and captivating, with strategic use of red and blue that make the drawings really striking.
This book perfectly captures the specialness that is a father-daughter relationship. Some of the pictures are too real, such as the big dad having tea in a tiny toy tea set or when he's balanced on the edge of his bed with his little daughter filling the rest.
The fairytale adaptation you didn't know you needed. Snow White has been reimagined as Snow Pony and the jealous Queenie wants to be the main performer at the farm. Sima's beautiful art brings the magic to dancing ponies and the delightful miniature ponies. And Queenie even gets a little redemption by the end.
Mission Defrostable by Josh Funk, illustrated by Brendan Kearney
Lady Pancake and Sir French Toast return for their third adventure where the frost from the freezer starts to creep in and take over the fridge! Our heroes find that they may have judged others too quickly—in both directions!
An empowering book about feeling like an outsider among your classmates, until you start being yourself and finding that there are others like you all around.
She's baaaaack! This time it's at the science fair, where the Princess in Black and the Princess in Blankets have to figure out how to get help so that they can get a monster back to Monster Land. Luckily, Princess Magnolia knows a few ready princesses who can help. Here's to seeing more books with the princesses as a team of diverse super heroes!
Zoey and her cat Sassafras have to figure out how to help out magical creatures who come to them in these magical-science-mystery-adventures. A guaranteed hit that teaches kids the basics of the scientific process.
Yasmin is an enthusiastic second grader who applies her creativity and pluck to solving any situation that comes her way! Integrating her family's Pakistani American culture into the stories, as well as a glossary of Urdu words at the back, instructions for making a floral bookmark and a recipe for lassi (!!!!), Yasmin's story will enthrall everyone!
Middle Grade
Zayd dreams of being the first Pakistani American to make it big in the NBA. But as a slight fourth grader whose parents want him to spend more time on violin than basketball, Zayd wonders if he'll ever get his shot. Especially when his parents make him quit the team. Caught between parental expectations and his own passions, Zayd tackles his struggles with humor and readers will root for him on every page.
Aru lives at the Museum of Hindu Art and Culture with her mom. When she lights an ancient lamp in an attempt to impress some kids from school, she also lights up an adventure where she must join forces with a spiritual sister and a pigeon mentor to journey through realms of Hindu mythology to save her mom. Oh, and everyone else. Hand this book to any Harry Potter or Percy Jackson fan you know.
I'm still blown away by this book (and by DasGupta's amazing narration of the audiobook) when I think about it. Kiran thinks she's just a regular 12-year-old girl in New Jersey until her parents disappear, two princes arrive, and a rakshasa demon tears her house apart. It turns out she's a cosmic princess with some big tasks awaiting her. While it may have slight parallel with Aru Shah, don't for a minute think that you don't need both of these books in your life!
Sunny and Lu by Jason Reynolds
The final two stories in the Track series, about four kids who join a track team in Brooklyn. Sunny is the distance runner but he doesn't love it. He loves dancing, so he takes up throwing the discus and he loves being his wacky self. Lu is a sprinter and has the ego to go with it. He just has to figure out how to use his ego to lead the team, and not let it get in the way. If you love sports, if you don't love sports, if you love good writing, if you love strong characters, if you love falling in love with a story, these are the ones you're looking for.
Amal is the eldest of four sisters, which soon become five. She loves going to school and dreams of becoming a teacher in her Pakistani community. All of that goes out the window when she is forced into indentured servitude with the wealthy and corrupt landlord nearby. Amal accepts the changes in her life, but she is never cowed and is ready to make a change when the opportunity presents itself.
Marinka just wants a friend, but it's hard to do when your grandma is a Yaga and you are in training to become a Yaga as well. Despite her house on chicken legs, Marinka breaks the rules to find a friend…and finds herself suddenly thrust into the role of the Yaga. She must travel to the underworld to get her grandmother back and then she's got to rebuild her skull fence!
On her way to rock camp with her best friend, Melly suddenly finds that everything is changing. Her parents split up, her best friend decides not to go to camp, and Melly develops a crush on one of the girls at camp. She even starts to question her drumming. More books about queer rock and roll girls, please!
Alex Gino is the mind who gave us the delightful (and often challenged) George. This is their second book, digging into just how we all must grow and continue to learn about our place in the world and about how the world treats others. Jilly thinks she's got everything figured out, but as she learns from her sister Emma who is deaf and her friend Derek who who uses ASL and is black, she doesn't actually understand the world as much as she thought.
The Vanderbeeker children return, this time building a community garden for a neighbor who is grieving. They find that turning an empty lot into a garden will take a lot of work, both on the ground and in protecting it from a developer. Glaser is excellent at taking on big topics like grief and gentrification, while keeping the book charming and entertaining.
So, this book is about kids who ride dinosaurs during the Civil War to rescue their friends. Look, if that didn't convince you to take a closer look at this book, I'm not sure what will. How about if I repeat that it's by the brilliant Daniel Jose Older?
Morrigan Crow survived the trials of the first book that allowed her to stay in Nevermoor. Now she finds that the Wundrous Society isn't everything she'd hoped and that someone seems to be setting out to ruin any friendships she has. Set against the city-wide panic as people begin to go missing, Nevermoor doesn't seem like a haven anymore. With giant cats, dragon-riding BFFs, and magical gingers, she's got a lot at stake.
Jasmine is back and this time she's ready for a pet. Despite doing her best to prove to her parents that she's ready to be responsible, Jasmine feels like she will never get her flamingo. She even made a wish using her daruma from her grandmother! Readers get to see the melding of cultures in a Japanese American family and root for Jasmine, the imperfect heroine we all are at eight.
Nadia is celebrating her twelfth birthday when the Arab Spring begins, and it changes her whole world. The story traces the arc of the Syrian crisis through the eyes of a girl who has to flee the city that is her home after she becomes separated from her family. Senzai manages to make the story both heartbreaking and hopeful, which is especially important given its timeliness.
Mia runs the front desk at the motel her parents manage for a useless and cruel owner. As immigrants, Mia and her family feel the hardships of life in America, but they also use the motel to hide other immigrants and meet the world with compassion. Mia herself is sweet and determined and she loves to write. She is the heart of the book buoying the tone of the book through the racism, bullying, and poverty that are the realities for many immigrants.
Young Adult
A companion novel to the Seraphina duology, this story follows Seraphina's cousin Tess, who leads a far more ordinary life. Or rather it's extraordinary in all the wrong ways. Tess has been demeaned for her outspokenness, her sexual activity, and her drinking until she believes she's as bad as everyone says. It's only as a runaway with no particular destination that she finds who she is and who she wants to be.
The follow-up to the amazing Akata Witch, set one year after Sunny Nwazue learns she is one of the Leopard People, the magic-users in contemporary Nigeria. In this book, Sunny and her friends only have to prevent the apocalypse, NBD. Also, that coverrrr!
Harbor Me by Jacqueline Woodson
Six kids in a room, no adults, and honest conversations about their lives and struggles. Like The Breakfast Club, but less of a white out. The kids bond and recognize their similarities and strengths. Watch it for all of the awards, because Woodson is a genius.
Believe the hype. Zombie attack after the Civil War and a BAMF heroine who takes them down while fighting racism and corruption. Why haven't you picked this one up?
Pride by Ibi Zoboi
This is the Pride and Prejudice retelling for our time. Zoboi transports the story to Brooklyn, where the Benitez family lives and where the wealthy Darcy family moves to. Zuri immediately has opinions about the aloof Darius. Both leads are people of color (Zuri is Afro-Latina and Darcy is described as having dark skin) and gentrification is a major theme in this version of the story. I also loved the way the book makes the social situations more relevant to a modern reader, because the faux pas and exploitative situations (i.e. Lydia/Layla and Wickham/Warren) are so much closer.
Nonfiction
A primer for kids and a reminder for adults that citizenship is an active state, not passive one. The papercut art is bright and textured, and the message overall will show kids that they do have power in their world.
I'm sure you know a kid who would be drawn to this book like a moth to a flame. This book zooms in on the science and history of the every day event of having an itch. What are things that cause us to itch, why does our body respond with wanting to scratch, all discussed with fun and bright illustration.
This book highlights the accomplishments individual women across the globe have made in their respective fields, offering up examples of With cute art and a selection of heroines
The story of activist Clara Luper who led the first lunch counter sit-ins to desegregate Oklahoma City with non-violent protest and buckets of courage. And those cat-eye glasses.
The story of the four women who worked as human computers for NASA during the Apollo Missions, despite social biases and prejudice toward both women and black people. Celebrate math, persistence, and the legacy of women of color!
An autobiography of the first Latina Supreme Court Justice, who lists books as one of her inspirations to work to become what she wanted. A book from Justice Sotomayor about how books gave us Justice Sotomayor? 'Nuff said!
Do Not Lick This Book by Iden Ben-Barak, illustrated by Julian Frost
With a title like that and pictures of microbes on our teeth and skin, what kid could resist?
Lovely Beasts by Kate Gardner, illustrated by Heidi Smith
Gardner gives a second look to creatures who have been stuck with labels of "scary" and "ugly" and "creepy." They are far more than one word could capture. Paired with soft illustration, this book is easy to get lost in.
Every month is the right month to read LGBT books. This one introduces Harvey Milk and the struggle for gay rights, as well as giving the story for how the rainbow flag was created. Most kids understand prejudice through the lens of the Civil Rights Movement and this book shows them the way that oppressions build on each other. Also, my kids thought "Milk" was a great name.
Graphics and Comics
Crush by Svetlana Chmakova
Chmakova really gets how it feels to be a kid in middle school. Small dramas feel huge and in this one, first crushes are overwhelming and disorienting. Extra kudos for using social media, like real kids do!
So there are TONS of these books, but First Second knows what they are doing. They have selected nonfiction topics that kids love, like dogs, dinosaurs, coral reefs, and drones, and blended them with bright graphics. Nonfiction comics take over the world!
The authors and illustrator blend imagination and reality in beautiful panels, as they explore friendship and real issues kids tackle at home. It's both delightful and touching, and I want to make up my Cardboard Kingdom character name.
The penultimate book in the massively popular Amulet series, which starts off with Emily and her brother Navin going through a magic door in the basement to rescue their mother. If you know a kid, they're probably waiting on tenterhooks to find out the next installment in the dangerous world of this series.
Merlin shakes things up for the Knights of the Round Table by opening up a magical doorway that takes the knights to the time of dinosaurs. It's the King Arthur retelling we didn't know we wanted. Oh, and lady knights are welcome at this round table!
Cucumber and his crew journey to the Flower Kingdom where one of them must enter a reality TV competition and the group discovers more of the schism happening with their adversaries. Hero and quest tropes turned on their heads!
In the vein of Wreck-It Ralph, these Bad Guys decide to do good deeds, even though it never goes to plan. Dinosaur time-travel seems to be a hot trend this year and it only serves to make the Bad Guys more appealing. They have to fix their time machine while trapped 65 million years in the past, avoiding dinosaurs and trying to get back to their time to stop evil aliens!