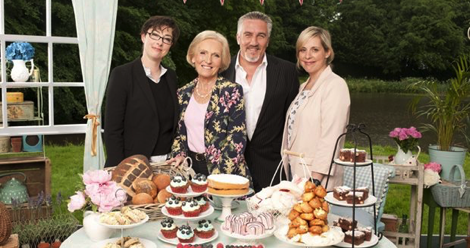 Lists
If You Love THE GREAT BRITISH BAKE OFF, You Need These Recently Published and Forthcoming Cookbooks
This content contains affiliate links. When you buy through these links, we may earn an affiliate commission.
My love for The Great British Bake Off (renamed The Great British Baking Show in the US) runs deep. A runaway hit in the UK, this adorable, funny, and good-natured reality baking competition quickly became one of my favorite TV shows ever. It's that good. Believe me, I didn't think watching 10 amateur bakers whip up pies, cakes, cookies, breads, puddings, meringues, and more in a tent on a British estate would be all that interesting, either.
Let me repeat: It is SO GOOD.
So when the BBC announced last summer that the show would be moving to Channel 4, and that the quirky and hilarious hosts, Mel Giedroyc and Sue Perkins, along with judge extraordinaire and queen of elegance Mary Berry, would be leaving, I was heartbroken. I cannot imagine Bake Off without Mel and Sue's punny banter and warm rapport with the contestants. As for Mary Berry, ever since the show kicked my own home baking into overdrive, it's been my personal fantasy for her to appear in my kitchen, take a bite of the perfect pavlova I've just whipped up, and declare it "positively scrummy."
So, although the new season aired in late August, I could not muster any excitement, or bring myself to watch. Instead, I'm mourning the changes in my beloved Bake Off by indulging in these new and forthcoming cookbooks.
Whether you're a hardcore Bake Off fan like me and stubbornly boycotting the current season, or you're eagerly watching it with pleasure, or even if you've never heard of the show but love baking, these cookbooks are for you.
THE SIGNATURE BAKE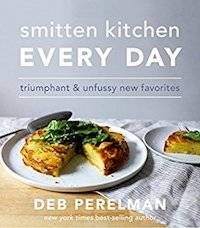 Smitten Kitchen Every Day: Triumphant and Unfussy New Favorites by Deb Perelman (Knopf, October 24th)
When it comes to the signature bake—each contestant's personal twist on a particular kind of bake (e.g. tea loaf or fruit pie or trifle)—Deb Perelman is, in my opinion, the queen. Her recipes are occasionally fancy, but they mostly fall in the comfortable middle: delicious, simple to execute, and as she states in the title of her new book, unfussy. I use Smitten Kitchen more regularly than any other cookbook or cooking blog, so obviously I can't wait to get my hands on her latest book.
Smitten Kitchen Every Day is not only a dessert cookbook—here you'll find recipes for vegetable, meat and pasta dishes that will make you want to run to your kitchen immediately (Leek, Feta & Greens spiral pie, anyone?). Plus, Deb's unique humor and cozy, familiar writing style is sort of like of having Mel and Sue in your very own kitchen.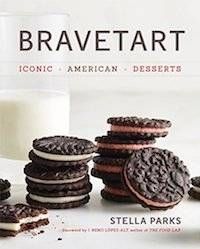 Brave Tart: Iconic American Desserts by Stella Parks
I discovered Stella Parks soon after my Bake Off obsession began, while I was scouring the internet for recipes for French macarons. I found her blog and spent a happy winter churning out batch after batch of macarons, courtesy of her easy-to-follow recipe. I can't wait to get my hands on this new cookbook, where she graces us with her versions of classic American desserts, from cherry pie to chocolate chip cookie dough ice cream. She also weaves the history of popular desserts into the book, just like the fascinating side-trips into the history of food and cooking that make Bake Off as educational as it is entertaining.
THE TECHNICAL CHALLENGE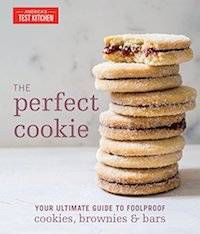 The Perfect Cookie: Your Ultimate Guide to Foolproof Cookies, Brownies & Bars by America's Test Kitchen
If there's one thing that dashes my fantasy of moving to the UK, becoming a citizen, and getting myself selected as a contestant on Bake Off, it's the technical challenge. Each week, the contestants are asked to produce a finished product (often something they've never even heard of) with very sparse instructions. It's definitely anxiety-producing.
Once I've worked my way through this tasty tome, however, I know I'll at least be able to face any biscuit-related challenge Mary and Paul could ever throw at me. With carefully tested recipes for nearly every cookie you can imagine from classic brownies to no-bake candies, a troubleshooting guide, and lots of tips on technique and equipment, this cookbook is sure to get you baking up plates of perfect and mouthwatering cookies every time.
THE SHOWSTOPPER
Sweet: Desserts from London's Ottolenghi by Yotam Otolenghi & Helen Goh (Ten Speed Press, October 3rd)
The final challenge of each Bake Off episode is my favorite—the showstopper. These meticulously-planned and often staggeringly beautiful creations are truly a remarkable feat of mechanics and imagination. From 3D gingerbread constructions to three-tiered wedding cakes, the showstoppers are always extraordinary.
If anyone knows how to make a mouthwatering showstopper, it's Yotam Ottolenghi. I adore all of his previous cookbooks. His recipes are not always simple, but they are always outrageously delicious. So when I heard he was teaming up with pastry chef Helen Goh to write a dessert cookbook, I may have squealed with excitement. His Middle-Eastern inspired vegetarian recipes are some of my favorite things to cook, and I cannot wait to try my hand at his desserts.
And while I'm sure this book will have plenty of simpler desserts, it's the showstoppers I'm really excited about. How can I possibly resist something like Cinnamon Pavlova with Praline Cream and Fresh Figs?
What are cookbooks that keep the Bake Off love alive in your kitchen?