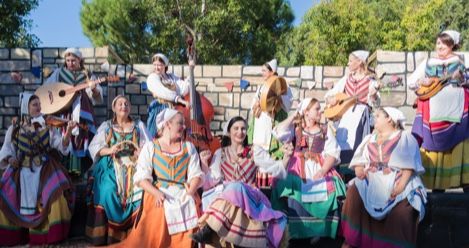 This content contains affiliate links. When you buy through these links, we may earn an affiliate commission.
I've always been casually interested in attending a Renaissance faire. As a kid, the idea of prancing around a village full of actors and vendors in my Medieval best sounded exciting. It was not, however, the idea of fun for most of my immediate family. While my parents are both readers and my brother had niche interests of his own, I was definitely the nerd of my immediate family. So, instead of long drives to the Renaissance faire, we took our in-state summer vacations at places like Clark's Trading Post and Six Gun City. Cute, but not exactly a nerd's paradise. As I got older and something called Adult Responsibilities ruined all my fun, the dream of going to a Renaissance faire died. And then I read a graphic novel.
I'm a children's librarian, so I have the fun task of reading a lot for work (though, not on the job—at least, not too often). Last year, the powers that be asked that the children's librarians choose a selection of books from a larger list so that we might discuss them at one of our regular meetings. The list had nonfiction titles, graphic novels, picture books, and fiction pieces. The graphic novel in my list was Victoria Jamieson's All's Faire in Middle School.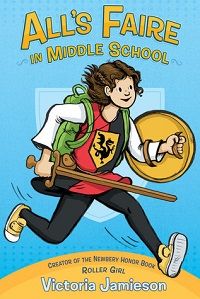 Prior to reading All's Faire in Middle School, I was pretty sure graphic novels were not for me. I'd tried a few adult titles and found the format to be overstimulating. I wasn't sure where to put my attention and discovered that I felt fatigued and that I'd missed out on key elements of stories by their ends. Graphic novels, in the words of Amy Poehler were "good for [others]! Not for me." And that was okay. But then I read All's Faire and a whole new world opened up. The bold and simpler illustrations were easier for me to digest. The plot, despite being for children, was emotionally complex and engaging. The characters were multifaceted and imperfect. And Jamieson's writing was heartfelt, funny, and informative. Maybe graphic novels weren't so bad.
I really should have known better, as someone who insists to kids that they don't dislike reading, but that they just haven't found the right book. Lesson learned. (And one day, I'll apply the same lesson to audiobooks.)
So, first, a graphic novel made me try reading graphic novels.
But the idea of a Renaissance faire stuck with me. And I wanted to know more. I started making an effort to keep watch for opportunities to go to a Renaissance faire. Then, the perfect opportunity arrived. My parents, visiting from states away with my niece, would come in October, seven months after I first read All's Faire in Middle School, and the Maryland Renaissance Festival would be wrapping up just days later. I convinced my parents it would make for a good activity and purchased our tickets.
Other than my own imagination, I had nothing to really inform my experience going into the faire. What would I do there? When was the best time to go? What kind of food could I expect, aside from turkey legs? What about vendors? But I also had All's Faire to go on, which answered a lot of these questions for me. I felt prepared to go, feeling that I knew just enough to get by but not so much that the novelty and surprise of a first-time visit was gone. Despite the bitter wind and cold that day, I had a wonderful time. And I'm not sure I would have thought to go had it not been for All's Faire in Middle School.
Later that fall, still enamored by Jamieson's writing, I picked up another of her graphic novels: Roller Girl. I was only very vaguely familiar with the concept of roller derby from trailers of 2009's Whip It starring Ellen Page and Drew Barrymore. The aesthetic of it intrigued me, but, as with the Renaissance faire, I'd never done much about my passing interest. So, I read Roller Girl more-or-less ignorant of what roller derby actually was. Again, I got swept up in a subculture and community that was new to me, but that seemed to answer to some call in my heart.
A similar sort of series of events brought me closer to roller derby as had happened with All's Faire in Middle School. A few months after reading Roller Girl (which, like All's Faire in Middle School was emotionally complex, informative, and featured a great cast of characters including a young woman who, in many ways, might have been me at the same age), I saw my local college alumnae chapter was having an event at an upcoming roller derby bout. A fellow alum would be present prior to the event to explain the game and answer questions. Then, we'd watch.
I convinced my fiancé this would be a good way to spend a Saturday afternoon. We saw Captain Marvel in the morning, which had a convenient showtime just four minutes away from the arena. Then we made our way over to the sportsplex and settled in for the game. I couldn't find my alumnae group, but, despite the usual social anxiety I feel at events like this, I found the crowd and the derby girls to create a comfortable environment. Prior to the game, the announcer asked who had and had not been to a derby bout before. Those who cheered as first-timers far outnumbered veterans. Meanwhile, girls decked out in St. Patrick's Day-themed derby attire skated around and offered to answer questions. I didn't ask any myself, but listened to them explain to others in the crowd. They were gracious, patient, and excited to share their world.
And the bout felt life-changing.
Since attending the season's kickoff, I've put holds on a number of roller derby books, looked into the schedule for the rest of the season, figured out a way to fix my own novel-in-progress by including roller derby in the plot, and encouraged others in my life to look into roller derby. And I've even started poking around in getting involved.
All because of a graphic novel.
With special thanks to Victoria Jamieson for giving me whole new worlds to learn about and play in (and I can't wait for what you'll lead me to next!).
Has a book ever made you try something new? Tell us in the comments!