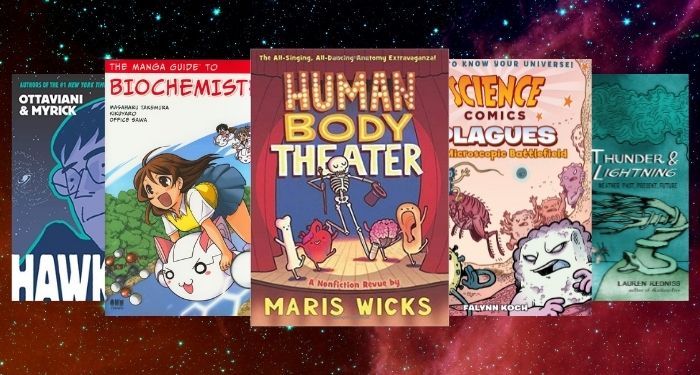 This content contains affiliate links. When you buy through these links, we may earn an affiliate commission.
Graphic novels are fun to read, but can they be used for school and learning? Yes! Graphic novels are a great supplement to any subject in school. Not only can they entice a reluctant reader, but they offer visual cues for those with learning or reading disabilities, can be more accessible to English language learners, help with visual literacy skills, and can illustrate or present ideas in a new way.
I really love graphic novels and comics to begin with, but the more I read them, the more I also appreciate their use in subjects typically found in school. For science, this can be especially beneficial when explaining a complex reaction, if there's a lot of material to remember on one thing, or if the particular topic doesn't seem fascinating. Graphic novels can make it more interesting and make it more visual, and therefore easier to remember for some people, which can be especially helpful when it comes to science.
If you're looking for some graphic novels about science, look no further! I've put together a list of science-themed graphic novels to add to your collection. The next time your teacher starts a new unit, or if you'd like to learn more about a scientist or about a topic in science, why not take a look at one of these?
If you're interested in reading more graphic novels, check out this post on good graphic novels for beginners, and this post on YA books adapted into graphic novels.