Children's
If You Want Kids to Read Nonfiction, Try Graphic Nonfiction
This content contains affiliate links. When you buy through these links, we may earn an affiliate commission.
Many Americans can probably remember studying or at least discussing the doomed Donner Party in grade school history classes. After we clicked away at The Oregon Trail and killed off digital people named after real people with dysentery and typhoid (am I showing my age?), our teachers gave us the tastiest morsel of the story of the pioneers who, believing they were taking a shortcut, became stuck in the Sierra Nevada mountains. You know what happened next. Cannibalism. But let's be real—the watered down versions we devoured in our textbooks were thrilling, but nothing compared to what's available today. Plus, many of our history lessons were far less exciting than people eating people. Fortunately, the graphic format has become more of a Thing, including for children and including nonfiction. If your school-age kid whines about school being boring, consider handing them some graphic nonfiction.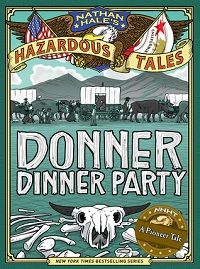 The Donner Party is in the fore of my mind because I recently tore through Nathan Hale's Hazardous Tales: Donner Dinner Party. In one night, I flipped through page after page, absorbing tons of details I never knew about the ill-fated journey. What's better, author-illustrator Nathan Hale takes full advantage of his name and frames the story of the Donner Party with the story of historical spy Nathan Hale's execution. In a sort of twist on One Thousand and One Nights (otherwise known as Arabian Nights), spy-Hale tells stories of history to a guard and executioner as they await an audience for spy-Hale's hanging. The three framing characters appear throughout, providing commentary and comic relief as well as occasional side stories as the primary tale is relevant to other major historical events. The drawings are fun and simplistic and are a fantastic tool to help kids visualize the story, thus making it all the more memorable. If this was how I'd studied history as a kid, I suspect my memorization of dates and such would have gone much better than it did.
But Nathan Hale isn't the only one tackling nonfiction for kids with the graphic format. Tetsu Saiwai published a graphic biography, The 14th Dalai Lama: A Manga Biography, on the current Dalai Lama, who was identified as such as a toddler. Marjane Satrapi brought us her riveting story of life through the Islamic Revolution in Persepolis (perhaps best for older kids). And there's more to graphic nonfiction than history and biography. Read about science in pieces like Science Comics: Plagues: The Microscopic Battlefield by Falynn Koch, Human Body Theater by Maris Wicks, or read about mythology in works like Olympians: Aphrodite: Goddess of Love by George O'Connor.
They say that you can be sure you've really learned a thing when you are able to teach it. Graphic nonfiction is not just a lesson but an amazing opportunity, too. It's a built-in lesson plan, whether you're a teacher with a class full of kids or looking for an activity to do on a rainy summer afternoon at home. Once you've read a graphic nonfiction, it's a natural progression to challenging the reader to creating a comic strip—or book, if they're feeling ambitious!—of their own depicting something they've learned. With so many great examples, kids can learn not just about the subject of a given book, but about approaches to literature too. Nathan Hale, for example, does a good bit of foreshadowing. Science Comics breaks the fourth wall. Human Body Theater uses humor. All of these things and more can be incorporated into a kid's own graphic attempt at teaching something and they'll come out on the other side not just with an understanding of, say, simple machines, but also a good grip on, perhaps, irony. Win-win.
I see so many parents come into the library with their kids and quickly steer them away from graphic novels and graphic nonfiction despite the kids' eagerness and enthusiasm. When I can, I intervene, and encourage parents to let the kids take home some of the graphic collection, even if the deal is two traditional novels for every one graphic piece. Graphic nonfiction is working to do things we might not be aware of simply because of the stigma we place on it. Take a minute to check it out yourself—you may be surprised at what you learn.