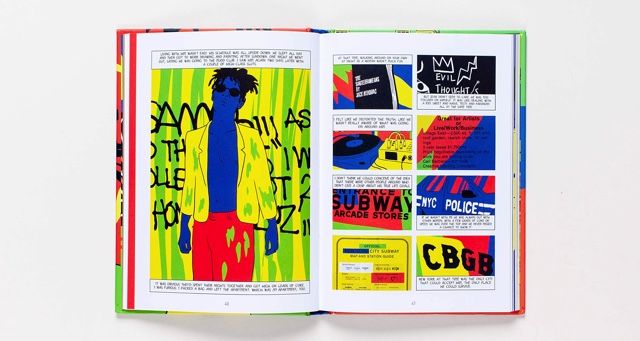 This content contains affiliate links. When you buy through these links, we may earn an affiliate commission.
There is no denying that graphic novels are pieces of art that one can carry, interact with, and own. They are one of my favorite genres of books, and I can never wait to get my hands into a new, beautifully designed and written one. Every time I hold a graphic novel inspired by another artist, I see how art, in every form, creates generation-long communication. It shapes our world indefinitely.
I think it's clear now that my favorite kind of graphic work is one that has a nonfiction element. Be it a biography, memoir, or just fun facts, I always feel like I am entering the best class I have ever attended in my life when I open one. Recently I have been reading several graphic biographies, backlist and new, about activists and artists.
The ones I recommend below are some of my favorites. I believe we choose to follow these stories because they not only teach a lot about the people that inspire us. Both the good and the bad parts of what it means to be alive in this world.
These stories illustrate to us that art and activism are not mutually exclusive. That beauty requires sacrifice, and that our artistic or political idols can still be flawed and human.
Being creative is hard; being a creative in a world that actively fights against you is harder. So, I hope these works of graphic nonfiction inspire you never to give up and show you that even the most famous artist and activists were flawed.
This beautiful graphic biography is part nonfiction taken from the many accounts of Kahlo's life, both as an artist and activist for worker's and women's rights. Many of Kahlo's beautiful work is expanded and translated on the page into a narrative that gives us a snapshot of the many passions and hardships of Kahlo's life, while at the same time relating her ancestral history, which defined both her political affiliations to the communist party in Mexico and her distinct aesthetic sensibilities.
A mix of biography with magical realism, this graphic biography is based on Gabriel García Márquez's life. When it was first published in Colombia in 2013, it became so popular that it was credited with opening new opportunities for Colombian publishers. Although it has been published in several other languages since, you can only read the English version translated by Lawrence Schimel online. A beautiful story that narrates Márquez's beginnings as a writer and his struggle to be recognized as an artist by both his community and his family, and the path that would lead Marquez to be known as one of the most influential writers of the 20th century.
A beautiful and moving depiction of Basquiat's journey as an artist. Parisi's story not only takes the reader through the artist's young life but does it in such a way that you are completely submerged in Basquiat's mind. Using Basquiat's paintings as graphic inspiration, this book can easily blend in with the most expensive coffee table art giants. Dive into the 1980s New York art scene and get to intimately know the journey of Basquiat from 'vandal' to art master.
Sensible Footwear is cartoonist Kate Charlesworth's graphic memoir and personal history of the LGBTQ movement since the 1950s and her journey as an artist. Focusing on Lesbian narratives from the 1950s to the present, Charlesworth touches on significant periods that defined both the movement in the past 70 years. From Stonewall to coming out to her family and losing friends to AIDS, Sensible Footwear is a moving and inspiring illustrated memoir of representation, activism, and art.
A beautiful graphic history of African Americans, extending from slavery up until the Obama presidency. Still I Rise: A Graphic History of African Americans, is a moving tribute to African American history, memory, and achievements. Including everything from heroic political activism to modern artists and philosophers, this graphic novel expands the horizons of what it means to be an African American in the U.S. both in the past and today.