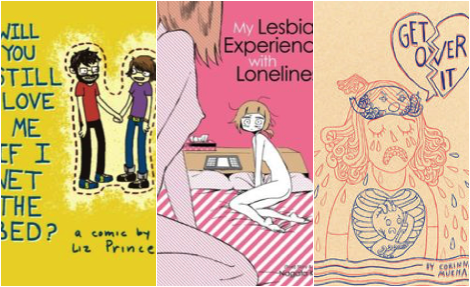 This content contains affiliate links. When you buy through these links, we may earn an affiliate commission.
Fall is always romantic in my mind, and I've been reading so many cute graphic memoirs about relationships this year. These don't necessarily embody that feeling of sitting on your couch with tea and a cat while it rains against the window, but they come close.
Liz Prince is maybe better known for her Alone Forever collection of comics on life as a single lady, but this one is an adorable (and pocket-sized!) collection about her life with her boyfriend. Themes include: Butt grabs, cuddle farts, and silly talks.
Seo Kim's collection is similar to Liz Prince's, where each page is a separate slice-of-life comic. Cat Person may look and sound like a single lady anthem, but it's bursting with cute comics about her relationship. And her cat. Because cats.
Here's the opposite of a relationship! Nagata Kabi is anxious and sort of reclusive, so she seeks out an escort agency to help get her out of her shell. The cover makes this look like a goofy comic, but it's a really introspective memoir about working through her mental illnesses.
Soppy by Philippa Rice
Help, this book is too cute! I read it in one sitting, awestruck by the happiness and comfort of a relationship where the big gestures aren't as important as the daily moments.
Okay, so maybe this isn't a cute one about relationships. It's about a breakup. But it's still a goodie! Reading Corinne Mucha's work felt like reading my own diary from a time of heartache.
Here is a happy ending for you. Lucy Knisley chronicles her on-and-off relationship and then wedding planning with her now husband. I love this one so much.
What about you? Share your favorite comics about relationships in the comments, please! I need more, more, more.