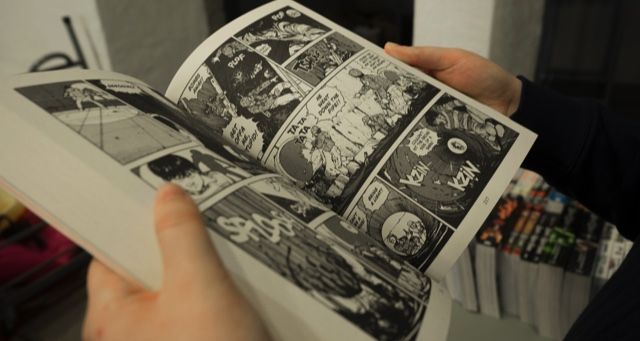 This content contains affiliate links. When you buy through these links, we may earn an affiliate commission.
Ever wish one of those giant biographies had more pictures? I mean, Alexander Hamilton was a fascinating figure, but Chernow's biography is massive, pages and pages of uninterrupted text begging for something, anything, to keep your brain from wandering off. It's also heavy, both in terms of subject and in terms of actual weight; I carry a backpack most days and even I had a hard time finding space for it.
Good news, everyone! I have a solution.
Graphic nonfiction!
I've mentioned this book in a couple of different articles. I want to give it some good airtime because I feel as though readers may have slept on it a bit; I'm not sure I'd know about it if I hadn't heard Walker speak about how important he felt it was to disseminate history in a format that is accessible to everyone, regardless of reading ability or level of education. Most of us read Douglass's memoir in middle school or high school, but I think that we could all do with a refresher. This gorgeous volume can only enhance the experience.
They Called Us Enemy by George Takei, Justin Elsinger, Steven Scott, and Harmony Becker (Top Shelf Productions)
Yes, we've been talking about this one a lot lately. Part of discussion revolves around the fact there aren't a lot of first person accounts of the WWII interment camps in which the United States government felt it was their right to imprison legal citizens. Another is the fact that we find ourselves living in an era where those who have ignored history are repeating it. People come to the United States to make a better, safer life for themselves and their families: that was true in the '30s and '40s and it's true now. No one human life is worth less than another and we are lucky to have Takei's book to remind us of the fact.
Satrapi spent her childhood in Iran during the overthrow of the Shah's regime and the establishment of an Islamic state. Her parents Marxists and her grandmother the descendent of Iran's last emperors, she grew up with myriad views, none of which match what she encounters outside the safety of her family's home. Persepolis reminds us that even during upheaval and war, even during the very worst of times, people still live have to live, still have to smile, and still have to grow into the people they were meant to be.
Bui's family escaped South Vietnam in the '70s, just after the country's fall to the North. Though physically safe after their journey, immigration and displacement could not but have a lasting effect on Bui and, despite everything she experienced in Vietnam, she misses home. It's not until Bui herself becomes a parent she begins to understand the sacrifices parents make for their children, the risks they'll take, the unconditional love that will mobilize them to feats of great emotional strength no matter the consequences for the parents themselves.
Learning to adult is hard. It's even more difficult to accept that the process is an eternal one. And what if you want to do it differently than the adults in your life did? What if you want to wander or meander or go cliff diving?
Find a path. Find a home. Find yourself. All tall orders. Make sure, though, that you do it your way, no matter how difficult it seems. You'll get there. And who knows what you might learn and who you might meet along the way. This graphic novel shares snippets of Andrew's own trials and tribulations so you'll know you aren't alone.
Anne Frank's story has been told and retold, both in her own words and in the words of others. Her diary is printed in a slim edition most of us have to read in middle or high school, but can we truly understand the story of a young woman who spent two years hiding from the Gestapo? Who's life was comprised of violent swings between boredom and abject terror? Who died at age 15 while a prisoner at Bergen-Belsen? To some extent, perhaps, but to get a real sense of the claustrophobia, the day to day struggles of being a teenager, the urgency and overarching narrative of history, we need the art of the graphic adaptation. Only then can we really see what Anne saw.
I honestly can't imagine reading a straight up, black type on white/ecru page biography of David Bowie. One of the most creative musicians and actors of the back half of the 20th and early 21st centuries, he was all about the visual: the clothes, the makeup, the shoes, the personas. I think he'd be thrilled to peek down from wherever in the universe he happens to be partying with Freddie Mercury and Prince to see someone had crafted a graphic biography of the rise of his many identities, some of which later fell; his internal conflicts; and his impact on music and alternative culture.
---
As I mentioned, for a long time, history was a field of privilege; tomes were devoted to any number of projects and subjects, but only those who could read at a certain level, those who fit neatly within the category of neurotypical, those who had enough education, were able to study historical events and the stories of important individuals.
The creation and dissemination of graphic biographies has changed everything, however. Illustrations clue those who aren't able to read as proficiently, for whatever reason, in to key events. It gives flow to a dense, complicated series of events, cutting down on the number of words, telling stories with greater brevity and in more than one form simultaneously. Kids have access to stories and people who were previously the purview of adults.
Graphic biographies add to the cultural collective in a way 1000 page books simply can't, and we're all the richer for them.
This is only a sampling of what's available. If there's someone you're interested in, do a search; in most cases, you'll find what you're looking for. And if not…maybe it's time for you to start writing.