This content contains affiliate links. When you buy through these links, we may earn an affiliate commission.
This is a guest post from Julia Rittenberg. Julia is a professional nerd who can be spotted in the wild lounging with books in the park in Brooklyn, NY. She has a BA in International Studies from the University of Chicago and an MA in Media Studies from Pratt Institute. Her graduate work focused on theatrical adaptations of literary works with big fandoms. Her favorite activity is listening to fans about what they love. Tell her about your fandoms on Instagram @juliaobservateur and Tumblr.
---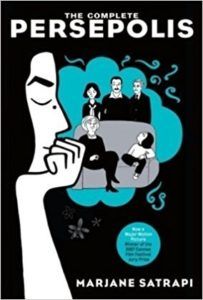 My favorite memoir of all time is Persepolis by Marjane Satrapi. I even got to teach it in an English class. Although for some students it was difficult to engage with the crash course in ancient Persian and recent Iranian history, Satrapi's deft juxtapositions of her childhood and the conflict drew me in more than I originally expected. It was an especially exciting read for students who spoke English as a second language. Being able to focus on the panels made the reading experience more pleasurable.
In fact, history and current events journalism through comics are continuing to gain popularity. The use of comics and drawing to display these events is no less "truthful" or objective than photojournalism and simple articles. The histories seem more intimate, and the comics give an immediacy to the events as they unfold. Here are a few suggestions to get started on your history nerd deep-dives.
Sacco was already a huge voice in the comics journalism world after the publication of his book Palestine by Joe Sacco in 1993, but The Fixer is a marked turn from the exaggerated style that characterized his earlier work. Sacco displays the stories Neven and his past as a self-proclaimed "fixer" during the Bosnian War of 1992–95. The context of the breakup of Yugoslavia weighs on all of Neven and Sacco's interactions around Sarajevo. The horrifying reality of war unfolds through Neven's many soldierly duties and civilian terror. Sacco's art mirrors this smoky terror, never drawing his subject in full illumination.
Marie Curie and her husband Pierre fell in love in a cloud of radioactivity, as Redniss takes us through dreamlike drawings of Marie and Pierre darting through their laboratory. The intense, scientific calculations and information come across as romantic in the context of Marie and Pierre's true love for the work they were doing. Of course, the catch is that we know how radioactivity can affect a body, especially the body of a woman who devoted her life to it.
These three giants of Western thought have sat happily in the clouds of the Ivory Tower with the inaccessibly complex prose and era-defining theories. It is completely appropriate, then, for these two women to bring these men down to earth with a little bit of irreverent skewering. In addition to the visual jokes, Maier and Simon provide refreshingly straightforward explanations of their bodies of work, to the cheers of college students everywhere. I gave this book to my psychoanalyst Marxist thesis advisor, and he deemed it exceedingly accurate.
Marzi by Marzena Sowa, illustrated by Sylvain Savoia
The personal and political are intertwined beautifully throughout Marzena's memoir of girlhood in communist Poland. Government corruption, unstable leaders, and the need to question the society around us are all as relevant as ever. Savoia's illustration evokes the raw sensitivity of Marzi's childhood with Marzi's big eyes and colorful attire, while she is often surrounded by a gray, uncompromising world. A necessary read for making it through tumultuous times.