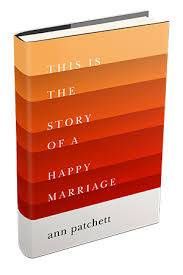 Nonfiction
Grading THIS IS THE STORY OF A HAPPY MARRIAGE Essay by Essay
In the intro to her collection of essays, Ann Patchett tells us that for much of her career, she considered fiction her art. Meanwhile, the bulk of her nonfiction (she's written pieces for everything from Seventeen Magazine [MUST go through back issues, MUST] to the New York Times and everything in between–Harper's, Vogue, WashPo, WSJ, Gourmet, Granta, yadda, yadda), all these essays, she considered to be her day job. Which may have been technically true, but this stance on her essays feels like Michelangelo saying, "Oh, yeah, I did the Sistine Chapel for the cash, BUT HAVE YOU SEEN MY DAVID???" Patchett's essays are absolutely art, and reading them this past Christmas break was a treat and a half.
After giving her essays short shrift for so long, one of her friends convinced Patchett to let said friend comb through her decades of work and put together a collection (thank you Ann Patchett's friend!). And this is why we have the prettiest girl at the collection-of-essays-dance, This is the Story of a Happy Marriage.
It's a little hard to grade these essays because Patchett is SUCH an A student. So I'll grade Patchett against herself. It's boring to grade her against everybody else, it would just be A+, A+++, A+++++timesinfinity+++. So sometimes Patchett gets Bs, even though she's basically the Einstein of personal essays.
Go time? Go time!
Nonfiction: An Introduction– Awesome intro, it's really fun hearing about Patchett's relationship to fiction vs. non-fiction and her Seventeen Magazine days… A-
How to Tell a Christmas Story- A sad and lovely tale about Patchett's sad and lovely relationship with Christmas. Not sure I would have put this as the first piece in collection, but, for obvious reasons such as having nothing to do with the publication of this book, I was not asked. B+
The Getaway Car: A Practical Memoir About Writing and Life– NOW we're cooking with gas. This is my, if you can believe it, THIRD time reading this piece (I own the Byliner version), and I'm still not sick of the story of how Ann Patchett's life had to fall apart in order for her to write her first novel. Guest-starring Grace Paley and Cape Cod in the winter! A+
The Sacrament of Divorce– The essay about Patchett's first husband. For such a seemingly quiet and calm prose stylist, she has such a dark and stormy past! A
The Paris Match– A fight over something stupid that takes place between Patchett and Current Husband. It's like three pages, and it says a LOT about long-term relationships and the power that our past has to affect our present. A-
This Dog's Life– About Patchett finding her dog soulmate. As sweet as it is short. She has some killer observations about woman and her best friend. A
The Best Seat in the House- Ann Patchett likes opera, she had some keen observations about the art form and its fans, no one gets divorced or ages or dies (my favorites in this collection), moving on. B+
My Road to Hell Was Paved- I LOVED this essay about Patchett taking a road trip through the Great Plains with her second husband while trying to decide whether or not to stay married, mostly because it's such a dramatically fraught premise so well realized, but also because I took this exact same road trip and it was not NEARLY so dramatic and I can't help it, I like a heavy pinch of drama in my scrambled eggs. A
Tennessee- Ann observes things about her home state, she's good at regional writing, next. B
On Responsibility– Patchett's grandma and dog are sick at the same time, there are parallels, it works. B+
The Wall- This is definitely one of my favorite essays in the collection. Ann's dad is a retired LAPD cop, and Ann trains for the police exam to see if she can pass (she's musing about writing a book on the subject). So constantly entertaining and deeply original, and there is a very powerful emotional punch packed at end. Plus she's really competent at police stuff, which is AWESOME. A+
Fact Vs. Fiction– A convocation address Ann delivered (a fun change of pace) about her deceased friend, a memoirist, and the story of the friendship between a memoirist and a novelist. A-
My Life in Sales- About book-touring. Basically, this is how it breaks down for me. All of Ann's essays about divorcing and almost divorcing and having elderly friends and dog friends and dead friends get As and basically all of her essays about how hard it is to be a writer get Bs. EVEN THOUGH THEY'RE GOOD, they're just not as good. B
The Love Between Two Women- Patchett's memoir is chosen as a book all these college freshman at a school in South Carolina have to read, and then conservative, religious parents get mad. It's a good essay (if skewing ever so self-righteous), but, and this isn't really Patchett's fault, this is a story I read on Twitter every week and a half. The cities and books change, the sentiments remain the same, so even if when this essay was published it felt original, in the context of now, not so much anymore. B
The Right to Read- The speech Patchett delivered when she went to the college. Again, ever so slightly self-righteous, but some pretty awesome points, and I really like imagining her delivering this. B+
Do Not Disturb– Gourmet paid for Patchett to hole up in a hotel in LA, okay. B-
Introduction to The Best American Short Stories 2006– Ann makes good points about fiction- B
Love Sustained– Ann and her grandma, sob. A-
The Bookstore Strikes Back– Ann opens up Parnassus Books in Nashville when all the other independent bookstores close. I know I said I wasn't going to give Ann As for her essays about being a writer (Getaway Car excluded, that's more about being a waitress/divorcee/almost writer than an actual writer), but this is about her being a writer AND a bookseller, shout. A-
This is the Story of a Happy Marriage- Ann's 11-year courtship with/eventual marriage to her husband. I cried all over my library copy. Perfection. A+
Dog Without End– Ann saying goodbye to her dog of a million years, whom we first meet in This Dog's Life. Damn, Patchett is good at writing about divorce and dogs. A
The Mercies– Ann befriends the elderly nun who taught her how to read and write in grade school. This essay hurt so good I almost couldn't take it. A+
Anyone else read this collection? What was your rubric for reading? Did our grades line up?
_________________________
Sign up for our newsletter to have the best of Book Riot delivered straight to your inbox every week. No spam. We promise.
To keep up with Book Riot on a daily basis, follow us on Twitter, like us on Facebook, , and subscribe to the Book Riot podcast in iTunes or via RSS. So much bookish goodness–all day, every day.