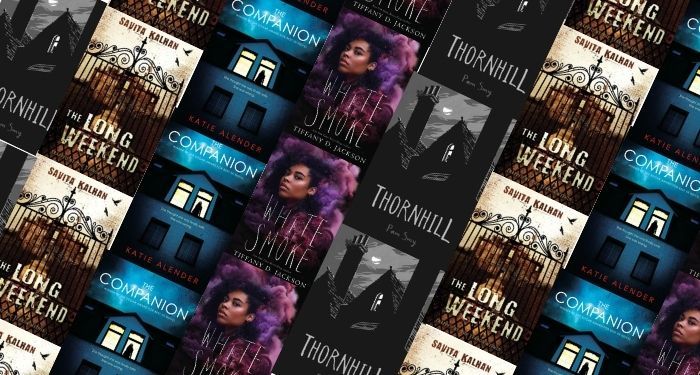 Horror
Something's Amiss: 12 of The Best Gothic YA Books
This content contains affiliate links. When you buy through these links, we may earn an affiliate commission.
Whether you consider yourself a horror fan or not, chances are you've read or viewed something that falls under the horror umbrella: gothic literature. Defined as a writing style that employs atmosphere, dark and startling scenery and imagery, and even though it's typically associated with horror, gothic literature often has a romantic undertone — or even overtone — to it as well. That romance can be among the main characters of the story or a romantic appreciation of the language and visual aspects of the story itself. Gothic YA books in recent years have really leaned into this marriage of horror and romance, with a whole host of variations on tropes including the haunted house, the unknown, and the sublime.
Gothic literature is believed to have originated in England, with many crediting Horace Walpole's The Castle of Otrano as the first gothic novel. Romanticism was at its height then, and the growth of gothic literature from that era makes sense. It continued to grow into popularity in the 1800s, with books like Mary Shelley's Frankenstein, Edgar Allan Poe's work, and Dracula among some of the biggest names. Though gothic literature was popular across England and Germany at this time, when it emerged in the U.S., it relied on those foundations, but it found its own flavor as well.
Stephen King, Toni Morrison, and Shirley Jackson are among the most well-known American authors of gothic horror. Though many of the traditional elements of gothic literature are present in its American cousin, American gothic often includes settings and situations which are uniquely American: slavery, environmental destruction, colonization, and genocide are among the big, meaty cultural elements explored in these stories. The settings are also American, with southern gothic and midwestern gothic playing into the horroresque settings and regional norms and practices.
There's less romanticism in American gothic, though it's still present. This is especially true in YA gothic books, as is another common element: the exploration of mental illness, the experiences of strange things, and either or both may or may not be accompanied by supernatural beings. In some cases, mental illness acts as a "gotcha," wherein the reader is led to believe something is happening in a story but instead learns it's all inside the protagonist's head (depending on the reader and their own experiences with mental illness, this can feel damaging or it can feel empowering — every individual's read is different). In others, though, mental illness ends up being a tool that serves as protection or one of power. Still others allow the presence of mental illness to have no defining mark on the exterior experiences of the characters.
Let's take a dive into some of the best YA gothic books, ranging from titles in the YA backlist to those which are newer. What makes gothic YA books especially fascinating is how these stories combine all of the above-noted elements, while also adding in the strange foreignness of adolescence. Is it normal to feel so abnormal when you're in the midst of the biggest physical, mental, and emotional changes in your life? This reflection on the disembodied reality of being a teenager is but one of the many questions these books explore.
Chills, Thrills, and Questions Abound in These Gothic YA Books
---
There are dozens upon dozens more YA gothic novels, so if any of the above books excite you, know you can find plenty more where these came from. You can dive into some more with these neo-gothic YA books and read through outstanding diverse YA horror.