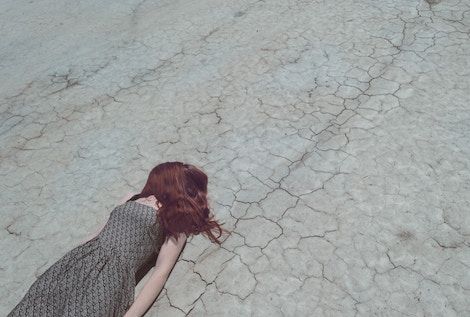 This content contains affiliate links. When you buy through these links, we may earn an affiliate commission.
Brandie DeRusha is a knitter and writer with a MA in Literature with a focus on late eighteenth to early nineteenth century female writers. When she gets time to read something other than board books to her babies, likes to be adventurous and read contemporary non fiction. She lives with her 2 sons, a cat, a dog, and a husband in Tampa FL.
---
Summer is here, it's hot, and I am cranky. I know that I am not alone. I definitely know that I am just not here for happy summer romances right now. I need something little more chilling. If it can't literally cool me off, then it needs to seep into my soul for a day or two. I am ready for October reading.
To be brutally honest here, too, light reading feels like a gross privilege with everything that's been happening lately. If I am going to avoid watching the news and calling my Senators, I am going to need something a little more cathartic. I need to see the world end, maybe, just so I know that it can recover. I need to understand what makes monsters out of humans so I can understand how to fix the dumpster fire that's happening outside of my window. Or at the very least find the humans again.
If you're like me and just need a summer ghost story, here are some ideas to get your gothic beach reading going:
With equal parts social commentary and southern Gothic (it gets real when the ghosts start talking, y'all), we learn that we haven't learned anything about humanity. We haven't even tried to learn. Ward weaves contemporary issues into generational inequality that leaves us hoping the next generation will have the strength and will to be better than we were.
Kindred by Octavia Bulter
What happens when you realize that you have to be complicit in your family's dark history? Kindred is a novel that asks this question and forces us to realize that our ancestral abuse reaches into our lives and there's nothing we can do to escape it, and if we want to, it means completely sacrificing ourselves. This book is captivating and if you haven't read it yet, you definitely should. (They recently published a graphic adaptation of Kindred that is everything; you can find it here.)
A classic ghost story, perhaps THE classic ghost story. A researcher, an assistant, a recluse and an heir head to a haunted house for the summer to see if the stories are true. Soon mysteries begin to form and the reader is left to make the assumptions about the human mind.
She doesn't have a name, except for John's wife. She just had a baby, and she isn't healing well, so her husband locks her in an upstairs room. Not even her room. The rest cure drives her insane, and with little help or contact from the outside world, she begins to be haunted by the wallpaper. Trigger Warning: This one deals with Postpartum Depression and Postpartum Psychosis, and how that was treated in the late 19th century. Let's just say postpartum care back then was the worst. Read it if you want to be angry and sad; but if you're struggling or have struggled with PPD or PPP, it might be best to skip this one.
Dawn by Octavia Butler
Lilith was rescued by aliens from the war that wiped out the human species on Earth. Now she and the other rescued humans must figure out what to do with the aliens' intentions with them, while trying to navigate an Earth that is different from the one she grew up on. This novel, and the rest of the Xenogenisis trilogy, look at what being human is.
Enjoy, friends. I hope the world is something that we can look at without disgust soon—until then, keep reading.