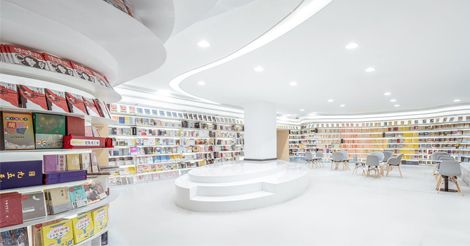 Critical Linking
Gorgeous Bookstore Lets Books Be The Color: Critical Linking, January 23, 2019
Sponsored by Nightchaser by Amanda Bouchet

---
The interior features floor-to-ceiling bookshelves that curve back and forth revealing colorful books along the way. The custom bookshelves were quite the undertaking comprising a steel frame behind the bookshelves that supports the massive structure. The steel plated shelves span 3,000 meters long and appear as if they're floating, almost like you're walking through the center of a cloud. To achieve that continuous undulating perimeter of shelves, calculations were programmed and processed by CNC machines to get each steel plate component which were then assembled on site.
---
If you love contemporary YA, I have an exclusive first look at one that will definitely excite you. Sisters Maika and Maritza Moulite's debut novel, Dear Haiti, Love Alaine, is coming out this fall, and you can see the cover and read an excerpt below! Keep reading to find out more about this upcoming #ownvoices book.
Dear Haiti, Love Alaine centers on the eponymous Alaine Beauparlant, who lives with her psychoanalyzing dad in Miami, 1,000 miles away from her mom, Celeste, who hosts the roundtable debate show, Sunday Politicos. Alaine's world gets shaken up by two events — a prank that gets her expelled from her prep school, and her normally unflappable mother's on-air breakdown — and both she and Celeste go to live at their family's estate in Haiti. In her parents' homeland for the first time, Alaine begins to uncover family secrets that may lead to a greater understanding of the mother who has lived so far away for so long.
---
It's no secret that women authors have been historically overlooked. If you read the New York Times' column Overlooked, you'll find an embarrassing number of very successful female authors who were not given obituaries in the newspaper because the editors (men) decided they weren't important enough — Sylvia Plath and Charlotte Brontë to name a few. Many women have gone by male pen names so their novels would be taken seriously. Simone de Beauvoir probably wrote most of Jean Paul Sartre's Being and Nothingness, but he's the one lauded as the voice of the existentialists.
Feminist bookstores create a safe space for the literary community to convene, where women readers and writers are seen and heard. Here are 13 bookstores dedicated to championing the literary works of women and non-binary authors.