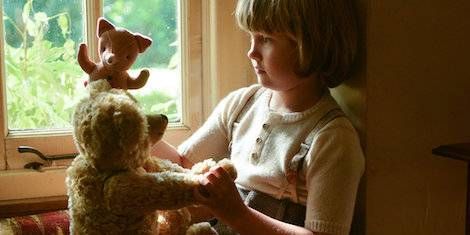 Pop Culture
Goodbye Christopher Robin Movie Trailer: The Creation of Winnie the Pooh
Get ready for a trip down the Hundred Acre Wood of your childhood, because these guys?
Are about to get their own origin story.
Goodbye Christopher Robin is an upcoming biopic that will give us a look at the life of A.A. Milne, creator of the Winnie the Pooh series, as well as his relationship with his son, Christopher. Before they were fictional characters, Winnie the Pooh, Piglet, Tigger, Eeyore, and Kanga were Christopher Robin's real stuffed toys (that you can visit at The New York Public Library). Of course, we all know what happened after their adventures with Christopher Robin were published—Winnie the Pooh and his friends have visited countless households of children over the decades and is nearly universally recognized. Who doesn't love that silly old bear?
A.A. Milne's biopic is set to release on October 13, 2017. It's directed by Simon Curtis (My Week with Marilyn) and stars Margot Robbie as Daphne Milne, Christopher's mother, and Domhnall Gleeson as A.A. Milne. I squealed a bit when I saw that casting, because Gleeson is perfect (and has been in everything lately, it feels like. Which is quite fine by me).
And without further ado, the trailer:
Go on. Go find your old stuffed Winnie the Pooh or Eeyore and give him a hug. Or if you have a child who has one, snatch it and give it a squeeze (maybe hug the child, too, that seems appropriate). Better yet, read a tale from the Hundred Acre Wood for old time's sake. A beloved book character is getting his story told, and it looks beautiful and heartwarming. (Gleeson's hair is also pretty fab, isn't it?)
I think we need this. I think this is a lovely reminder of a writer who, born from the love and bond he shared with his son, created an iconic children's book series and characters that stand the test of time. That's a powerful good. To this day, I still say to myself, "Tut tut, it looks like rain" on occasion when storm clouds roll in. I also identify with Rabbit a little too much at times. I'm ready to see their origin story and learn a little more about their creator. (Ready for a live action, Winnie the Pooh-focused story? Don't you fret; it's on its way, and it's starring Ewan McGregor).
What do you think of the trailer?