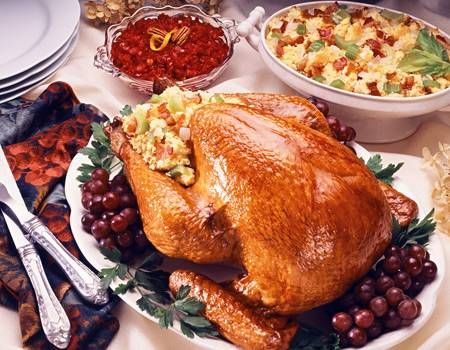 Fiction
Good Bread, Good Meat: Thanksgiving by the Books
My TV has been tuned to cooking shows for the past few weeks. Anything featuring Alton Brown will do, as I like a little learning with my meal. With that in mind, this year I decided to whip up a Thanksgiving feast accompanied and inspired by recipes from my own books. And not cookbooks, but fiction, memoir, and graphic novels that mix food in for good measure. How long does it take a bookish (read: not cookish) person to whip up a four-course meal straight from the books? Tune in next year for the results. Warning: this meal is highly eclectic, crossing regional food and book genre categories willy nilly. Results other than 'having fun' are not guaranteed.
Appetizers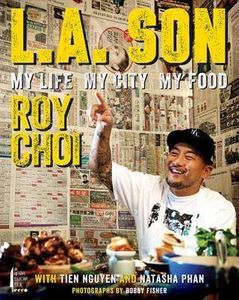 Your guests arrive at your home after battling traffic and/or unsavory winter road conditions, and they deserve something hot, fried, and downright delicious. To start, pass around trays of L.A. Son Roy Choi's dumplings, made with pork, beef, tofu, ginger, sesame and a little cabbage for crunch. Choi grew up helping in his parents Korean restaurant in Los Angeles, in addition to dabbling in culinary academies, food trucks, and local gangs for inspiration. So not only can he tell you how to prepare perfect instant Ramen, he'll school you on classic gourmet fare such as seared beef medallions with sauce robert. L.A. Son, his memoir, chronicles not only his adventures growing into the 'godfather of the food truck revolution', but just about every recipe he picked up, inherited, or invented along the way. Plop some on a plate, and as his recipe instructs, "go to fucking town!!"
And stuffed grape leaves with a light yogurt dip, inspired by Diana Abu-Jabar's Crescent. This delicious novel simmers around Iraqi-American Sirene, a chef in a Lebanese restaurant, and the Arabic literature professor who comes for the food, and stays to win the love of a good woman (and excellent cook). If you've got the time, go all the way and prepare these like Sirene, using fresh California grape leaves, rolled alone by the light of the moon the night before the holiday. Bonus points if your can roll yours tighter than a cigarette.
First course: Soup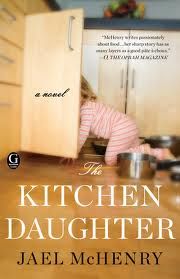 Ease guests to the table and get them feeling all warm and cozy inside with a hearty bowl of ribollita, a favorite of foodie blogger Jael McHenry. McHenry's debut novel, The Kitchen Daughter, is roughly about what happens when a girl living with Aspergers Syndrome loses her parents, possibly her home, and then takes on her family, both living and dead, through handwritten recipes left behind by her beloved Nonni. Ribollita is a minestrone-like soup of leftovers, including tons of veggies, bread, cannellini, and nice savory broth. Skip the wine though – I'd go with big tumbler-fulls of water, unless you want your family to hit the 'food coma' stage a bit too early. And for this course, small bowls please. Save room for…
Main Course: Roast Goose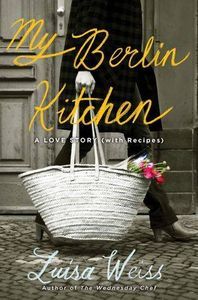 I'd love to go with just good old roast beast, but the recipe might rhyme too much for my taste. So for the piece de la resistance, I'm carving up a roast goose, straight out of Luisa Weiss's My Berlin Kitchen. Weiss learned to cook to unite her divorced parents at the table, and then as an adult continued the tradition when she uprooted her life in New York to follow true love to Germany, cooking all the way. Weiss warns that "roasting goose is not for the weak or faint of heart. It requires a cool head and well-developed biceps." If you think you're up for it, the goose, which is a Hamberg Christmas Eve staple, is prepared with the regular companion onions, garlic, pepper, carrots, spices, a healthy cupful of red wine, and served with thick gravy.
Side Dishes: Bread & Veggies
The goose is going to be rich and fat, so spice up your sides with Choi's brussels sprouts & kimchi. His book even contains a recipe on how to make your own kimchi, hot pickled cabbage traditionally stored in a jar in the ground for best fermenting.
Throw in a big platter of Weiss's sweet-and-sour braised red cabbage, cooked with the goose fat, apples, wine, cider vinegar, and brown sugar, and your table is appropriately green.
Bread Sauce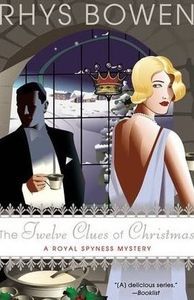 What we would consider stuffing, bread sauce is made with cloves & nutmeg, onion & peppercorns, cream, chicken stock, breadcrumbs, and a big old pat of butter to top the whole thing off. Her Royal Spyness series author Rhys Bowen, who, in addition to writing a whole slew of 1930s-spy-esque novels featuring the spunky 35th-in-line-to-the-throne, Lady Georgiana Rannoch, is actually British, so she knows what she's talking about with this stuff. The Twelve Clues of Christmas, wherein Georgie spends the holiday hosting a private party of potential murderers at a country estate, even gives clues on the perfect British (Christmas) holiday games and traditions, like the yule log (no, not the one Americans generally just watch on tv), The Ministers' Cat, and crackers.
Deserts: Death by Chocolate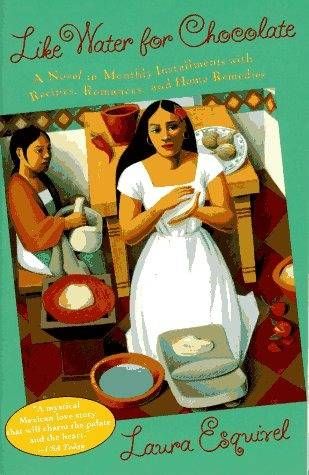 It's all about the chocolate, at least in my family, where my mom's chocolate cake is always a huge hit. But since this year's feast has us stuffed to the gills, I'm going with a steaming cup of real hot chocolate. Made from three different chocolate beans, and simmered with water, not milk (for a more digestible drink); naturally, the only bookish recipe to use is from Laura Esquival's Like Water for Chocolate, the book so steamy its protagonists literally burst into flame.
Even more death. And some apples.
And to really put guests over the edge I'm bringing out a platter of peppermint brownies, favorites from Sara Varon's graphic novel, Bake Sale, following the adventures of Cupcake and Eggplant as they raise funds to head to Turkey to meet Cupcake's hero, Turkish Delight. (A food which will forever make me feel just a little bit ill, thanks to Edmund Pevensie.)
Ok fine, if there are chocolate allergies or if someone insists on traditional, seasonal dessert fare, whip up a few of Weiss's apple tarts for good measure. If they're not all gobbled up, you'll have a lovely morning treat to start your Black Friday shopping.
Nightcap: For Adults Only.
Bowen's wassail bowl, inspired by the Smoking Bishop in Charles Dickens' A Christmas Carol, is a citrusy, spiced port wine brandy drink, served warm in a punch bowl. Sip by the yule log (either variety), and mull over your meal while someone else does the dishes. Then bring out the extra comforters so your family can curl up on couches, or call them a cab and get them home safely.
Bon appétit!
_________________________
Sign up for our newsletter to have the best of Book Riot delivered straight to your inbox every two weeks. No spam. We promise.
To keep up with Book Riot on a daily basis, follow us on Twitter, like us on Facebook, , and subscribe to the Book Riot podcast in iTunes or via RSS. So much bookish goodness–all day, every day.