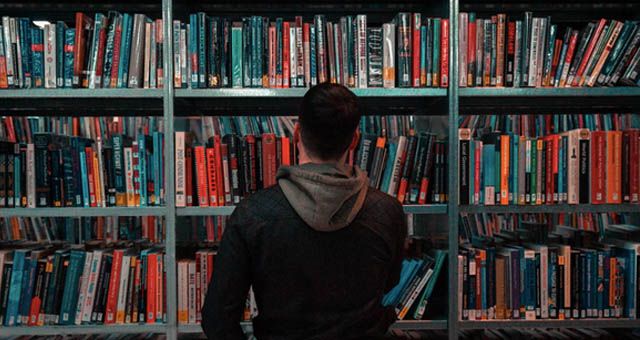 Critical Linking
Good Behavior=Tokens For Vending Machine Books! Critical Linking, August 14, 2019
Critical Linking, a daily roundup of the most interesting bookish links from around the web is sponsored by Book Riot. Shop Book Riot's bookish summer faves here!

---
"'Students can earn tokens based on good behavior, where they will come up and get any of these books for free,' Toni Adelstone, a sixth-grade teacher at Homer Davis Elementary School.
Adelstone said that the books the students get, they get to keep.
The book level ranges from kindergarten to sixth grade and the variety will be frequently changed."
Vending machine books for good behavior! Can we get these in the workplace too?
---
"The Lawrence Public Library recently installed a pay phone to allow patrons to make calls. Brad Allen, director of the library, said it helps meet a need some may not be aware exists.
It's not an announcement many would expect to see in 2019, but the Lawrence Public Library hopes the addition of a pay phone will help those who may need it.
On Monday, the library announced that it had installed a brand new pay phone within its walls to allow people to make calls whenever they need to. While the announcement received several 'LOLs' and jokes on the library's Facebook page, library director Brad Allen said the purpose of the phone is to fill a need that many people may not realize exists.
'Public libraries are in a place where we have to figure out how to anticipate new trends, and we also have to hang on a lot longer to trends that are fading away," Allen said. "A lot of people who have the most barriers to access also don't have the most modern, newest things. It's important to not leave people behind.'"
A nice reminder that libraries are supposed to think of everyone in the community.
---
"Cyntoia Brown, whose imprisonment for murder when she was 16 inspired a public campaign for her freedom, has a book out this fall.
Brown's 'Free Cyntoia' will be published Oct. 15, Atria Books announced Tuesday. Granted clemency by then-Tennessee Gov. Bill Haslam, she was scheduled to be released Wednesday. She worked on the book during her 15 years in prison."