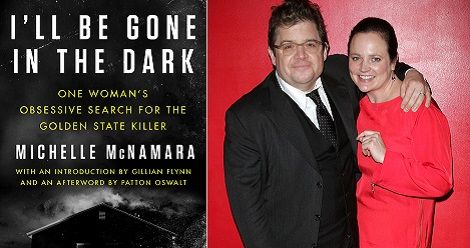 News
The Arrest of a Golden State Killer Suspect, and the Writer Who Never Gave Up
This content contains affiliate links. When you buy through these links, we may earn an affiliate commission.
Police have arrested a suspect in the Golden State Killer case. It's all over the news, and it would seem the police are the only ones not seeing a mighty strong connection between the arrest and the release of Michelle McNamara's book, I'll Be Gone in the Dark.
It's been almost two months since the posthumous release of the book, and almost two years since McNamara died unexpectedly. Her book was a labor of love; painstakingly researched in the late hours of the night and brought together by a woman who never gave up. Believe me when I say, there is a very good reason you should read this book right now. Or at least put it on hold at your local library.
The thing is, this book is the reason why we all know about the Golden State Killer. McNamara was the first to coin the term after connecting cases across multiple jurisdictions.
Also, the cops will NEVER and HAVE NEVER credited a writer or journalist for helping them solve a case. But every time they said #GoldenStateKiller they credited the work of #MichelleMcNamara and #IllBeGoneInTheDark.

— Patton Oswalt (@pattonoswalt) April 25, 2018
Yes, that is also true. Police will never directly acknowledge or thank a writer for their contribution to a case. This is not Castle or Instinct. But we all know McNamara's best-selling book awakened an interest in a cold case so perilously close to being frozen over. Her writing renewed interest and encouraged the case to stay open. And while police are going to great lengths to state their arrest is based on new DNA and research in the last six days, we all know I'll Be Gone in the Dark helped.
The bittersweet twist in the tale is the absence of the one person who brought this case back to life. Many of McNamara's fans have taken to social media to ensure the general public knows of her contribution. Most of them have been reminded of the closing letter McNamara wrote to the Golden State Killer, with its similarities to what took place.
Most touching of all has been the support and admiration from her husband, Patton Oswalt, who was traveling with Billy Jensen and Paul Haynes to a book event for I'll Be Gone in the Dark. Jensen and Haynes assisted Oswalt in finishing McNamara's book and ensuring it was published. When the news broke at 4am, they were unsure whether to wake Oswalt to tell him…
I'm up. Holy shit. #IllBeGoneInTheDark #MichelleMcNamara https://t.co/qeFogG8fav

— Patton Oswalt (@pattonoswalt) April 25, 2018
This is big news, and it's not going away. We are going to hear even more of the coming days and weeks. It's horrific and breathtaking at the same time. And while we are all grateful to give closure to the many victims of his heinous crimes, we also need to give a moment of thought to the one woman who continued to work towards making this day happen.
Thank you, Michelle McNamara. You brought him into the light and now the police have caught him.