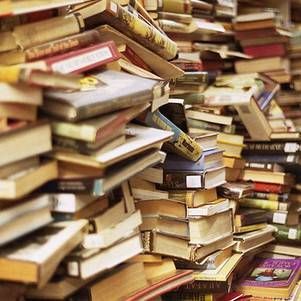 My grandmother was Austrian and she read novels in German. She read books in Portuguese too since she had many countries in her past. She greatly appreciated books featuring photographs of puppies, because they simply created the finest emotion. She had four history textbooks from the days when she studied for her citizenship test. She had endless art books with her own pencil sketches in the folds– still forms of cats and flowers and hummingbirds. They were the early versions of her oil paintings.
It is now up to her families (us) to process these books, to assume that they are not part of her now that she has passed on, but simply objects to pass on to others. I am trying to bring myself to donate English phrase books for German speakers. These books should be less powerful, less personal. There is something of her in every book, though, and when her presence is less obvious, then my father's comes in as a boy. His name is written backwards on a few covers. In her dictionary there is a penciled rocket careening across a page somewhere in the P's.
But we can't keep them. Can you even keep your own books? I am overflowing with mine even as I try to balance it out with electronic options. I have an endless need for more shelves. And now there is her collection too– old books from National Geographic and Time about gun fighters and railroaders, books on Argentina from when she traveled South America, books on the color wheel, oil painting still lives, and on and on and on. I teeter in the great decision of what to donate, what to hold on to. It has been nearly a year since she died, and the books wait for me to give them a place to be held and read and loved. I worry I can't give that love. My love is stretched too thin between pages. At the same time, so many of these texts are unbelievably familiar. The book on Japanese Sumi painting is written with laser etch in my mind.
Do you take back a book that you gifted? Do you keep a book for the handwritten notes without ever really reading it? Do you wonder if you donated a book with a note about you in it? Do you worry that you should cut out the personal greetings on the first pages before donating these onward to others, or is that a crime to hurt a book for privacy?
I have been told that you should imagine what the deceased would want– how they would want you to pass on their objects. And I know what she would say.
Box up the ones you can't seem to love, but can't seem to keep in your shelves. Love what you can. But never have too much for your house.
She was the tidiest of our family and a believer in organization. I'm trying to hear her. I stand in her house and look for too long at the dust. I have never considered books in this way before.
It felt important to write about this– when inheritance bring you pages and there's nothing you can do. I know others must do this. There are options for donation. If you aren't focused on selling them yourself, the Hospice thrift and Goodwill nearby will take them. If you want to be more specific, there are groups like Books for Soldiers, which sends care packages to soldiers abroad. At least I know that the books that are in good shape will absolutely find a place to go or an outlet for other readers.
People have to go through the belongings of their families every day. Perhaps then this can feel less lonesome to know we all have to turn books away.