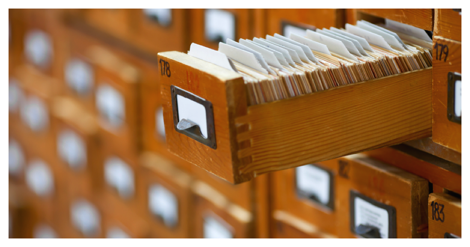 This content contains affiliate links. When you buy through these links, we may earn an affiliate commission.
We've already been talking about #LibrariesResist on Book Riot. I've long since been aware of how important libraries are for a multitude of reasons. The number of hours my baby nerd self spent in the science fiction section of my local library (which steadily grew from being two shelves to taking up an entire room, something I like to think I helped) totals more than I could begin to guess.
But I haven't been a frequenter of libraries since I got out of graduate school. Not because my long hours in the Geological Library of the Benson Earth Sciences Building left me scarred somehow–I have a lot of love for that place. But because I went (temporarily, it turned out) into a job that paid me enough to buy all the books I wanted to read. Plus I moved to a city where it was a pain and a half to get to the nearest library, and I just… didn't bother.
Then I saw this message on Twitter:
Ya'll! If everyone in your family doesn't have a library card, get them now. Low numbers are how they'll justify $ cuts. #librariesresist

— Laurel Snyder (@LaurelSnyder) February 22, 2017
So I strapped on my bike helmet and rode over to my local library. The bad news was, I discovered that I'm really not in as good of shape as I'd like to tackle the hills in Colorado. The good news was, my local library doesn't charge for cards, and there is no waiting period. Ten minutes after I showed up, I had my library card, and the librarian turned me loose to wander the stacks.
I'd forgotten what an important corner of my soul lives in the library. It smells like books. It's so quiet, you can hear yourself think. You can walk slowly between the shelves, read the titles, pull books to take a look at the back or read a few pages and not have to worry about breaking the spine or messing it up for whoever might buy it.
Because remember, these are already your books. If you live in the city, you have bought a tiny bit of each and every book in your library. Look how many books you own, just waiting to be read! Look how many books you're getting to share with thousands of strangers you may never get to meet! Isn't that amazing?
I left the library with two books to read in the pannier of my bicycle, the first library books I've checked out in nearly five years. One of them, Updraft, I went in looking for. The other, Stamped from the Beginning, I met by the simple chance of looking at the right shelf at the right time.
I'd also forgotten how beautiful those happy accidents are, in a library.
If you can get to a library and afford it, get your library card. You don't even have to use it to be helping out in a real way. But I think once you do have that library card burning up your pocket, you'll hear the books calling. And if you have a difficult time getting to a library, quite a few have bookmobiles or a presence on Overdrive that means you can borrow ebooks and audiobooks from anywhere there's internet.
This isn't something everyone can do, I know, because of cost, or transportation, or a lot of other factors. But this is the age of doing what you can. An act of solidarity is still an act of solidarity, no matter how small.