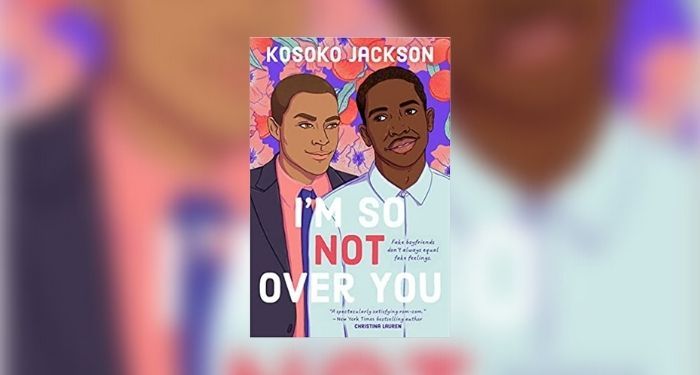 Win I'M SO NOT OVER YOU by Kosoko Jackson
We're giving away a copy of I'm So Not Over You by Kosoko Jackson to one lucky reader! To enter, just sign up for In Reading Color, our weekly newsletter focusing on literature by and about people of color!
It's been months since aspiring journalist Kian Andrews has heard from his ex-boyfriend, Hudson Rivers, but an urgent text has them meeting at a café. Maybe Hudson wants to profusely apologize for the breakup. Or confess his undying love. . . But no, Hudson has a favor to ask—he wants Kian to pretend to be his boyfriend while his parents are in town, and Kian reluctantly agrees.
The dinner doesn't go exactly as planned, and suddenly Kian is Hudson's plus one to Georgia's wedding of the season. Hudson comes from a wealthy family where reputation is everything, and he really can't afford another mistake. If Kian goes, he'll help Hudson preserve appearances and get the opportunity to rub shoulders with some of the biggest names in media. This could be the big career break Kian needs.
But their fake relationship is starting to feel like it might be more than a means to an end, and it's time for both men to fact-check their feelings.
Oops! We could not locate your form.
This sweepstakes is open to residents of the United States (excluding Puerto Rico and all other US territories). Entries will be accepted until 11:59pm, January 31st, 2022. Winner will be randomly selected. Complete rules and eligibility requirements available here.