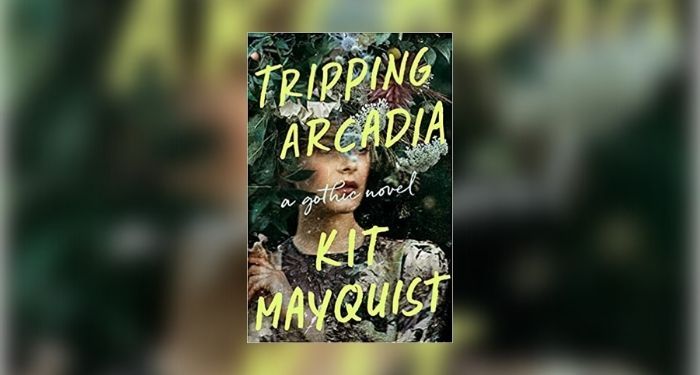 Win a Preorder of Tripping Arcadia by Kit Mayquist
We're giving away a copy of Tripping Arcadia by Kit Mayquist to one lucky reader! We'll preorder it for you, and it'll ship on the release date of February 22! To enter, just sign up for our New Books newsletter and get weekly round-ups of the world's most exciting new releases.
Med school dropout Lena is desperate for a job, any job, to help her parents, who are approaching bankruptcy after her father was injured and laid off nearly simultaneously. So when she is offered a position, against all odds, working for one of Boston's most elite families, the illustrious and secretive Verdeaus, she knows she must accept it—no matter how bizarre the interview or how vague the job description.

By day, she is assistant to the family doctor and his charge, Jonathan, the sickly, poetic, drunken heir to the family empire, who is as difficult as his illness is mysterious. By night, Lena discovers the more sinister side of the family, as she works overtime at their lavish parties, helping to hide their self-destructive tendencies . . . and trying not to fall for Jonathan's alluring sister, Audrey. But when she stumbles upon the knowledge that the Verdeau patriarch is the one responsible for the ruin of her own family, Lena vows to get revenge—a poison-filled quest that leads her further into this hedonistic world than she ever bargained for, forcing her to decide how much—and who—she's willing to sacrifice for payback.

The perfect next read for fans of Mexican Gothic, Tripping Arcadia is a page-turning and shocking tale with an unforgettable protagonist that explores family legacy and inheritance, the sacrifices we must make to get by in today's world, and the intoxicating, dangerous power of wealth.
Oops! We could not locate your form.
This sweepstakes is open to residents of the United States (excluding Puerto Rico and all other US territories). Entries will be accepted until 11:59pm, December 29th, 2021. Winner will be randomly selected. Complete rules and eligibility requirements available here.