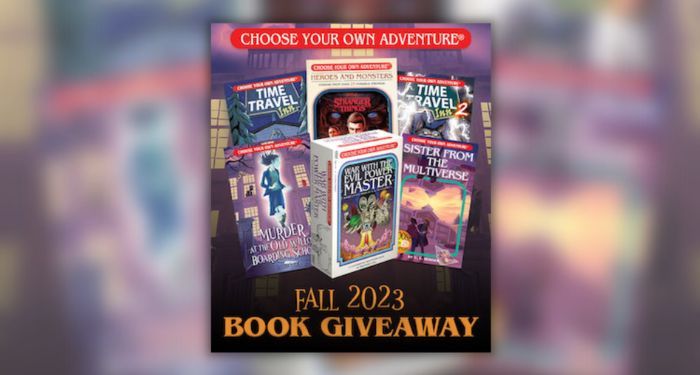 Win a Bundle of CHOOSE YOUR OWN ADVENTURE Books!
This giveaway is sponsored by Chooseco, publisher of Choose Your Own Adventure gamebooks. The fourth bestselling children's book series of all time.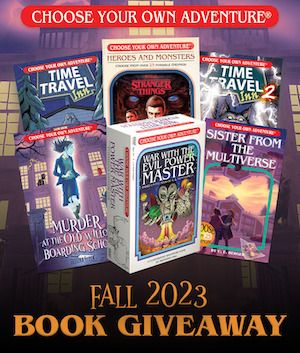 Chooseco is celebrating the release of its fall books with a CYOA giveaway! Includes their popular board game and bonus Stranger Things CYOA. © Netflix Inc. All rights reserved.
Time Travel Inn 2, Bart King
Join Astrid, Trent, and Damien on another adventure through space and time that will take you to Elizabethan England and a futuristic world where people are mysteriously turning into ducks.
Murder at the Old Willow Boarding School, Jessika Fleck
In this fast-paced thrilling adventure, YOU need to solve a murder… your own!
Sister from the Multiverse, C.E. Berger
You discover a long-lost sister—from a parallel universe! Now you must help her stop an evil scientist to save your family and the multiverse.
---
We're giving away three bundles of Choose Your Own Adventure books to three lucky Riot readers! Each winner will receive Time Travel Inn and Time Travel Inn 2 by Bart King, Murder at the Old Willow Boarding School by Jessika Fleck, Sister from the Multiverse by C.E. Berger, War with the Evil Power Master board game, and Stranger Things: Heroes and Monsters by Rana Tahir. This sweepstakes is open to residents of the United States (excluding Puerto Rico and all other US territories). Entries will be accepted until 11:45pm, October 6, 2023. Winner will be randomly selected. Complete rules and eligibility requirements available here.