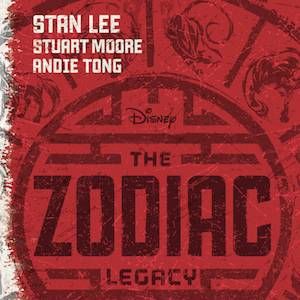 Giveaways
Giveaway: THE ZODIAC LEGACY: CONVERGENCE by Stan Lee, Stuart Moore, and Andie Tong
This giveaway is sponsored by The Zodiac Legacy: Convergence by Stan Lee, Stuart Moore, and Andie Tong.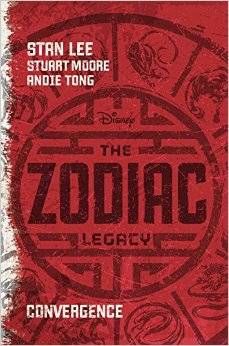 Twelve magical superpowers, One sinister conspiracy, One unlikely hero.
Stan Lee presents a brand new, magical, super-powered adventure!
When twelve magical superpowers are unleashed on the world, a Chinese-America teenager named Steven will be thrown into the middle of an epic global chase. He'll have to master strange powers, outrun super-powered mercenaries, and unlock the mysterious powers of the Zodiac.
About the Creators:
Stan Lee is known to millions as the man whose Super Heroes propelled Marvel to its preeminent position in the comic book industry. His co-creations include Spider-Man, The Avengers, Iron Man, The Incredible Hulk, The Fantastic Four, as well as hundreds of others. He introduced Spider-Man as a syndicated newspaper strip that became the most successful of all syndicated adventure strips and has appeared in more than 500 newspapers worldwide. Stan currently remains Chairman Emeritus of Marvel, as well as a member of the Editorial Board of Marvel Comics. He is also the Chairman & Chief Creative officer of POW! Entertainment, a multimedia entertainment company based in Beverly Hills, CA.
Stuart Moore has been a writer, a book editor, and an award-winning comics editor. His recent writing includes Civil War, the first in a new line of prose novels from Marvel Comics, The Art of Iron Man 3 (Marvel, with Marie Javins); and THE 99, a multicultural super hero comic from Teshkeel.
Andie Tong has worked on titles for various franchises, including Tron: Betrayal, Spectacular Spider-Man UK, The Batman Strikes, Smallville, Wheel of Time, TMNT, Masters of the Universe, and Starship Troopers, working for companies such as Disney, Marvel, DC Comics, Panini, Dark Horse, and Dynamite Entertainment, as well as commercial illustrations for numerous advertising agencies including Nike, Universal, CBS, Mattel, and Habsro. When he gets the chance, Andie concept designs for various companies, and also juggles illustration duties on a range of children's picture storybooks for Harper Collins. Malaysian born, Andie migrated to Australia at a young age, and then moved to London in 2005. In 2012, he journeyed back to Asia and currently resides in Singapore with this wife and daughter.
____________________
One lucky Book Riot reader will win a Stan Lee Starter Set Prize Pack including:
Just complete the form below to enter. Entries are limited to the United States and will be accepted until 11:59pm, Tuesday, March 3rd. The winner will be randomly selected.
Oops! We could not locate your form.