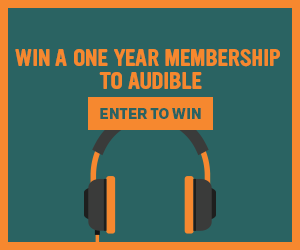 Giveaways
Giveaway: Win a Year-Long Membership to Audible
Audiobooks are the hottest thing cooking in the publishing world these days, and for good reason: audiobooks are easier to get and listen to than ever.
So if you are already on the audiobooks the audiobooks train or just wanting to jump on board, this giveaway is for you.
The prize: the year-long Audible membership lets you download (and keep forever) one audiobook per month from Audible's library of over 180,000 audiobooks. (Check that Audible is available in your area).
To enter, you've got to do two things:
Enter your email address in the form below. One entrant will be chosen at random to win. One entry per email address, and entries will be open until May 8th, 2016 at 11:59pm Eastern.
Sign up for at least one of the newsletter choices. You can of course unsubscribe at any time after the contest is over, but we think that if you are interested in this giveaway, you are going to like these newsletters. Here's a quick rundown of your options:
Audiobooks! (twice a month)
If you are entering this giveaway, this is kind of a no-brainer. This newsletter brings you news, recommendations, excerpts and a bunch more to keep your audiobook listening the best it can be.
New Books! (1x a week)
Every Tuesday, our resident velocireader Liberty Hardy tells you what books coming out that week should be on your radar. It's a TBR-buster, and it hurts so good.
Book Riot Promotions (weeklyish)
Find out about special offers (like this giveaway for example), new products, and just generally interesting stuff from Book Riot and our advertising partners. Giveaways, new books, bookish services, and a whole bunch more.
Ok, that's it. Here's the entry form. Good luck!