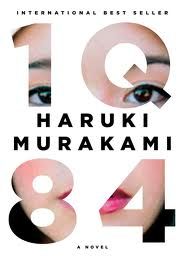 To end the year, we're giving away some of our favorite books of 2011. Check back each day for a new giveaway. This first one is a real humdinger…
The amazing folks at Knopf have given us one of the 300 signed first editions of Haruki Marukami's 1Q84 to give to you! That's right, folks, there are only 300 of these babies in the world. As if there weren't special and exciting enough, each signature is different, so if you win this, you are really winning a One-of-a-Kind Awesome Thing.
We know you'd beg, borrow, and steal for this, but we want to make it fun and simple. You just survived the holidays, after all. So just leave a comment on this post by Friday at 11pm Eastern to enter. We'll randomly select a winner, to be announced next week.
If you're feeling creative and want to double your fun, create a Murakami-inspired Top Ten list to enter the 1Q84 contest at Random House, which will have TEN winners.
Good luck!