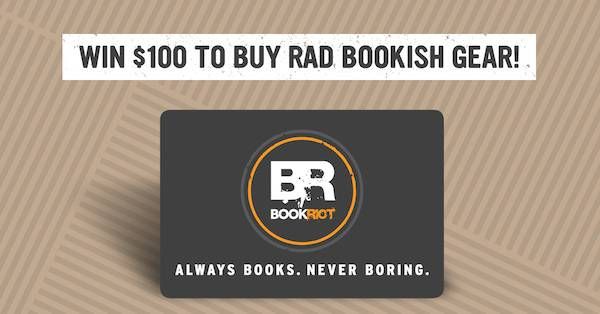 Giveaways
Giveaway: Win a $100 Gift Card to the Book Riot Store
We're all here because we love books, but one of the great secrets about being a reader is how great all the book-adjacent stuff is too. There are t-shirts and tote bags and coffee mugs galore, and you can find a whole bunch of them in one great place at the Book Riot Store.
To promote the Book Riot Store during this most wonderful time of the year, we're giving away a $100 gift card to one lucky Riot reader.
To enter, subscribe to one (or more!) of our great newsletters. If you don't like it, unsubscribing is easy (but we think you'll be happy).
Entries will be open until November 29th, 2016 at 11:59pm Eastern. One entry per email address, and the giveaway is open worldwide. One winner will be randomly selected and then emailed their gift card (so be sure to enter with an email address you actually check).
To help you pick which email list to subscribe to, here's a quick rundown of your choices:
The Goods (about 2x a week)

Be the first to know about new products in the Book Riot Store. Take advantage of special sales, discounts, and exclusive Book Riot offerings like our Book Mail boxes. Stock your closet with awesome bookish gear.
Book Riot Promotions (weekly)
Want the inside scoop from publishers and book-related vendors? Sign up to receive special offers, new products, limited-time discounts, and interesting bookish stuff.
Book Riot Giveaways (2-3x a week)
We giveaway a whole bunch of stuff every week, from books to giftcards to cool bookish stuff. Make sure you don't miss any chance to throw your hat in the ring with our dedicated newsletter that notifies every time we post a new giveaway.
New Books!(weekly)
A ton of great new books enter the world every week, and we're here to help you keep track of them! Get the highlight reel from Book Riot's own velocireader Liberty Hardy in your inbox each Tuesday. You'll see a handful of eclectic picks to rock your reading life and bust your TBR list.
What's Up in YA? (weekly)
We turned our monthly feature dedicated to news about the YA world and offering it as a weekly newsletter. Same style, same bit of sass, same love for all things YA delivered every other Monday.