Giveaways
What's Your Favorite Short Story Collection?
This giveaway is sponsored by Night in Erg Chebbi and Other Stories by Edward Hamlin and Excommunicados by Charles Haverty.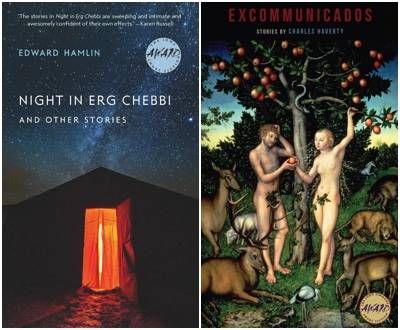 Night in Erg Chebbi and Other Stories spans the globe, taking us from Belfast to Brazil, Morocco to Manhattan. The teenaged daughter of an IRA assassin flees Northern Ireland only to end up in Baby Doc's terrifying Haiti. An American woman who's betrayed her brother only to lose him to a Taliban bullet comes face to face with her demons during a vacation in Morocco. A famed photojournalist must find a way to bring her life's work to closure before she goes blind. These characters must learn to improvise—quickly—when confronted with stark choices they never dreamed they'd have to make. Lyrical, immaculately constructed and deeply felt, these nine stories take us far beyond our comfort zones and deep into the wilds of the human heart.
Excommunicados charts the journeys of men, women, and children cast out of familiar territory into emotional terra incognita where people and things are rarely what they seem. These twelve stories are populated with ex-nuns and Freedom Riders, Chaucer scholars and strippers, out-of-work comedy writers and presidents, navigating their way through bedrooms and emergency rooms, backyard burial parties and airplane crash sites, the Piazza San Marco and the post-apocalyptic suburbs of Boston. There are secrets at the center of each of these daring and original stories—secrets that separate these characters from one another but grow in the mind and the heart, connecting them with all of us.
____________________
Short story collections can be found in every genre, and are perfect for readers of all stripes. Too busy for a novel? Read a short story when you have time. Want to settle in for hours of reading? Short stories give you varied worlds within two covers. So tell us your favorite short story collection (you could win free books!), and check back next week for a reading list!
We have 10 copies of Night in Erg Chebbi and Other Stories and Excommunicados for 10 lucky Riot Readers (so each winner gets both books)! Just complete the form below to enter. Entries are limited to the United States and will be accepted until 11:59pm, Monday, October 12th. Winners will be randomly selected.
This giveaway is now closed.