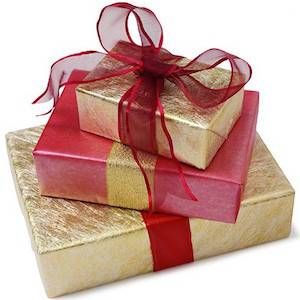 Giveaways
Giveaway: What's the Most Meaningful Bookish Gift You've Ever Given?
This giveaway is sponsored by Read It Forward.

Read It Forward is a Book Geek's best friend. Since 2008, Read It Forward has been surprising readers with weekly giveaways, behind-the-scenes sneak peeks at new titles and new voices, and literary lifestyle chats. Discover your next great read … read it first and pass it on!
____________________
We've just left the season of giving, but we all know that gifting books is a year-round activity. Birthdays, graduations, anniversaries, as a bribe to get someone to read your favorite novel, just because- these are all great reasons to give someone the gift of a book. For this giveaway, we want to know the story behind the most meaningful book you've ever given as a gift.
Tell us your story in a paragraph or two in the form below (500 words or less, please). We'll pick our 3 favorites, and all 3 finalists will receive a prize pack of 2 books from the folks at Read It Forward: The Martian by Andy Weir and Bonita Avenue by Peter Buwalda!
Book Riot readers will vote on their favorite story, and the entry with the most votes wins a Grand Prize Pack of 10 books:
The Martian
Bonita Avenue
Dead Wake
Bittersweet
Neil Patrick Harris: Choose Your Own Autobiography
Summer House With Swimming Pool
If I Fall
Shovel Ready
The Room
The Marauders
Entries are limited to the United States and will be accepted until 11:59 P.M. EST, Sunday, January 11, 2015.
Oops! We could not locate your form.