Giveaways
Giveaway: What Are Your Favorite Creativity Tips?
This giveaway is sponsored by Let the Elephants Run: Unlock Your Creativity and Change Everything by David Usher.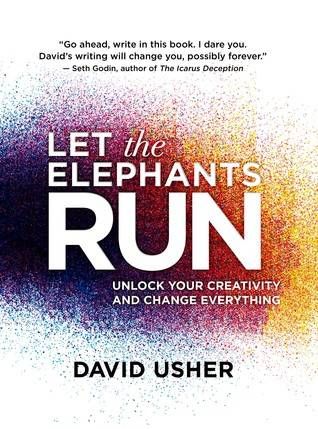 "Go ahead, write in this book. I dare you. David's writing will change you, possibly forever." — Seth Godin, author of The Icarus Deception
Written by David Usher, the award-winning musician and founder of CloudID Creativity Lab in Montreal, this book is based on his wildly popular speaking engagements. This book will help readers reignite creativity in their day-to-day lives.
At David Usher's company, CloudID Creativity Labs, there is a sign on the wall that reads: "Dream big, let the elephants run!" The words are a reminder for us to hold a place in our minds for creativity, where big ideas can form and our imagination can run free. Based on his wildly popular speaking engagements, Let the Elephants Run shows us how to reignite creativity whether in the head office, the home office or the artist's studio.
Usher believes creativity is in our DNA; it's in everyone, not just the creative class. We all start our lives as creative beings but for many that spark becomes lost over time. How do we jump-start our creative process as adults? What does it means to be a creative person? How do we follow through with our ideas and turn them into tangible outcomes?
Usher empowers readers to achieve more "aha" moments through two cornerstone principles of creativity: freedom and structure. Using a mix of personal anecdotes and professional examples from the worlds of industry, technology, science, music and art, he shows us that creativity is not magic; it is a learnable skill that any person or business can master. The dynamic full-colour design includes photographs, artwork and illustrations, as well as action pages to help readers start cultivating the habit of documenting their ideas for future execution.
____________________
Writers create immersive worlds, and readers come up with all kinds of creative ways to engage with them (just check out Tumblr's Reblog Book Club or the bookish sides of Instagram for evidence), but creativity doesn't come easily for all of us. So for this giveaway, we want you to give us your favorite creativity tips, whether they're reading certain books, setting a specific schedule for your creative work, or whatever!
We have 10 copies of Let the Elephants Run 10 lucky Riot Readers, and one winner will also receive a $25 gift card to the Book Riot Store! Just complete the form below to enter. Entries are limited to the United States and will be accepted until 11:59pm, Monday, March 23rd. Winners will be randomly selected.