Giveaways
Giveaway: TROLLHUNTERS by Guillermo del Toro and Daniel Kraus
This giveaway is sponsored by Disney-Hyperion.
"You are food. Those muscles you flex to walk, lift, and talk? They're patties of meat topped with chewy tendon. That skin you've paid so much attention to in mirrors? It's delicious to the right tongues, a casserole of succulent tissue. And those bones that give you the strength to make your way in the world? They rattle between teeth as the marrow is sucked down slobbering throats. These facts are unpleasant but useful. There are things out there, you see, that don't cower in holes to be captured by us and cooked over our fires. These things have their own ways of trapping their kills, their own fires, their own appetites."
Jim Sturges is your typical teen in suburban San Bernardino— one with an embarrassingly overprotective dad, a best friend named "Tubby" who shares his hatred of all things torturous (like gym class), and a crush on a girl who doesn't know he exists. But everything changes for Jim when a 45-year old mystery resurfaces, threatening the lives of everyone in his seemingly sleepy town. Soon Jim has to team up with a band of unlikely (and some un-human) heroes to battle the monsters he never knew existed.
From the minds of horror geniuses Guillermo del Toro and Daniel Kraus comes a new illustrated novel about the fears that move in unseen places.
____________________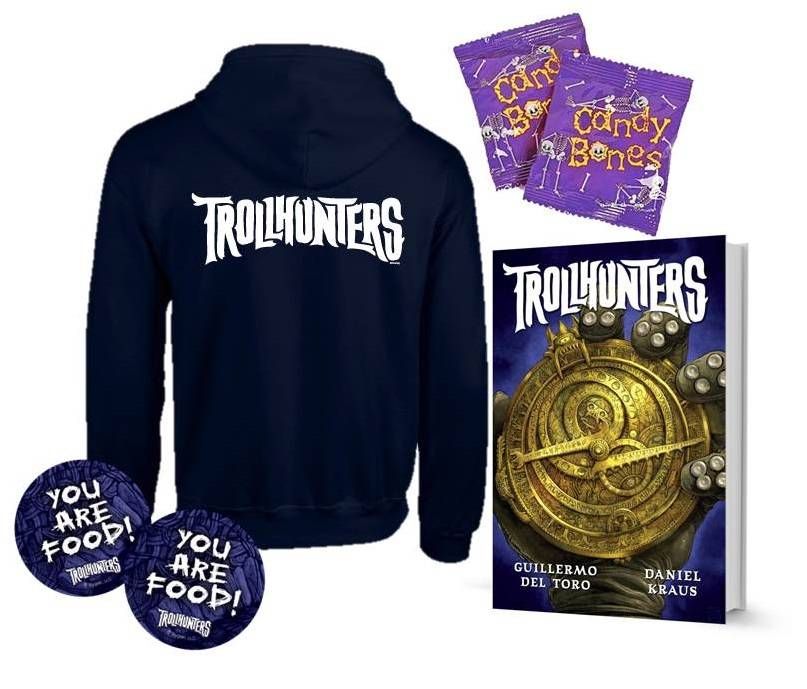 Thanks to Disney-Hyperion, we have one (1) "Top of the Food Chain" prize pack to giveaway to a lucky US winner that includes:
Branded Trollhunters zip-up hoodie and pins
Candy bones and a copy of Trollhunters
Just fill out the form below to enter. Entries are restricted to the United States. The giveaway closes at 11:59 EST on Tuesday, July 28th. Winner will be randomly chosen.
This giveaway is now closed.