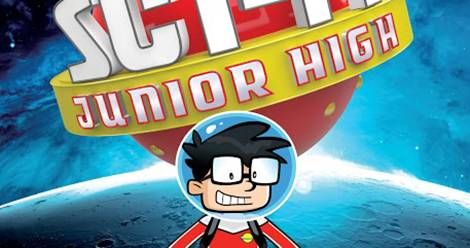 Giveaways
Giveaway: SCI-FI JUNIOR HIGH By John Martin And Scott Seegert
This giveaway is sponsored by Sci-Fi Junior High by John Martin and Scott Seegert.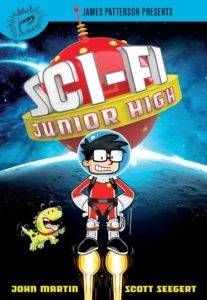 Presented by James Patterson's new children's imprint, this gleefully illustrated space adventure is a laugh on every page. That's a lot of laughs!
Kelvin Klosmo isn't just the new kid at school–he's the new kid in the galaxy! Welcome to Sci-Fi Junior High: an inter-galactic space station with students of all shapes, sizes, smells, and… slime content. As the son of Earth's two most famous geniuses, Kelvin isn't just the smartest kid in the world….he's the smartest kid in the UNIVERSE. At least, that's what everybody at Sci-Fi Junior High thinks.
So, maybe Kelvin lied a little about being a genius to fit in. And maybe a mad scientist is about to take over the universe unless Kelvin can stop him. Maybe everyone is doomed.
Well, at least Kelvin won't have to worry about math homework anymore.
Sci-Fi Junior High is an out-of-this-world story about friendship, accepting our differences, and the fight against evil… bunnies. Yes, evil bunnies–don't ask.
---
We have one Sci-Fi Junior High prize pack, provided by Jimmy Patterson, to give away to one lucky reader. The prize pack includes:
copy of Sci-Fi Junior High,
branded iron-on patch and pencil case,
plus, rocket ship pens!
Just complete the form below to enter. Entries are limited to the United States and will be accepted until 11:59pm, Tuesday, March 14th. Winners will be randomly selected.
Save