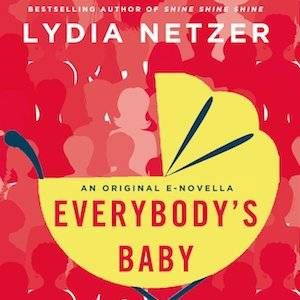 Fiction
Giveaway: Name a Character in Lydia Netzer's New Novella, EVERYBODY'S BABY
In this giveaway sponsored by St. Martin's Press, you have a chance to name the baby in Everybody's Baby, a forthcoming ebook original novella by Lydia Netzer, author of the novels Shine Shine Shine and How to Tell Toledo From the Night Sky (coming in July).
Jenna and Billy are in love. He's an app developer, a hyper-plugged-in citizen of the internet, with a big Scottish family and winning smile. She is a yoga teacher, tuned in to the vibes of the spiritual universe, who was abandoned by her mother as an infant and orphaned by her father's recent death. When they meet, it's electric, and it is no time before they are married and eager to start their own family. But when they can't get pregnant, Billy devises a plan: they would raise funds for their in vitro fertilization on Kickstarter, offering donor perks like cutting the cord, naming the baby, and catching the baby when it takes its first steps.
The good news is that they make their fundraising goal, get pregnant and have a baby! The bad news is that their marriage begins to fall apart when they have to deliver on all those perks. It's hard enough to survive delivering a baby without a performance artist making a documentary of the cord cutting. It's difficult enough to get the baby to sit up and smile for a six month portrait without a local politician taking up half the lens. What does it mean to be owned by the internet? Everybody's Baby explores how relationships grow and fail in public and private life, the hazards of living "in the cloud," and the nature of love online and off.
_________________________
Sounds cool, right? In keeping with the crowdsourcing theme of the story, Lydia Netzer decided to let readers name Jenna and Billy's baby. So here's what's happening: you suggest a name for the Kickstarted baby, and we'll select 10 finalist for readers to vote on. If the name you suggest is selected as a finalist, you'll win copies of Everybody's Baby and How to Tell Toledo From the Night Sky. If the name you suggest is voted the winner, you'll get the books AND a shiny new 16GB iPad Mini Retina Display with WiFi-only connectivity.
The rules:
Entries will be accepted until 11:59pm Eastern, Monday, April 14th.
If a name that is entered by multiple readers is selected for the top ten, the reader who entered it first will be designated as the nominating finalist. So be quick and think unique!
This giveaway is open to readers in the US only.
Ready? Here we go!
Oops! We could not locate your form.