Giveaways
Giveaway: MY PLAIN JANE by Cynthia Hand, Brodi Ashton, and Jodi Meadows
This giveaway is sponsored by Epic Reads.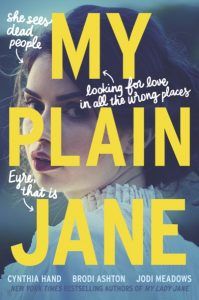 A comedic and entirely (but not really) faithful retelling of Jane Eyre!
Jane has endured years of hardship and misery, and is ready to embark on a new life as a governess at Thornfield Hall.
Charlotte is an aspiring novelist. (Yes, she's that Charlotte.) And she's determined to capture her friend Jane's story even if it means worming her way into the most epic ghost hunt this side of Wuthering Heights.
And Alexander, ghost hunter extraordinaire, is about to discover something very disturbing going on at a little place called Thornfield…
Reader, there will be murder. Mayhem. And of course, romance. Prepare for an adventure of Gothic proportions, in which all is not as it seems, and a certain Mr. Rochester is hiding more than skeletons in his closets.
---
We have (are you ready?) 100 advance review copies of My Plain Jane by Cynthia Hand, Brodi Ashton, and Jodi Meadows to give away to 100 Riot readers! Just complete the form below to enter. Entries are open to residents of the United States (excluding Puerto Rico and all other U.S. territories) and will be accepted until 11:45pm, May 22, 2018. Winner will be randomly selected. Complete rules and eligibility requirements available here.
Oops! We could not locate your form.