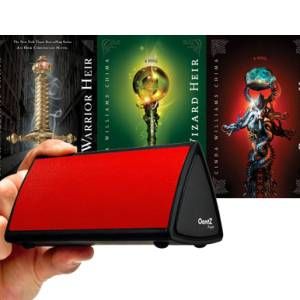 Giveaways
Giveaway: The Heir Chronicles Series and OontZ Angle Portable Speaker
This giveaway is sponsored by The Sorcerer Heir by Cinda Williams Chima.
The Sorcerer Heir is the can't-miss finale to the beloved and bestselling Heir Chronicles series.
The delicate peace between Wizards and the underguilds (Warriors, Seers, Enchanters, and Sorcerers) still holds by the thinnest of threads, but powerful forces inside and outside the guilds threaten to sever it completely. Old friends and foes return as new threats arise in this stunning and revelatory conclusion to the beloved and bestselling Heir Chronicles series.
The Sorcerer Heir is a self-contained story, accessible to readers just discovering the Heir series, but loyal fans will be rewarded by visits from characters they love (and love to hate) from the earlier installments.
The Heir Chronicles series will keep readers glued to their seats through riveting fight scenes, deadly political machinations, burgeoning romance, and the unfolding intrigues of a contemporary magical world.
____________________
One lucky Riot reader will win the complete Heir Chronicles series and an OontZ Angle portable speaker! Just complete the form below to enter. Entries are limited to the United States and will be accepted until 11:59pm, Tuesday, November 11th. The winner will be randomly selected.
Oops! We could not locate your form.