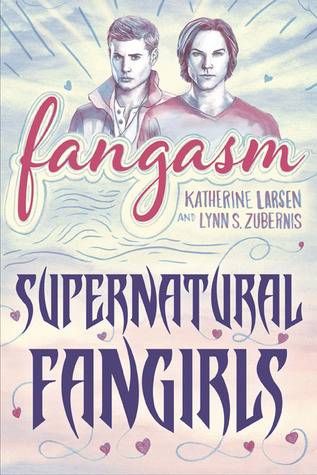 Giveaways
Giveaway Finalist #3: Your FANGASM Moment
Ever gone totally bonkers over a book, movie, TV show, or band?
In this giveaway sponsored by Fangasm: Supernatural Fangirls by Katherine Larsen and Lynn S. Zubernis, we wanted to hear all about your biggest, geekiest moments of fandom. We asked you to tell us about your late-night dives into the depths of the internet, show us your original creations inspired by art you love, or share the love letter (or secret fan fiction!) you wrote. We wanted you to let all your nerdy parts hang out!
The three finalists will receive a copy of Fangasm, and one lucky winner, selected by Book Riot readers, will get a $100 gift card to the book retailer of their choice.
Check out this entry from our final finalist, Megan. Then, vote for your favorite here. Voting will be open until Tuesday, December 3, at 11:59 PM(EST).
____________________________
This is the story of how my Harry Potter fandom runs so deep that I willingly and excitedly stepped far out of my comfort zone to endure something to which I had an extreme aversion, simply because it was creatively affiliated with the HP universe. When I was 20 (almost a decade ago), I was studying abroad in England, just outside of London. I consider myself generally introverted and conservative, and after what I later affectionately coined "My Punk Band Experience," I wrote the following blog entry:
Ok, so I was checking out the latest Harry Potter gossip, because I'm just that cool, and I came upon an article that said that the band Harry and the Potters was touring in England. Curious, I went to their website, where I discovered that this "band" is two teenage geeks who got a free ride to fame on the Harry Potter popularity. I surfed the lyrics to their songs… they sucked. Then I listened to samples of the songs and realized that in addition to not being able to write, these guys also are not able to sing. I saw that they were appearing at a pub in London with some other bands, told [my friend] Becca, and that sealed it; I had to go.
So on Saturday we took The Tube to what I felt was a kind of sketchy part of the city, and we wandered around for half an hour trying to find this pub, which turned out to also have a pretty sketchy atmosphere. We were early, as I was politely informed by this random guy who seemed to have picked me out of the crowd as looking for what he called "the gig." So we left to go get some dinner at a Chinese takeout place around the corner, where these three teenage girls were also eating. It must be something about the way we looked, because they asked if we were going to see the bands. When we told them which one specifically we were going to see, they "WOOOOOOO!!!!!"ed very loudly in the echoey little Chinese place. We guessed they were fans.
So then we went back to the pub, and the fun began. Harry and the Potters was on second, after a band called Kicked Down Stairs, which from my point of view was just a guy screaming his guts out into a microphone. While Harry and the Potters didn't scream, it was still hilarious to watch these two big dorks go nuts jumping around and knocking into people. I was right up front (thanks to Becca), so I got a lot of the brunt of this. I also got the privilege of contributing to one of their songs: Rules were that if they put the mic in front of your face you had to say, "SPEW!" Once again, thanks to Becca, who refused to stand in front of me and hide me, I was lucky enough to be chosen.
Their final song included repetition of the line, "The weapon we have is love." Just to get the message across, they apparently felt it was necessary to hug every person they possibly could. I was the first one to be descended upon, so I didn't know what the hell he was doing, and it doubly freaked me out. And then it was over. I had to admit, it was incredibly entertaining in its hilarity, so I had to buy a t-shirt, which was hard to do over the screaming of the third band.
And so I left my first, and most likely last, punk band experience. I am definitely glad I went, and yet, I would never go back. One thing's for sure, though: VOLDEMORT CAN'T STOP THE ROCK!
________________________
Sign up for our newsletter to have the best of Book Riot delivered straight to your inbox every week. No spam. We promise.

To keep up with Book Riot on a daily basis, follow us on Twitter, like us on Facebook, and subscribe to the Book Riot podcast in iTunes or via RSS. So much bookish goodness–all day, every day.