Giveaways
Giveaway: Who is Your Favorite Female Crime-Stopper in Books?
This giveaway is sponsored by Fear the Darkness by Becky Masterman.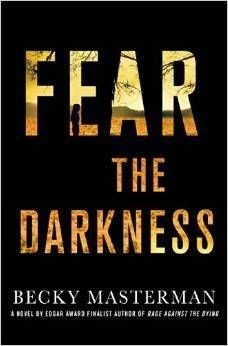 "Ms. Masterman once again shows herself to be an expert manipulator of readers' expectations."
–JANET MASLIN, The New York Times
Ex-FBI Agent Brigid Quinn thinks she has a second chance at life. After too many years spent in the company of evil, she's quit the Feds and is working out what normal is meant to feel like. She's swapped serial killers, stakeouts and interrogation for a husband, friends and free time. But when you've walked in darkness for so long, can you stand the light? When a local teenager dies in a tragic drowning accident, the community thinks Brigid might be able to help comfort the family. But when she does so, something doesn't add up. And it's no easier at home: after a bereavement in the family, Brigid has reluctantly taken in her niece to give her a break before she starts college. Brigid's ever-patient husband Carlo tells her they must go easy on Gemma-Kate, the grieving youngster. Which is fine, until she starts taking an unhealthy interest in dissecting the local wildlife. For Brigid, death still seems to be wherever she turns. But as she herself starts to feel unwell, it's her own mortality that is the most troubling. And as she tries to get to the bottom of a series of allegedly accidental deaths and increasingly gruesome occurrences at home, she slowly realises that maybe this time, she's let the darkness inside the only place she ever felt safe. Sometimes, death is closer than you think.
____________________
There's no shortage of books about Guys Solving Crimes- let's turn some attention to the ladies. In this giveaway, we want to know: who is your favorite female crime-stopper in books? She can be anything from an FBI agent to an amateur sleuth to a street cop to a superhero (and yes, comics count!). One randomly chosen winner will receive a $25 gift card to the Book Riot Store and copy of Rage Against the Dying by Becky Masterman- and keep an eye out for the next in the series, Fear the Darkness, coming out on January 20th!
Just complete the form below to enter. Entries are limited to the United States and will be accepted until 11:59pm, Monday, January 19th.
Oops! We could not locate your form.