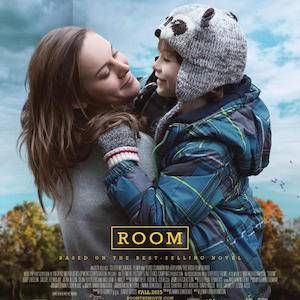 Giveaways
Giveaway: Advance Screening Passes to Emma Donoghue's ROOM
Want to see ROOM, the movie based upon the best selling book by Emma Donoghue, before all your book-loving friends do? You can!
Here's the deal: We've got 20 passes for each screening location, and they are being given away first-come. Click here to search for advance screenings in your area, and claim your passes. Once they're gone, they're gone! Screenings begin October 21.
Don't see a screening in your area? Don't despair! We're also giving away 20 copies of the book ROOM by Emma Donoghue. Complete the form below, and you'll be entered to win.
Both highly suspenseful and deeply emotional, ROOM is a unique and touching exploration of the boundless love between a mother and her child. After 5-year-old Jack and his Ma escape from the enclosed surroundings that Jack has known his entire life, the boy makes a thrilling discovery: the outside world. As he experiences all the joy, excitement, and fear that this new adventure brings, he holds tight to the one thing that matters most of all—his special bond with his loving and devoted Ma.
ROOM opens in select theaters on October 16 and nationwide on October 23.