Children's
Girls of Science in Middle Grade Literature
This content contains affiliate links. When you buy through these links, we may earn an affiliate commission.
The recent presidential election in the United States have brought up countless serious concerns, but one of the most important ones for me pertains to science. With Trump's fear of science and facts, it is more important than ever to make sure this younger generation champions science with continued curiosity and persistence.
I love reading books with science themes geared toward middle grade
readers, because it gives young people the knowledge that scientific experimentation should be celebrated, not denigrated. It shows girls of science breaking traditional norms and showing their peers that science plays a real role in all of our lives, in every stage of our lives, regardless of where we live or our culture or religion.
For middle grade readers and beyond, this girls of science book list is for you. (And FYI, the March for Science is scheduled for April 4, 2017 at National Mall. For more information, visit their website.)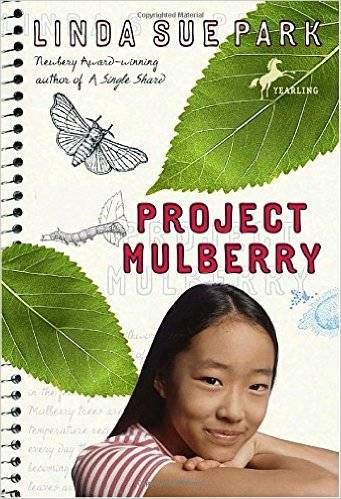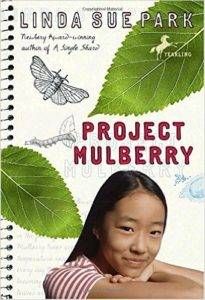 Project Mulberry by Linda Sue Park
Julia Song and her friend Patrick want to team up to win a blue ribbon at the state fair, but they can't agree on the perfect project. Then Julia's mother suggests they raise silkworms as she did years ago in Korea. The optimistic twosome quickly realizes that raising silkworms is a lot tougher than they thought. And Julia never suspected that she'd be discussing the fate of her and Patrick's project with Ms. Park, the author of this book!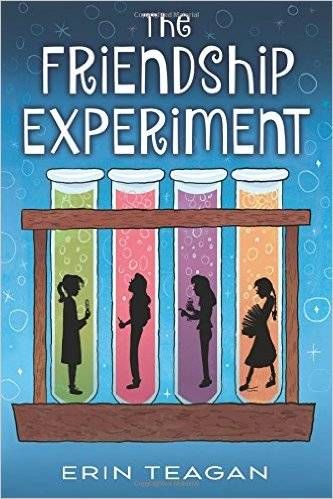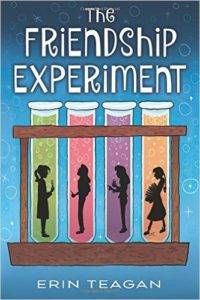 The Friendship Experiment by Erin Teagan
Future scientist Madeline Little is dreading the start of middle school. Nothing has been right since her grandfather died and her best friend changed schools. Maddie would rather help her father in his research lab or write Standard Operating Procedures in her lab notebook than hang out with a bunch of kids who aren't even her friends. Despite Maddie's reluctance, some new friends start coming her way—until they discover what she's written in that secret notebook. And that's just part of the trouble. Can this future scientific genius find the formula for straightening out her life?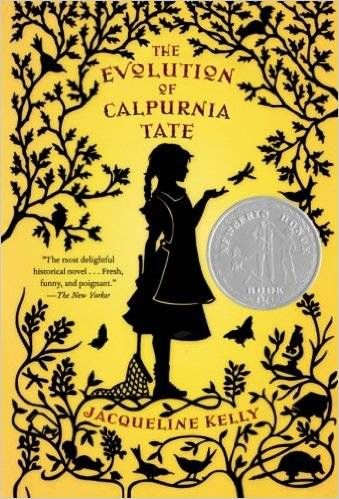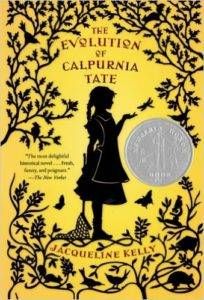 The Evolution of Calpurnia Tate by Jacqueline Kelly
Calpurnia Virginia Tate is eleven years old in 1899 when she wonders why the yellow grasshoppers in her Texas backyard are so much bigger than the green ones.With a little help from her notoriously cantankerous grandfather, an avid naturalist, she figures out that the green grasshoppers are easier to see against the yellow grass, so they are eaten before they can get any larger. As Callie explores the natural world around her, she develops a close relationship with her grandfather, navigates the dangers of living with six brothers, and comes up against just what it means to be a girl at the turn of the century.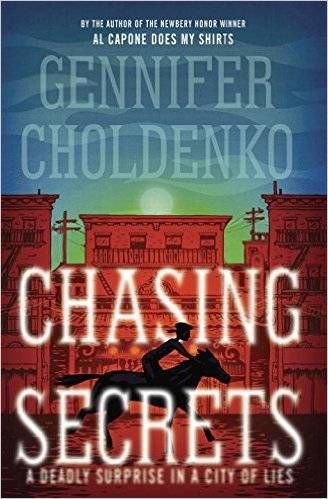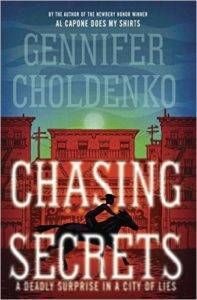 Chasing Secrets by Gennifer Choldenko
San Francisco, 1900. The Gilded Age. A fantastic time to be alive for lots of people . . . but not thirteen-year-old Lizzie Kennedy, stuck at Miss Barstow's snobby school for girls. Lizzie's secret passion is science, an unsuitable subject for finishing-school girls. Lizzie lives to go on house calls with her physician father. On those visits to his patients, she discovers a hidden dark side of the city—a side that's full of secrets, rats, and rumors of the plague. The newspapers, her powerful uncle, and her beloved papa all deny that the plague has reached San Francisco. So why is the heart of the city under quarantine? Why are angry mobs trying to burn Chinatown to the ground? Why is Noah, the Chinese cook's son, suddenly making Lizzie question everything she has known to be true? Ignoring the rules of race and class, Lizzie and Noah must put the pieces together in a heart-stopping race to save the people they love.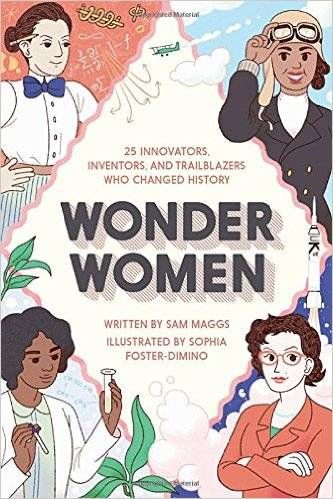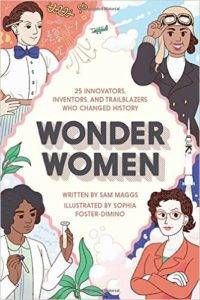 Wonder Women: 25 Innovators, Inventors, and Trailblazers Who Changed History by Sam Maggs
Smart women have always been able to achieve amazing things, even when the odds were stacked against them. In Wonder Women, author Sam Maggs tells the stories of the brilliant, brainy, and totally rad women in history who broke barriers as scientists, engineers, mathematicians, adventurers, and inventors. Plus, interviews with real-life women in STEM careers, an extensive bibliography, and a guide to women-centric science and technology organizations—all to show the many ways the geeky girls of today can help to build the future.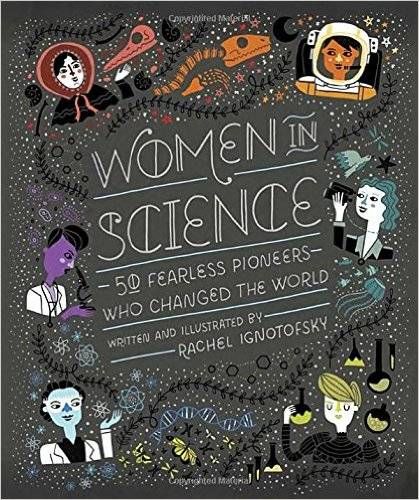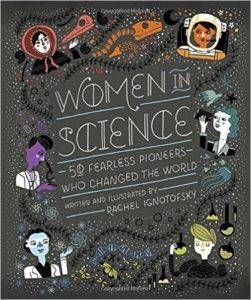 Women in Science: 50 Fearless Pioneers Who Changed the World by Rachel Ignotofsky
A charmingly illustrated and educational book, New York Times best seller Women in Science highlights the contributions of fifty notable women to the fields of science, technology, engineering, and mathematics (STEM) from the ancient to the modern world. Full of striking, singular art, this fascinating collection also contains infographics about relevant topics such as lab equipment, rates of women currently working in STEM fields, and an illustrated scientific glossary. The trailblazing women profiled include well-known figures like primatologist Jane Goodall, as well as lesser-known pioneers such as Katherine Johnson, the African-American physicist and mathematician who calculated the trajectory of the 1969 Apollo 11 mission to the moon. Women in Science celebrates the achievements of the intrepid women who have paved the way for the next generation of female engineers, biologists, mathematicians, doctors, astronauts, physicists, and more!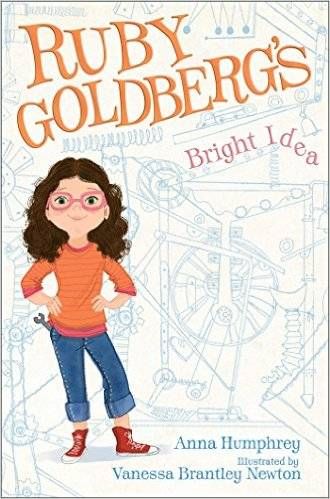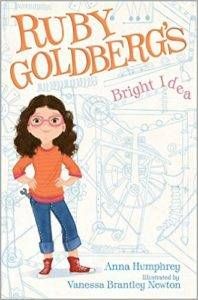 Ruby Goldberg's Bright Idea by Anna Humphrey, illustrated by Vanessa Brantley Newton
Ten-year-old Ruby Goldberg is determined to win her school science fair and beat her nemesis Dominic Robinson. She's snagged second place for the last two years, and she's set on claiming first prize. The only trouble is that Ruby has no ideas. When her grandfather's beloved basset hound dies, Ruby thinks of the perfect thing that will cheer him up and win her first place—an innovative, state-of-the-art, not-to-be-duplicated Ruby Goldberg invention! Before long Ruby is so busy working on her idea that she ignores everything else in her life, including her best friend, Penny. And what started out as simple turns into something much more complicated! Can Ruby get her priorities—and her project—in order before it's too late?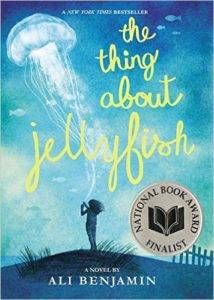 The Thing About Jellyfish by Ali Benjamin
After her best friend dies in a drowning accident, Suzy is convinced that the true cause of the tragedy must have been a rare jellyfish sting-things don't just happen for no reason. Retreating into a silent world of imagination, she crafts a plan to prove her theory–even if it means traveling the globe, alone. Suzy's achingly heartfelt journey explores life, death, the astonishing wonder of the universe…and the potential for love and hope right next door.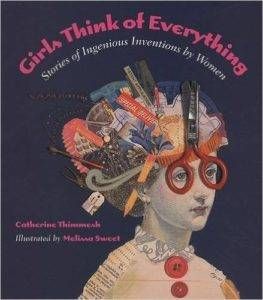 Girls Think of Everything: Stories of Ingenious Inventions by Women by Catherine Thimmesh, illustrated by Melissa Sweet
In kitchens and living rooms, in garages and labs and basements, even in converted chicken coops, women and girls have invented ingenious innovations that have made our lives simpler and better. Their creations are some of the most enduring (the windshield wiper) and best loved (the chocolate chip cookie). What inspired these women, and just how did they turn their ideas into realities? Features women inventors Ruth Wakefield, Mary Anderson, Stephanie Kwolek, Bette Nesmith Graham, Patsy O. Sherman, Ann Moore, Grace Murray Hopper, Margaret E. Knight, Jeanne Lee Crews, and Valerie L. Thomas, as well as young inventors ten-year-old Becky Schroeder and eleven-year-old Alexia Abernathy. Illustrated in vibrant collage by Caldecott Honor artist Melissa Sweet.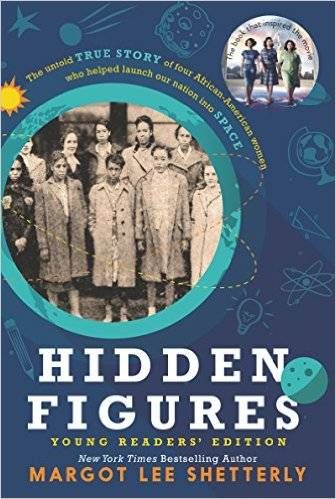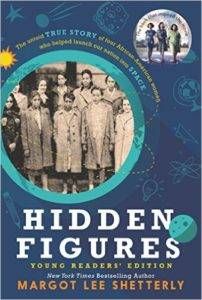 Hidden Figures Young Reader's Edition by Margot Lee Shetterly
Before John Glenn orbited the earth, or Neil Armstrong walked on the moon, a group of dedicated female mathematicians known as "human computers" used pencils, slide rules, and adding machines to calculate the numbers that would launch rockets, and astronauts, into space. This book brings to life the stories of Dorothy Vaughan, Mary Jackson, Katherine Johnson, and Christine Darden, four African-American women who lived through the civil rights era, the Space Race, the Cold War, and the movement for gender equality, and whose work forever changed the face of NASA and the country.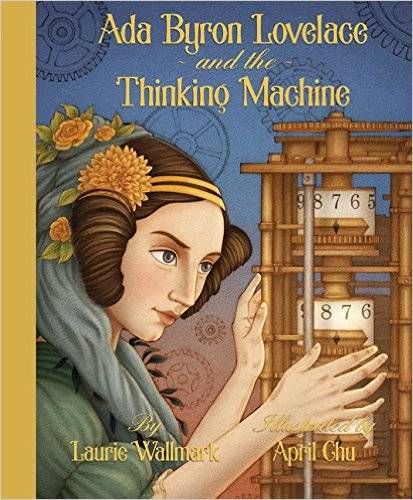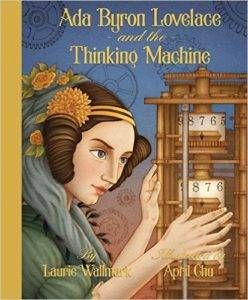 Ada Lovelace Byron and the Thinking Machine by Laurie Wallmark, illustrated by April Chu
Ada Lovelace, the daughter of the famous romantic poet, Lord Byron, develops her creativity through science and math. When she meets Charles Babbage, the inventor of the first mechanical computer, Ada understands the machine better than anyone else and writes the world's first computer program in order to demonstrate its capabilities.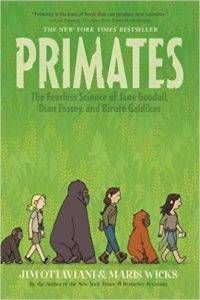 Primates: The Fearless Science of Jane Goodall, Dian Fossey, and Biruté Galdikas, by James Ottoviani, illustrated by Maris Wicks
Jane Goodall, Dian Fossey, and Biruté Galdikas. These three ground-breaking researchers were all students of the great Louis Leakey, and each made profound contributions to primatology―and to our own understanding of ourselves. Tackling Goodall, Fossey, and Galdikas in turn, and covering the highlights of their respective careers, Primates is an accessible, entertaining, and informative look at the field of primatology and at the lives of three of the most remarkable women scientists of the twentieth century.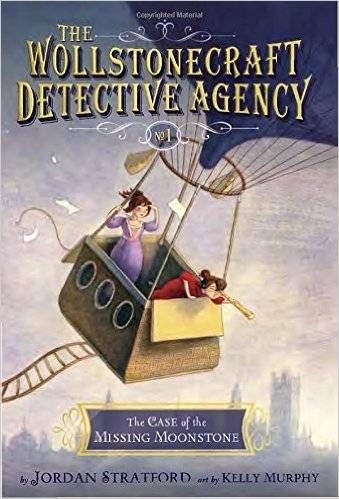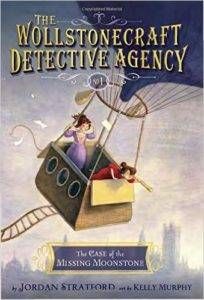 The Wollstonecraft Detective Agency series by Jordan Stratford, illustrated by Kelly Murphy
Lady Ada Byron, age eleven, is a genius. Isolated, awkward and a bit rude—but a genius. Mary Godwin, age fourteen, is a romantic. Adventurous, astute, and kind, Mary is to become Ada's first true friend. And together, the girls conspire to form the Wollstonecraft Detective Agency—a secret constabulary for the apprehension of clever criminals. Their first case involves a stolen heirloom, a false confession, and an array of fishy suspects. But it's no match for the deductive powers and bold hearts of Ada and Mary. Mystery fans will love this tween girl riff on Sherlock Holmes and John Watson. History buffs will be delighted to see all the real figures who play a role in this story and appreciate the extensive backmatter that helps separate truth from fiction. Parents and educators hoping to promote the STEM fields for girls will be thrilled to have a series where two girls use math, science, and creative analytical thinking to solve crimes. But most especially–emerging readers will love this series filled with humor, action, intrigue and wonderful artwork from Kelly Murphy.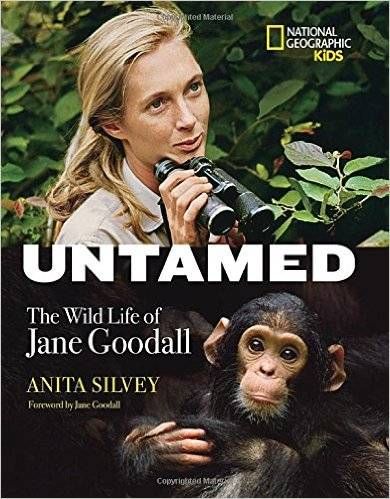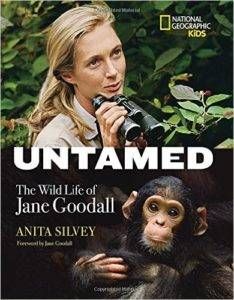 Untamed: The Wild Life of Jane Goodall by Anita Silvy
Jane Goodall, one of the most recognized scientists in the Western world, became internationally famous because of her ability to observe and connect with another species. A girl of humble beginnings and training, she made scientific breakthroughs thought impossible by more experienced field observers when she was only in her twenties. Then these animals shaped Jane's life. She began tirelessly fighting to protect the environment so that chimpanzees and other animals will continue have a place and a future on our planet. Jane Goodall continues to leave the modern world with an extraordinary legacy and has changed the scientific community forever.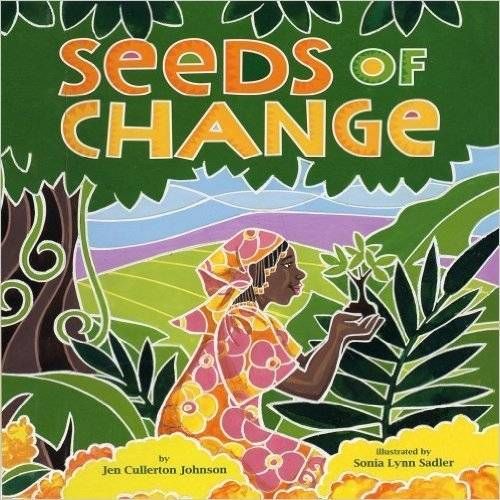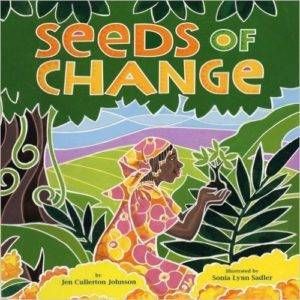 Seeds of Change by Jen Cullerton, illustrated by Sonia Lynn Sadler
When she is a child, Wangari's mother shows her the mugumo, the wild fig tree, and explains its importance. Later, when her brother tells her of the things he learns at school, Wangari decides she would like to go, too. Although it is unusual for a girl to receive an education, Wangari does go to school. In fact, she goes all the way to study in the United States and becomes a scientist. When Wangari returns to Kenya, she find many things have changed. She finds the trees have all been cut down and the resulting environmental damage means that people can no longer grow food for themselves. In a move that is in one hand simple, and in the other incredibly insightful, she encourages the women to re-plant the trees. Her tree-planting movement grew and flourished as did the trees themselves, but not completely without hardship. Wangari had to overcome harsh political resistance and was even briefly imprisoned. She was released, however, and in 2004 Wangari became the first African woman to win the Nobel Peace Prize.